Subscription
Shipping Address
Order Date

This subscription's skin care system will get replaced.

${ address.name }




${ address.products }

${ displaySubscriptionName(address) }




${ displayProducts(address) }

${ displayAddress(address) }
${ formatDate(address.scheduleDate) }

${ address.name ? address.name : displaySubscriptionName(address)}
${ address.products }
${ displayProducts(address) }
Shipping Address
${ displayAddress(address) }
Delivery Date
${ formatDate(address.scheduleDate) }
This subscription's skin care system will get replaced.
When to Apply Face Serum
Find out when you should apply your facial firming serum for maximum effectiveness. Get the best tips and tricks for taking care of your skin.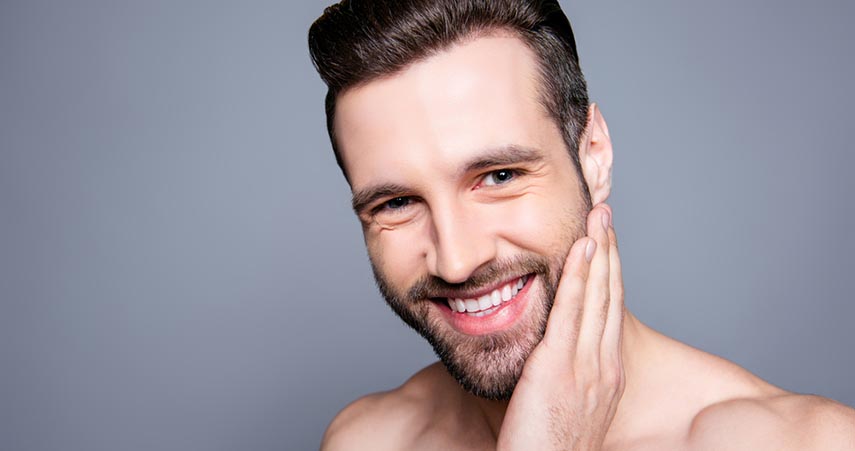 These days, facial firming serums are a must-have for guys in their 30s and 40s. Packed with antioxidants and anti-aging peptides, facial firming serums can provide benefits similar to those of Botox, only without the needle and the heavy cost of the procedure.
While it's becoming more common for guys to use facial firming serums, there is still a lot of general confusion on how to properly use this powerful skin care product. One of the most frequently asked questions we get regarding facial firming serums is how they fit into a guy's skin care regimen. This is an important thing to know to ensure that you get the maximum benefits of your serum.
Here are three things that every guy should know about when to apply his facial firming serum:
A facial firming serum is most effective when used before you moisturize but after you wash your face.
Facial firming serums are highly concentrated and are formulated to penetrate the skin quickly.
Keep in mind that with serums, a little goes a long way.
When Is the Best Time to Apply Face Serum?
Face serums are typically designed to be layered, meaning they aren't meant to be used as a stand-alone product. To use a face serum correctly, you need to figure out the order of your skin care products.
Generally, most serums are applied after cleansing but before applying your daily moisturizer. To help you get a clear picture, here is a breakdown of the order of your skin care products:
Facial Cleanser—First, you need a fresh face that is free of dirt and oil. This will allow your serum to penetrate the skin more easily and deliver a powerful dose of anti-aging ingredients to the skin. Wash your face with warm water, apply a gentle facial cleanser and rinse with warm water again to reveal a fresh face.
Face Scrub—Note that you should be scrubbing your face no more than twice per week, so this will not always be part of your daily routine! Scrubbing away dead skin cells will help unclog pores and allow your serum to sink in more effectively. After rinsing off your facial cleanser, apply your face scrub to your face and scrub in a circular motion. Rinse off and pat your face dry with a towel.
Face Serum—Now that your face is freshly cleaned, it's time to apply your face serum. Apply it gently using your pointer fingers to avoid pulling or stretching the skin. Face serum is meant to be left on your face, so be sure not to rub it off with a towel.
Daily Moisturizer—Apply your daily moisturizer with SPF or your nighttime moisturizer on top of your face serum. Both products stay on your face so that you can reap the amazing skin benefits they provide.
As you can see, the face serum is used after you've cleared your face of dirt, oil and debris. The main reason why you wouldn't want to apply your face serum on top of your daily moisturizer is because it would make it less effective.
GOT WRINKLES?
How Often Do I Need to Apply?
The answer to this question depends on the face serum. For example, some face serums are only designed for use at night, while other serums—such as Tiege Hanley's Facial Firming Serum—can be used twice a day for maximum collagen production and rejuvenation.
If you are using a face serum in the morning, be sure to always follow it with a moisturizer with SPF. Some guys are prone to forgetting that their face serum is not a substitute for their daily moisturizer, leaving them unprotected from the sun's harmful UV rays.
Others mistakenly believe that facial firming products are enough to protect their skin from sun damage. This is due to studies such as a 1996 study published in Nature, which found that retinoid products can reduce signs of sun damage that cause premature aging (see claim: "All-trans retinoic acid, which transrepresses AP-1 (ref. 8), applied before irradiation with UVB, substantially reduced AP-1 and metalloproteinase induction.")
While it's true that retinoid products can reduce signs of sun damage, that doesn't mean that you can suddenly go without sunscreen. In fact, another study published in The Journal of Clinical and Aesthetic Dermatology found that subjects who combined their face serum with a daily moisturizer had increased hydration and softness in their skin compared to the control group (see claim: "…facial hydrating serum was well tolerated and effective in improving facial dry skin parameters beyond that obtained with a moisturizer alone.")
Take the skin care quiz
Bottom Line
Face serums can do your face a whole lot of good by boosting collagen production and improving your skin tone. Keep in mind though that your face serum will only do so much if you use it incorrectly.
By applying your serum at the right time, you can maximize its anti-aging benefits. Have you given our facial firming serum a try? Let us know what you think!
---
// © Copyright 2023 Tiege Hanley