Subscription
Shipping Address
Order Date

This subscription's skin care system will get replaced.

${ address.name }




${ address.products }

${ displaySubscriptionName(address) }




${ displayProducts(address) }

${ displayAddress(address) }
${ formatDate(address.scheduleDate) }

${ address.name ? address.name : displaySubscriptionName(address)}
${ address.products }
${ displayProducts(address) }
Shipping Address
${ displayAddress(address) }
Delivery Date
${ formatDate(address.scheduleDate) }
This subscription's skin care system will get replaced.
Whiteheads vs. Blackheads—What's the Difference?
Ever wondered about the difference between whiteheads vs. blackheads? Learn more about blackheads and whiteheads, plus how to get rid of both for clear skin.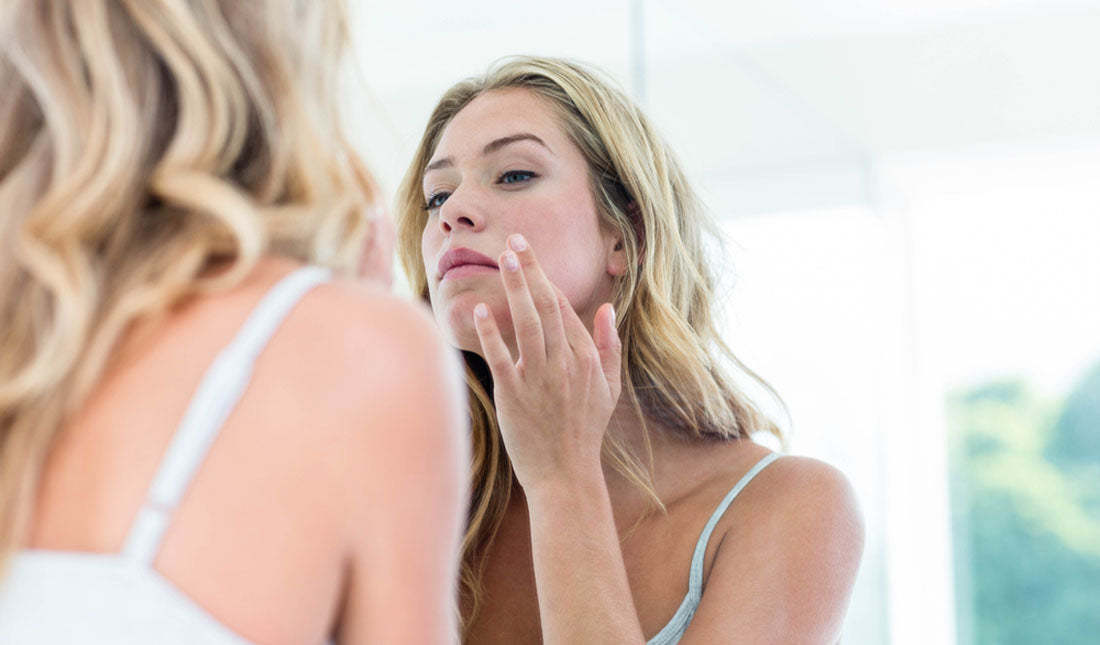 Almost everyone above the age of 15 is familiar with blackheads and whiteheads. Known medically as comedones, blackheads and whiteheads are the two most common (and the mildest) forms of acne.
Yet few people know the true difference between blackheads and whiteheads. Why is that important, you ask? To paraphrase Sun Tzu's The Art of War: you need to know your enemy to win battles. Especially if that battle is happening on your face.
Before we break down these two specific types of acne, here are three things you need to know about whiteheads vs. blackheads.
The major difference between whiteheads and blackheads is in how each forms
The approach to treatment for whiteheads and blackheads is generally the same
Following a regular skin care routine can help prevent whiteheads and blackheads from forming in the first place
A Breakdown of Whiteheads vs. Blackheads
Whiteheads and blackheads share many similarities. Both types of acne are referred to as comedones, a mild form of acne that occurs when a hair follicle becomes clogged.
Although these pesky white and black bumps can be frustrating, there is a small silver lining to them. Unlike pustules and papules, whiteheads and blackheads are considered a type of non-inflammatory acne.
GOT ACNE?
In other words, they haven't become inflamed yet. This makes them less likely to cause complications such as permanent acne scarring or pitting.
The main difference between whiteheads and blackheads is how they form. Let's take a quick look at how a pimple can develop into a whitehead or a blackhead.
How Blackheads Form
Blackheads, which are known as open comedones, have a dark appearance and are often mistaken for dirt being trapped inside a pore. However, this brown-black mixture is actually a combination of dead skin cells, oil and keratin that has become trapped in the hair follicle.
The reason why your blackhead is dark is because the material inside the hair follicle has been exposed to air. This chemical reaction is called oxidation.
How Whiteheads Form
Whiteheads are known as closed comedones. They start out like blackheads: The hair follicle becomes plugged with dead skin cells, oil and keratin.
The main difference between whiteheads and blackheads is that a whitehead hasn't been exposed to air. As a result, the mixture on the surface of the skin appears white rather than black.
Treating Whiteheads and Blackheads
Although whiteheads and blackheads may form differently, the treatment is typically the same for both. Below, we'll discuss the most popular acne treatments that dermatologists recommend for treating stubborn blackheads and whiteheads.
Salicylic Acid
One of the best ways to banish blackheads and whiteheads is by using Salicylic Acid. This acne powerhouse has exfoliative and keratolytic effects, which means it can soften and dissolve the material plugging up your hair follicle.
For the best results, reach for a acne cream with Salicylic Acid. This is preferable to using a cleanser with Salicylic Acid because you want the active ingredient to remain on your skin so it can dissolve the plug.
Retinoids
If your blackheads and whiteheads are persistent, you may want to consider using retinoids. Over the counter retinoids such as adapalene can get deep into the pore to remove excess oil and stop acne in its tracks.
Take the skin care quiz
When it comes to mixing retinoids with your existing acne treatment, you need to be careful. Salicylic Acid and retinol generally don't mix, which is one reason why it's particularly beneficial to use an acne treatment system like the one from Tiege Hanley. With our systems, you know that all the products are designed to work in tandem.
Topical and Oral Antibiotics
If over-the-counter acne treatments aren't clearing up your whiteheads and blackheads, see your dermatologist. They may prescribe you topical or oral antibiotics to clear up blemishes and provide temporary relief from your acne.
We say temporary because antibiotics aren't generally recommended for long-term use. According to Rutgers researchers, many doctors are now turning to alternative acne treatments to avoid antibiotic resistance, a condition that results when bacteria develops resistant strains in response to the use of long-term antibiotics.
Professional Acne Extraction
If your blackheads and whiteheads are particularly stubborn, you can always see your dermatologist for a professional acne extraction. This procedure usually involves using a sterile instrument to remove blackheads and whiteheads.
However, your dermatologist may use alternative forms of extraction such as light cautery. According to a 2003 study published in Dermatologic Surgery, light cautery is an effective treatment for large and small whiteheads (see claim: "We recommend this procedure for patients who have closed macrocomedones larger than 3 mm in size…") Regardless of which extraction method is used, be sure to leave the pimple-popping to the pros to avoid acne scarring.
Be Patient
Remember, even the best acne treatment systems won't eliminate stubborn blemishes overnight. For most acne treatments, you need to allow six to eight weeks for them to kick in and start working.
In the meantime, focus on forming better skin care habits. Start washing your face daily, moisturizing afterwards and exfoliating your skin twice a week. With a regular skin care routine, you can banish pesky blackheads and whiteheads once and for all.

References
Rutgers University. "Doctors turning to antibiotic alternatives to treat acne." ScienceDaily. ScienceDaily, 24 April 2019.
Kaya, Tamer Irfan et al. "An effective extraction technique for the treatment of closed macrocomedones." Dermatologic surgery : official publication for American Society for Dermatologic Surgery [et al.] vol. 29,7 (2003): 741-4.
---
// © Copyright 2023 Tiege Hanley