Subscription
Shipping Address
Order Date

This subscription's skin care system will get replaced.

${ address.name }




${ address.products }

${ displaySubscriptionName(address) }




${ displayProducts(address) }

${ displayAddress(address) }
${ formatDate(address.scheduleDate) }

${ address.name ? address.name : displaySubscriptionName(address)}
${ address.products }
${ displayProducts(address) }
Shipping Address
${ displayAddress(address) }
Delivery Date
${ formatDate(address.scheduleDate) }
This subscription's skin care system will get replaced.
Why Does My Face Itch?
Struggling with an itchy face? Tiege Hanley covers the possible culprits to help you restore your face to maximum handsomeness.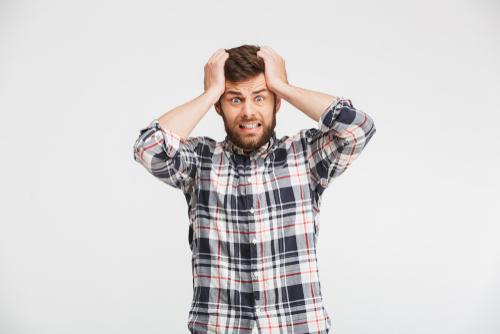 The dryness, the flakes—these are not things that any guy wants to put up with on a regular basis. 
Sure, it may seem like a minor annoyance, but there are a few good reasons why you shouldn't ignore an itchy face. Besides being completely distracting at times, an itchy face can be a sign of an underlying condition.
What is causing your face to itch? Here are three things you need to know:
Dry skin is most commonly the underlying cause of an itchy face.
Unfortunately, many things can cause dry skin, including skin care products and household items.
See your doctor if you don't see improvement after eliminating common culprits.
Dry Skin
While it's true that men tend to have oily skin, it's not uncommon for their skin to become dry during the winter. Dry skin is a common cause of itchy skin in men.
When cold weather strikes, it can suck the moisture from the air and dry out the skin. This can result in itchy, flaky skin that appears dull.
Whether you have a naturally dry skin type or you're suffering from harsh winter weather, the solution is simple. All you need to do is moisturize your face regularly with a men's daily AM moisturizer and a men's daily PM moisturizer.
Allergies
Is your itchy face accompanied by red/watery eyes and a runny nose? If so, you may be suffering from allergies.
Allergies occur when allergens from food, air or pets come in contact with the skin. Our body's immune system responds by producing histamines, which are known to induce itch (see claim: "…histamine induced itch is triggered by the excitation of a subset of unmyelinated C-fibers.")
Some allergies are easy to pin down, such as certain food allergies. However, the source of seasonal allergies and dust allergies may be more difficult.
See a doctor if your allergies are interfering with your daily life. They will test for certain allergies and help you choose the right allergy-relief medicine to stop the itch.
TRY MEN'S SKIN CARE
Irritating Skin Care Products
Another common culprit of an itchy face may be in your bathroom cabinet right now. Skin care products that contain harsh ingredients can cause itchiness, rash and even hives.
This is often referred to as contact dermatitis, or an allergic reaction to something touching your skin. Unfortunately, many of today's skin care products use ingredients which are known for causing allergic reactions.
If you have sensitive skin, it's essential that you avoid certain skin care ingredients in your acne cream, moisturizer, facial cleanser and other skin care products. Alcohols, parabens, artificial fragrances and other irritating ingredients may be the source of your itchy symptoms.
Artificial fragrances and preservative ingredients are a common source of irritation for sensitive skin types. These could be hiding in your aftershave, moisturizer, facial cleanser and other grooming products.
Be sure to choose a skin care system that is designed for sensitive skin types. For instance, Tiege Hanley's skin care system for men is made for all skin types and uses a combination of natural, vegetable-derived and synthetic raw materials.
Household Items
In addition to your grooming products, it's also a good idea to choose your household products carefully. Laundry detergents, fabric softeners, soaps and cleaning products can contain ingredients which are irritating to the skin.
Fortunately, there are now plenty of fragrance-free laundry detergents and fabric softeners available for sensitive skin types. It may be an initial pain to read the back of the product, but your face (and body) will thank you for it.
Take the skin care quiz
Underlying Skin Condition
We don't mean to scare you, but your itchy face could be a sign of something more serious. Diabetes, multiple sclerosis, thyroid disease, liver disease and other chronic conditions could be causing you to itch.
If your itchy skin doesn't improve within a few weeks, it's important to see your doctor to rule out serious conditions. Although it could be nothing to be concerned about, it's best to know for certain.
Say Goodbye to Itchy Skin
You don't need to put up with an itchy face, nor should you. Excessive scratching can cause redness and leave permanent scars on your handsome mug.
If you've eliminated all the possible culprits of your itchy face with no luck, it's time to see a doctor and/or dermatologist. They will get to the bottom of your problem and prescribe you something that can soothe your irritated skin.
---