Subscription
Shipping Address
Order Date

This subscription's skin care system will get replaced.

${ address.name }




${ address.products }

${ displaySubscriptionName(address) }




${ displayProducts(address) }

${ displayAddress(address) }
${ formatDate(address.scheduleDate) }

${ address.name ? address.name : displaySubscriptionName(address)}
${ address.products }
${ displayProducts(address) }
Shipping Address
${ displayAddress(address) }
Delivery Date
${ formatDate(address.scheduleDate) }
This subscription's skin care system will get replaced.
Your Guide to Post Workout Skin Care
Taking care of your skin after a workout ensures that your skin stays healthy and prevents body acne. Find out how to navigate a post workout skin care routine.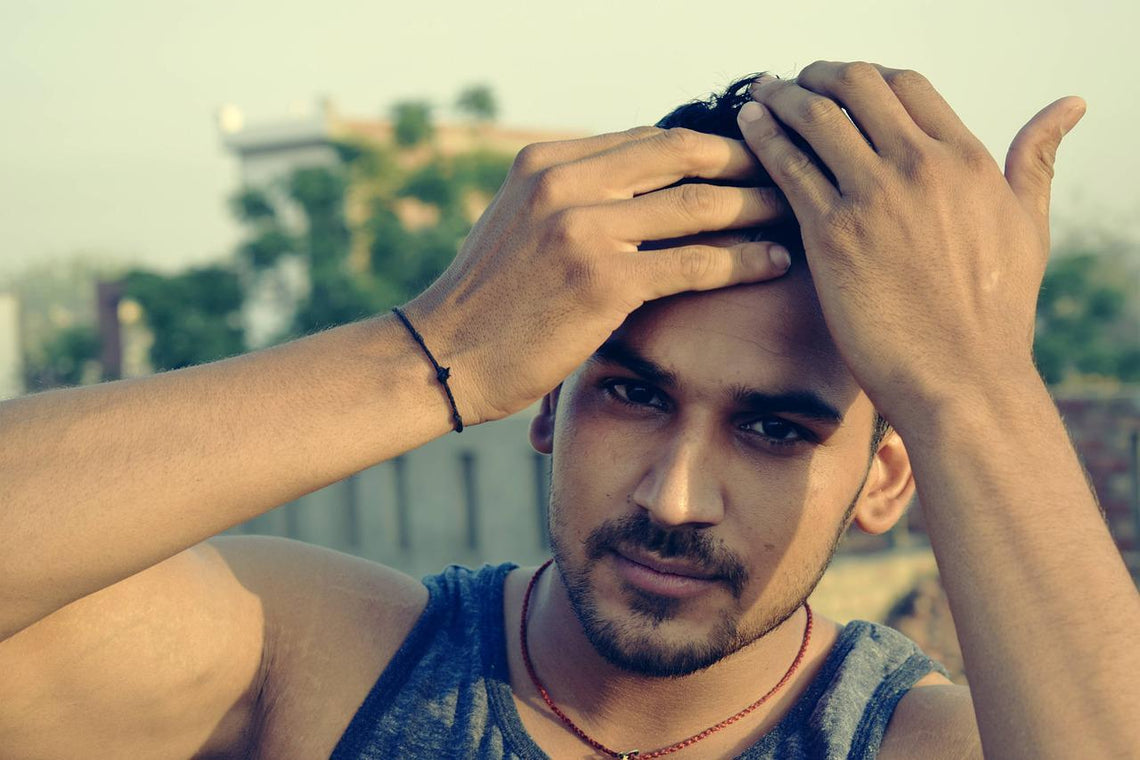 We all know exercise is good for the body, but what about exercise's effect on the skin? Have you ever noticed that your complexion looks and feels better after a sweat sesh?
Sweating helps remove toxins from the pores, making your skin clearer. Plus, exercising increases blood flow to the face and forces it to pump oxygen-rich blood to all of your cells. If only there were a way to maximize the benefits of exercise on your skin, for any skin type, or an answer to how to take care of your skin for men.
Fortunately, there is. Simply stick to a skin care routine for men that you can use after a workout. Tiege Hanley has put together a guide to help you get started on pre and post workout skin care. 
Steps In a Post Workout Skin Care Routine
Your skin is the body's largest organ and taking care of it is important. You'll want to make sure you're taking care of your skin after a workout because your skin has been through a lot. It's working hard to repair itself and return to a state of natural balance. The more you take care of it, the more it will take care of you in the future.
After a workout, your body is in need of hydration and nutrients to help it recover from the stress of exercise. This is when your skin will have its highest demand for both water and nutrients. If you don't properly replenish those resources, it can lead to dry skin, irritation, and even premature aging.
But you can stop that before it ever starts with the right post workout skin care routine. It's about:
Exfoliating the dead skin cells off your face that block moisture from reaching your new skin cells.

Replenishing lost vitamins and minerals with a nourishing face mask or serum.

Eating foods rich in vitamins A and C like carrots and bell peppers.

Hydrating your skin with a hydrating lotion or moisturizer (you may want to use this before or after exfoliating).
Practice skin care for men consistently and you'll keep your skin healthy and looking better than ever in no time. Follow these steps to get it right every time.
1. Take a Cool Water Post Workout Shower to Wash Off the Buildup of Sweat
Cool water helps your skin recover from the heat of intense exercise by neutralizing lactic acid buildup and reducing inflammation in your muscles. It also helps remove any excess salt or minerals from your body that may have built up during your workout, so you can start off fresh in the morning.
And guess what else? Cool water also cleanses the body and helps reduce inflammation. Inflammation is often something that happens because of stress or soreness — and who doesn't feel sore after their workouts? So if you want to keep your body healthy and strong during your next workout, make sure to cool down with a nice cold shower afterward.
2. Wash Your Body With a Moisturizing Body Wash to Prevent Body Breakouts
One way you can protect your skin from breakouts is by washing it with a moisturizing body wash. By providing long-lasting hydration, it can help prevent dryness and irritation, and prevent pimples, blackheads, and other skin conditions from forming.
A good moisturizing body wash will keep your skin hydrated so it can fight off bacteria and other unwanted intruders. If your skin feels tight after washing with a normal soap or body wash, this could be a sign that your skin isn't getting enough moisture.
Your skin can become clogged with sweat, dirt and bacteria — and that's when breakouts happen. Using a moisturizing, cleansing body wash after a workout will help keep your pores unclogged and prevent acne breakouts.
Try Our BODY WASH
3. Use a Clean Towel to Dry Off
After a workout, you want your skin to feel refreshed and rejuvenated. So make sure that after a sweat-filled session, you're using a clean towel to dry off. 
In fact, your skin's natural barrier can be damaged when you use an already-used towel. When this happens, it makes your skin vulnerable to bacteria. Using a clean towel will prevent skin problems like ingrown hairs and rashes.
It's also important to pat yourself dry instead of rubbing or scrubbing your skin with the towel. Rubbing can cause small tears in the upper layer of skin and expose it to bacteria. This is especially true for those who have sensitive skin.
4. Wash Your Face Using a Gentle Cleanser
The skin is the body's largest organ, but it is also the most sensitive. Because of this, it is important to use a gentle cleanser that is not too harsh on the skin and will not strip your face of its natural oils. Many people are unaware of how often they should wash their face, but they should definitely do so after every workout.
That's because sweat and dirt tend to collect in the pores, potentially leading to breakouts and irritation. Also, when you sweat during exercise, your body releases toxins that need to be removed from your system. That's why after you work out, you should always wash your face before going to bed and make sure these impurities are removed. 
5. Use a Lightweight Moisturizer for Extra Hydration
Your body needs hydration after a workout. It's important to use a lightweight moisturizer for your skin so that it can absorb the moisture that it needs. When choosing which moisturizer to use, find a gentle product that is made with ingredients (like tea tree oil) that will not irritate or damage your skin.
Look for products made with all-natural and organic ingredients whenever possible. A good, lightweight moisturizer can even penetrate the deeper layers of your skin without leaving behind and residue or greasiness.
6. Apply Sunscreen to Protect Your Skin from UV Damage
Don't forget to protect your skin from the effects of UV damage as well. UV rays can cause premature aging and skin cancer — and overexposure to direct sunlight can exacerbate the risk of both.
Your sunscreen should have broad-spectrum protection against both UVA and UVB rays, which means it should block out both UVA rays that penetrate deep into the dermis (the inner layer of skin) and UVB rays that get absorbed by the epidermis (the outermost layer).
That can help prevent wrinkles, age spots, and other signs of aging from developing prematurely.
Try our Product Recommender
Repeat This Skin Routine to Protect Against Post-Gym Breakouts
The truth is, you might be tempted to skip some of these steps in favor of just hopping in the shower and getting on with your day. But be proactive and keep to a skin care routine that's as regular as an exercise routine. Use the right post workout skin care products by Tiege Hanley and you'll maintain the healthiest skin possible while still maintaining your gains. 
---
// © Copyright 2023 Tiege Hanley