Subscription
Shipping Address
Order Date

This subscription's skin care system will get replaced.

${ address.name }




${ address.products }

${ displaySubscriptionName(address) }




${ displayProducts(address) }

${ displayAddress(address) }
${ formatDate(address.scheduleDate) }

${ address.name ? address.name : displaySubscriptionName(address)}
${ address.products }
${ displayProducts(address) }
Shipping Address
${ displayAddress(address) }
Delivery Date
${ formatDate(address.scheduleDate) }
This subscription's skin care system will get replaced.
15 Exciting Hobbies for Men in 2020
Discover the best hobbies for men. Whether you're into sports, languages or artistic pursuits, there's a hobby on this list for everyone.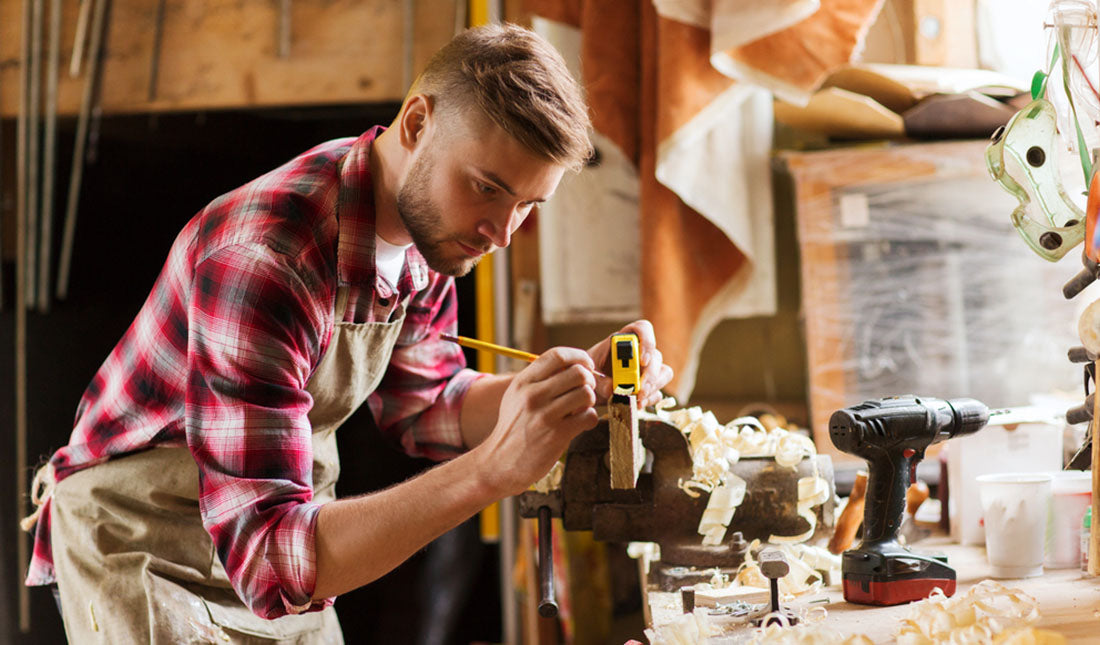 We've all been there before—you're at a party or a small get-together and you meet someone new. You're expecting them to ask what you do for work, but instead, they throw you a curveball and ask what you do for fun.
Suddenly, you're like a deer caught in the headlights. Fun? You wonder, completely puzzled by the question. What is this "fun" you speak of? 
After mumbling something about a cool TV show you've been watching, that's when the uncomfortable truth hits you: You desperately need a hobby.
Fortunately, there are plenty of cool hobbies for men that are both fun and relatively inexpensive. To help you discover your new passion in life, we've rounded up 15 hobbies that promise to make you happier and more interesting in 2020.
Don't stress out about this—consider the following.
Having hobbies in your life will make you feel happier and more fulfilled

The best hobbies for men are affordable, fun and have a low barrier of entry

You don't need to be proficient in your hobby to enjoy it
Trying to find a new hobby to fill your spare time can be challenging. If you're looking for a new pastime to enjoy, try picking up one of these 15 exciting hobbies for men.
1. Woodworking
Although woodworking might seem like an intimidating and complex hobby for men, you actually don't need a lot of skills or tools to get started. If you just want to make basic pieces—say, a personalized cutting board or a valet box—it's fairly easy to do, even as a beginner.
Picking up woodworking as a hobby has several benefits. It's an incredibly relaxing and creative hobby that serves as a stress-reliever for many. It's useful in that you're essentially turning a pile of wood into something functional.
Oh, and anecdotally-speaking, women tend to find woodworkers extremely attractive. C'mon, what's not to love about a guy who is great with his hands and takes his time doing things?
Try men's skin care
2. Photography
Contrary to popular belief, you don't need a fancy-schmancy camera and expensive gear to take good pictures. Do you have a smartphone with a decent camera? That's all you really need to get off the ground.
Start by watching YouTube videos to learn the basics of photography. Once you have the basics down, challenge yourself to take one photo every day. 
Better yet, post your daily photograph online. According to a 2018 study published in the journal Health, researchers found that taking a photo-a-day and posting it online encouraged mindfulness and a greater sense of well-being (see claim: "…those who participate in photo-a-day identify a connection with improved well-being linked to this mindfulness.")
3. Mountain Biking
Do you love the idea of zipping through dirt trails on a bicycle, all while being surrounded by scenic beauty? If so, mountain biking might just be the sport for you. 
The initial cost of mountain biking isn't cheap (it's about $1K-$3K for an intro-level bike alone), but once you get the bike and the gear, the sport itself is relatively inexpensive. It's well worth the investment, especially considering that this hobby can help keep you healthy and fit in 2020 and beyond.
The only downside is the dreaded forehead acne. If you have oily skin, your sweaty bike helmet probably won't do your acne any favors. Fortunately, this problem can be easily resolved by using a simple acne treatment system and cleaning your helmet regularly.
4. Beekeeping
You're looking for exciting hobbies, aren't you? Well, we'd say that sticking your hand into a beehive to retrieve a honeycomb swarming with bees certainly qualifies as exciting.
Beekeeping is a rewarding hobby that people do for various reasons. Some do it to help with their local pollination. Others do it to support global honeybee colonies, which have been in sharp decline in the last decade. Some beekeepers do it purely to harvest honey.
Although anyone can get into beekeeping, you'll want to study up on the subject before you invest in a hive. A great place to start is your local beekeeping association, which will have invaluable resources that are relevant to your specific area.
5. Rock Climbing
If you've always wanted to try rock climbing, now is a great time to start. Thanks to famous rock climber Alex Honnold and the popular documentary Free Solo, rock climbing is more popular than ever in 2020. 
But don't worry! You don't need to set your sights as high as Honnold. Indoor rock climbing gyms are becoming more frequent these days, and climbing outdoors is always an option once you get some experience under your belt.
Rock climbing is a particularly good hobby for those who struggle with depression. According to a 2015 study published in BMC Psychiatry, indoor bouldering can have positive effects on depression and may be an effective form of treatment for this all-too common disease (see claim: "After eight weeks of intervention, results indicated positive effects on the measures of depression.")
6. 3D Printing
There are few hobbies that are more versatile than 3D printing. With this hobby, you can create virtually any object. A pair of sunglasses, figurines, a smartphone stand—the list is endless.
3D printing is also incredibly useful when combined with other hobbies. If you tinker with electronics, you can 3D print an electronics enclosure for your prototype. You could also 3D print pieces for a tabletop gaming hobby.
To see if 3D printing is right for you, try looking up digital designs on Thingiverse and use a 3D printing service such as Shapeways to print your design. You'll get a taste of 3D printing without having to invest in the expensive equipment.
7. Beer Brewing 
Love craft beer? Try making your own batch at home. If you can make a box of pasta, you can easily make your own beer.
Homebrewing gives you the opportunity to experiment with unique beer recipes and create a beer that perfectly suits your palate. It's also one of the few hobbies where you can end up with a final product that can be enjoyed with friends. 
Just make sure that your beer tastes okay before you subject your friends to it. Otherwise, they'll never trust your beermaking skills again.
8. Weightlifting
Weightlifting is one of the more popular hobbies for men, and it's not too difficult to see why. Not only is it affordable and easy for beginners to get into, it's also an effective way to stay fit.
There are several different types of weightlifting to consider. If you're a boxer or mixed martial artist, circuit training is ideal because it can help you build endurance and keep you light on your feet in a match.
If you just want to get stronger and see how much you can lift, look into powerlifting. This type of weight training focuses on lifting heavy weight with as few reps as possible and emphasizes brute strength over endurance.
9. Axe Throwing
Do you ever get the urge to grow out your beard, don some flannel and pretend that you are Paul Bunyan reincarnated? If so, you should check out axe throwing.
Sure, it might sound a little "out there," but urban axe throwing is a real thing. Made popular in Canada, the old sport of axe throwing has finally made its way to the United States, with axe throwing facilities popping up in every major city.
What's not to love about axe throwing? It's a cool hobby for men, it's a great stress-reliver and, most importantly, it's insanely fun. Give it a try and you'll be hooked after your first throw.
10. Archery
Similar to axe throwing, archery is an age-old sport that requires dexterity, concentration and good form in order to hit targets from a distance. However, archery is slightly more accessible than axe throwing and has a lower chance of scaring off your date when she asks about your hobbies.
Archery is fun and easy to get into, no matter what your age. It's a sport that can improve your focus and confidence while giving you a sense of accomplishment.
Best of all, you can meet tons of new people through archery. Whether you're shooting for fun at your local range or visiting new places for an archery tournament, you're bound to run into fellow archers who have interesting stories to share.
11. Playing Guitar 
Just admit it—growing up, you fantasized about rocking out with a guitar. We all did at some point, most likely because we believed that it was the ultimate way to get girls.
And to be fair, there is some truth to that belief. In a 2013 study published in Psychology of Music, researchers found that men who carried a guitar case were more likely to get a girl's phone number than if he were holding a sports bag or nothing at all (see claim: "Results showed that holding a guitar case was associated with greater compliance to the request, thus suggesting that musical practice is associated with sexual selection.")
Of course, playing guitar has other benefits besides picking up women. It can also act as a stress reliever and may improve your memory skills.
Take the skin care quiz
No matter what your reasons for getting into guitar, just don't try to seduce a woman by playing acoustic guitar for her. The idea might sound sexy, but the execution is usually anything but.
12. Martial Arts
Martial arts (MA) such as Krav Maga and taekwondo appeals to a lot of guys for obvious reasons: It makes them feel more powerful and badass. Who doesn't want to feel more confident in their fighting abilities?
But if you're interested in martial arts for the sole purpose of getting revenge on your high school bully, you're going to be disappointed. Martial arts isn't about seeking out violence, but rather learning how to use fighting techniques for self-defense purposes.
By learning basic fighting techniques, you can grow your confidence, increase your flexibility and improve your mental discipline. Depending on the martial art, it can also be a killer cardio workout and strength routine that makes you a lean, mean, fighting machine.
13. Drawing
If you're flat broke and can't afford to invest in a new hobby, consider learning to draw. All you need is a sketchbook and a pencil—that's it. Watch some YouTube videos on how to draw and you're off to a great start.
Drawing offers a wide range of benefits for men: It can relieve stress, improve memory and spur creativity, just to name a few. It also serves as an emotional outlet for guys who struggle to talk freely about their emotions.
If you've always been terrible at drawing, don't let that stop you from doing it. Almost everyone is bad at first. Start doodling while listening to music and you'll get better with practice. 
14. Ham Radio
Never heard of ham radio? Allow us to fill you in on this popular hobby. Ham radio, also known as amateur radio, is the use of noncommercial (but still licensed) radio frequencies that aren't being used by things such as AM or FM.
People use ham radio for several reasons. Some people just want to reach out to the world and communicate with others through radio. Electronic tinkerers tend to enjoy the technological aspect of ham radio.
With a simple ham radio and a good antenna, you can talk with other amateurs from around the world—no Wi-Fi or cell phone necessary. Sound interesting? Be sure to get your license from the FCC before you start communicating.
15. Learning a New Language
Learning a new language is one of the more underrated hobbies for men. What's not to like? Becoming fluent in another language will give you a competitive edge in your career and broaden your world view. 
Picking up a second language will also make international travel much more pleasant. If you're planning a trip to Italy, for example, learning new phrases and vocabulary before you go will likely make your travels easier and more fun.
Final Thoughts
Keep in mind that you don't need to be good at your hobby right off the bat. Embrace your ineptitude in the beginning and just stick with it.
Hobbies aren't always fun. They can have difficult moments that require you to push yourself. But once you accomplish a difficult feat or master a new skill, you'll remember why you started your hobby in the first place.

References
Brewster, Liz, and Andrew M. Cox. "The Daily Digital Practice as a Form of Self-Care: Using Photography for Everyday Well-Being:" Health, Apr. 2018. Sage UK: London, England.
Luttenberger, Katharina, et al. "Indoor Rock Climbing (Bouldering) as a New Treatment for Depression: Study Design of a Waitlist-Controlled Randomized Group Pilot Study and the First Results." BMC Psychiatry, vol. 15, Aug. 2015.
Guéguen, Nicolas, et al. "Men's Music Ability and Attractiveness to Women in a Real-Life Courtship Context." Psychology of Music, vol. 42, no. 4, July 2014, pp. 545–549
---