Subscription
Shipping Address
Order Date

This subscription's skin care system will get replaced.

${ address.name }




${ address.products }

${ displaySubscriptionName(address) }




${ displayProducts(address) }

${ displayAddress(address) }
${ formatDate(address.scheduleDate) }

${ address.name ? address.name : displaySubscriptionName(address)}
${ address.products }
${ displayProducts(address) }
Shipping Address
${ displayAddress(address) }
Delivery Date
${ formatDate(address.scheduleDate) }
This subscription's skin care system will get replaced.
15 Unique and Affordable Valentine's Day Date Ideas
Scrambling for creative Valentine's Day date ideas that won't break the bank? Check out these 15 unique and affordable date ideas that are sure to impress!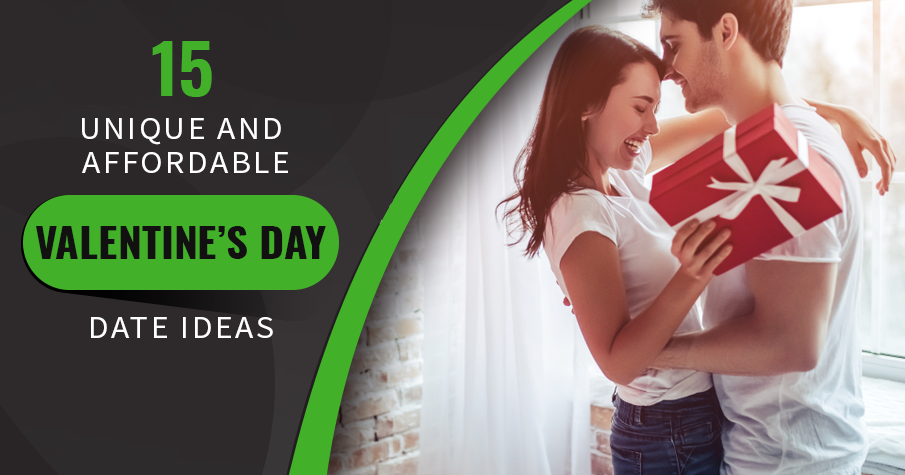 It's not difficult to understand why a lot of men don't like Valentine's Day. Expectations are sky-high, everything is ridiculously overpriced and there is far more pressure on men to wow their wife or girlfriend than the other way around.
Still, this doesn't mean that you should ignore Valentine's Day altogether. After all, the day is a good reminder to treat your partner and show them how much they mean to you.
Instead of getting her overpriced jewelry and cheesy teddy bears, why not take your partner out on a wow-worthy date instead? She'll be far more impressed with this romantic gesture.
Ready to make this Valentine's Day unforgettable? Skip the material items and dazzle her with these 15 unique and affordable date ideas instead:
1. Take Her Around the World (At Home)
As much as you'd like to fly your girl around the world, airline tickets are expensive. Give her the next best thing by creating an international-themed date.
For instance, has she always wanted to go to Bangkok? You can "travel" to Thailand's capital city while staying at home by cooking her Khao Soi Gai (Northern Thai coconut curry noodle soup) and giving her Thai spa products or a Thai silk scarf.
You can do this date with any country, although you may need to go to a specialty grocery store to find some of the ingredients. She'll be impressed with both your creativity and your cooking skills.
2. Embrace Your Inner Child
Doing adult things can start to wear any couple down after a while. Why not have a date that makes the two of you feel like kids again?
Going to a laser tag or arcade center is a fun way to unleash her competitive side. If you don't want to be surrounded by kids, take her to a 21+ arcade center so you can enjoy drinks while you play.
Before you start playing, set the stakes. Have the loser buy the other a drink. You can always hit up a cozy café or fancy restaurant afterwards if you want to make things a little more romantic for Valentine's Day.
TRY MEN'S SKIN CARE
3. Go Skiing or Tubing
If you're not far from ski country, take her to the slopes and spend the day tubing or skiing down a beautiful mountainside. Many ski resorts across the country offer Valentine's Day packages that include a romantic dinner or firework displays.
Of course, you don't need to spend additional money on dinner to make your date memorable. Cozying up in the lodge with a cup of hot chocolate and watching the sunset is a super affordable way to set the mood as well.
Taking in jaw-dropping views of the mountainside as you cuddle up together by the fire is an uber romantic way to spend Valentine's Day. If you have your own skis and boots, it's also super affordable.
4. Create a Scavenger Hunt
A Valentine's Day scavenger hunt costs very little to set up. However, if you want to make it truly epic, it does require some effort on your part.
Start by posting the first clue on the front door of your home. From there, you can lead them to other spots in the house by uncovering clues that will lead them to the final date night spot.
There are plenty of free scavenger hunt templates online that will help you get going. Remember to make it personal by referencing things in your relationship (i.e., the date you first met, her favorite animal, etc.).
5. Get Silly in Photobooths
If you know a few spots around town with photobooths, make it a point to grab drinks or dinner at each of them and be sure to use their photobooths. There is something intimate and charming about squeezing into a booth for a fun photoshoot.
Don't be afraid to be silly in a few of your photos. At the end of the day, you'll have tons of goofy photos that will remind you of your fun date.
6. Set Up a Chocolate Tasting
If she really loves chocolate and is expecting it from you this year, give the lady what she wants—with a twist, of course. Rather than giving her a boring, heart-shaped box of chocolates, try throwing a chocolate tasting party for the two of you.
Similar to how you would throw a wine tasting party, go out and buy different types of chocolate from your local chocolatier. They will be more than happy to help you select a diverse array of chocolates, each with their own unique aromas, tastes and colors.
If you're in a relatively new relationship, here's another good reason not to skip the chocolate this year: Eating something sweet can get them in the mood.
A 2015 study published in the Journal of Social and Personal Relationships found that participants who experienced a sweet taste had greater romantic feelings toward their partner than those who did not (see claim: "…participants indicated greater interest in initiating a relationship with a potential partner when exposed to sweet taste, as compared to control participants.")
7. Learn a New Skill Together
Is Netflix and chill starting to feel a little repetitive? Switch it up by taking her to a cooking class or pottery painting session.
Learning something new together is a fun and exciting way to refresh your relationship. Pick something that neither of you has done before and don't be afraid to laugh at yourselves. A painting class is always fun when neither of you are artists because you can laugh at how terrible your artwork is together.
8. Take a Day Trip
You might not have the budget to fly anywhere expensive, but chances are good that there are plenty of fun date spots within a short drive of your town or city. Consider taking a day trip to the beach, a winery or a quaint little town with a charming main street.
Even if you're visiting the next town over for a killer brunch spot and perhaps a walk, it will feel good exploring outside your typical haunts.
9. Improv or Comedy Show
Valentine's Day dates have a reputation for being serious and romantic. But according to science, humor is an effective way to a woman's heart.
According to a 2015 study published in Evolutionary Psychology, men and women who laugh together is an indicator of romantic intention (see claim: "Both partners' dating interest was associated with simultaneous laughter.")
Don't worry, you don't need to be an amazing comic to tickle her funny bone. Instead, get tickets to a comedy show that both of you will enjoy for a fun date filled with good laughs.
10. Create a Home Spa Day
Getting a relaxing massage or rejuvenating facial is an amazing treat for the two of you. Unfortunately, they can also be incredibly expensive.
If you want to keep things affordable this year, why not create your own spa day for her at home? It costs barely anything to fill a foot bath with Epsom salt and a few drops of lavender essential oil.
Don't forget to moisturize her feet with shea butter. You can top this off with a foot massage to work in the shea butter. She'll be thoroughly impressed and grateful for this treatment that's fit for royalty.
11. Make a Five-Course Meal at Home
A lot of men will spend Valentine's Day cooking for their significant other this year. However, most of them won't go above and beyond by serving a five-course meal.
Five-course meals usually start with the amuse bouche (French for "mouth amuser"), a single-bite hors d'oeuvre that prepares the diner for the meal to come. The amuse bouche doesn't typically count as a course.
After the amuse bouche is the soup course, an appetizer, a salad, the main course (usually contains protein), the cheese course and, finally, the dessert. If you aren't a complete novice in the kitchen, this is a fun way to flex your culinary chops and impress your date.
12. Go Rock Climbing
Rock climbing gyms have popped up all over the country in the last few years. This trendy activity can boost both of your endorphins while giving you both a unique challenge.
It's also relatively inexpensive if you're doing bouldering. Bouldering is low to the ground, so all you need is a pair of climbing shoes and a chalk bag.
While bouldering may not be a laid-back date, there is more than one reason why this activity makes for a great date idea. Bouldering can significantly improve mood. In fact, a 2015 study published in BMC Psychiatry found that bouldering may even be an effective way to treat anxiety and depression (see claim: "After eight weeks of intervention, results indicated positive effects on the measures of depression…")
13. Make Pizzas from Scratch
If you're a low-key couple who enjoy cozy nights in, consider making pizzas from scratch. This is a delicious way to spend some quality time together in the kitchen.
Both of you will have fun kneading the dough and piling on your preferred toppings. If you both enjoy eating healthy, you can try making cauliflower crust pizza from scratch to enjoy a healthier version of pizza.
There is something about making and sharing food together that feels intimate. It's also ideal for learning new things about your partner because it gives you plenty of opportunity to talk while you're cooking.
Take the skin care quiz
14. Have a Watercolor and Wine Night
Wine and paint nights are common in larger cities. But who says that you need to pay to attend a popular wine and paint event?
Instead, hold your own event at home with your date. Find a scenic landscape photo online, print it out and try using watercolor to recreate the image.
Buy a bottle of wine (or any alcoholic beverage) and laugh at how badly your paintings turn out. You can also put on a cheesy Valentine's Day movie to play in the background for more laughs.
15. Go to a Park and Take Silly Pictures
Go to a park that isn't crowded and take two disposable cameras with you. Take a bunch of silly photos of each other as you make your way through the park.
After you've run out of film, drop them off at a photo center to get them developed. Stop by a charming café and enjoy coffee together while you look through the photos.
Part of the fun of this date is flipping through your developed photos and laughing at how they turned out. Sharing laughs is a proven way to feel closer, but you can also increase the intimacy of the date by asking each other 36 questions designed to boost your closeness.
In a famous 1997 study published by the Society for Personality and Social Psychology, Inc., researchers found that having participants ask 36 specific questions could induce feelings of closeness (see claim: "We think that the closeness produced in these studies is experienced as similar in many important ways to felt closeness in naturally occurring relationships that develop over time.")
Regardless of the outcome, these questions are a fun way to get to know your partner more intimately.
Don't Forget to Treat Yourself
After putting so much of your time and effort into planning a unique Valentine's Day date, you deserve to be taken care of as well. If you don't expect your partner to get you an amazing Valentine's Day gift, why not get it for yourself?
Whether it's a professional shave, a new fitness gadget or a comprehensive men's skin care system, treating yourself this Valentine's Day will benefit both your body and your mind. After all, this isn't just a holiday for women—it's for men, too.
---