Subscription
Shipping Address
Order Date

This subscription's skin care system will get replaced.

${ address.name }




${ address.products }

${ displaySubscriptionName(address) }




${ displayProducts(address) }

${ displayAddress(address) }
${ formatDate(address.scheduleDate) }

${ address.name ? address.name : displaySubscriptionName(address)}
${ address.products }
${ displayProducts(address) }
Shipping Address
${ displayAddress(address) }
Delivery Date
${ formatDate(address.scheduleDate) }
This subscription's skin care system will get replaced.
Getting a Men's Facial: What to Expect
Men's facials offer significant benefits for your skin. What can men expect from this incredible treatment? In this post, we demystify the topic of facials for men.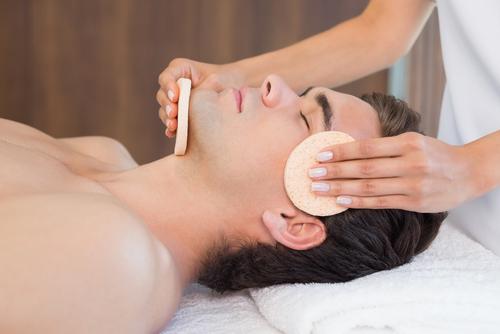 When it comes to getting a facial, men are often hesitant, to say the least. There could be a few reasons for this. 
They might believe it's somehow "unmanly" to treat their skin with the care it deserves. Or maybe, it's the fear of not knowing what goes on during a facial treatment that makes them nervous.
Either way, men are missing out on some significant skin benefits by not treating themselves to a regular facial. Here are three of the things you need to know:
Taking better care of your skin isn't unmanly. It's necessary for healthy, clear-looking skin.
Facials can help treat many common skin complaints in men, including oily or excessively dry skin.
To extend the benefits of a facial beyond a couple of weeks, wash and moisturize your face daily.
A Consultation
Before applying anything to your face, an aesthetician should consult with you about your skin. They may ask you about your skin type, your existing skin care routine, the products you use and whether you have specific skin care concerns.
Be honest with them. This will help the aesthetician choose the ideal facial for your skin type to achieve the ideal outcomes for your skin.
For example, there are acne-fighting facials, age-defying facials, brightening facials—you get the picture. Depending on what your skin needs, facials for men can be anywhere from 30 minutes to an hour.
Warm Towel and Massage
One of the best parts of a facial treatment is the warm towel and massage. In addition to being incredibly relaxing, the towel and the massage also provide benefits for your skin.
The warm towel opens pores on your face, allowing cleansers to penetrate deep into your skin. The towel shouldn't be so hot that it burns the skin or feels uncomfortable—speak up if you feel it's too hot!
The facial massage also has a purpose outside of promoting relaxation. Facial massages promote blood flow in the skin which helps deliver important nutrients to our cells and remove waste more efficiently.
GOT WRINKLES?
Nourishing Cleansers
The aesthetician will apply multiple cleansers to your face which contain powerful ingredients for your skin. Some of these skin care ingredients might include powerful antioxidants such as vitamin A and Sodium Hyaluronate to provide anti-aging benefits to the skin.
Other ingredients you might find in these cleansers are ones that you probably have at home. For example, avocado, yogurt and even coffee can be used in facial treatments.
For these ingredients to penetrate the skin, a mask may be applied to your face. These masks typically have moisturizing effects (see claim: "…the facial masks were more efficient than emulsions in relation to moisturizing effects…") which can help smooth fine lines and wrinkles.
Exfoliation
Next, the aesthetician will gently exfoliate your skin to buff away dead skin cells. This promotes new cell turnover and evens out your complexion.
Aestheticians may use an exfoliating tool, an exfoliating facial scrub or both to remove impurities and revitalize dull skin. Another benefit to this step is that it allows moisturizers to penetrate deeper into the topmost layer of your skin.
Although a bit of light scrubbing feels good, be careful not to overdo it at home! Over-exfoliating your face can dry out the skin and potentially cause acne.
Extractions
A key benefit of facials for men is the extraction part of the treatment. A licensed aesthetician is the only person who can safely extract pimples on your face.
The extraction process is a huge benefit for men because of one simple reason: Men tend to have oily skin due to higher testosterone levels in the body (see claim: "High testosterone levels have been implicated with enhanced sebaceous gland activity in human...")
Truthfully, a men's facial is no different than seeing an aesthetician to extract your blackheads and whiteheads. The only difference is that you receive the full VIP treatment.
Take the skin care quiz
Show Your Skin Some TLC
Facials should be part of every man's regular skin care routine. Not only can they make you appear younger, vibrant and handsome, but they're also a great way to unwind after a stressful work week.
Once you experience your first men's facial treatment, we guarantee that you'll go back for more. There is no shame in giving your skin the care it deserves!
Want to extend the results of your facial for weeks afterwards? Try our men's skin care kit and begin reaping the benefits of healthy, vibrant-looking skin!
---
// © Copyright 2023 Tiege Hanley