Subscription
Shipping Address
Order Date

This subscription's skin care system will get replaced.

${ address.name }




${ address.products }

${ displaySubscriptionName(address) }




${ displayProducts(address) }

${ displayAddress(address) }
${ formatDate(address.scheduleDate) }

${ address.name ? address.name : displaySubscriptionName(address)}
${ address.products }
${ displayProducts(address) }
Shipping Address
${ displayAddress(address) }
Delivery Date
${ formatDate(address.scheduleDate) }
This subscription's skin care system will get replaced.
4 Signs of Aging Around the Eyes (and How Our Anti-Aging Eye Cream Can Help)
Nothing ages a man like the skin around his eyes. Find out the common signs of aging around the eyes and how a powerful anti-aging cream like Tiege Hanley's EYES can fix them!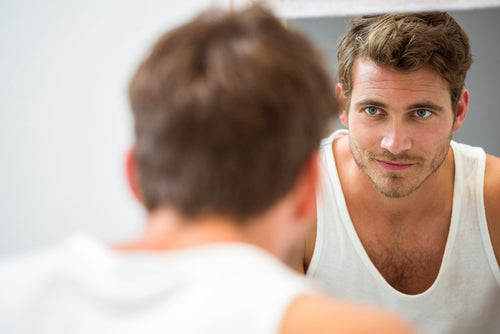 As you creep into your 30s and 40s, the signs of aging begin to show up around the eyes. The skin around our eyes is thin, which makes fine lines and puffiness more noticeable as we age.
While aging is inevitable, the right products can help you hold onto your youthful good looks for as long as possible. Here are three things to know about aging around the eyes and how our eye cream for men can help you turn back the clock:
The first signs of aging are observed in the eyes. Skin around the eyes is very delicate, which makes this area more susceptible to skin imperfections.
Wrinkles, fine lines, dark circles and other signs of aging can negatively impact a man's career and/or social life.
With our anti-aging eye cream, you can take action and reduce the appearance of fine lines, wrinkles and other imperfections.
Fine Lines
It's a common misconception that fine lines and wrinkles are the same thing. One thing they do have in common is that they can both appear around the eyes.
Fine lines are less noticeable compared to wrinkles and are usually the first signs of aging on your face. They are commonly found around the eyes and mouth and can appear earlier in men who smoke or spend too much time in the sun.
The good news is that fine lines generally respond quicker to common treatments such as skin firming serums and creams. This is because they aren't as deep as wrinkles and don't usually require intense treatment.
An over-the-counter eye cream such as Tiege Hanley's can help smooth fine lines and restore your youthful vitality once again. Our eye cream for men is formulated to penetrate a man's tough skin and contains ingredients such as Glycerin, a natural moisturizer which traps in water and smooths out lines for a more hydrated, nourished appearance.
CONTROL EYE BAGS
Wrinkles
Men can have fine lines for years before deep wrinkles begin to show up on their face. Wrinkles around the eyes are often referred to as crow's feet (or laugh lines, although these also refer to lines around the mouth) and can be caused by sun exposure, squinting and simple genetics.
Keep in mind that wrinkles are also a natural part of aging. This doesn't mean that you can't reduce their prominent appearance! Our eye cream for men has a combination of ingredients which smooth wrinkles and reduce the signs of aging.
In addition to Glycerin, our anti-aging eye cream contains Acetyl Hexapeptide-8, a synthetic peptide which mimics the effects of Botox. When combined with powerful antioxidants, our formula can tighten the skin and slow down the formation of deep wrinkles.
Puffiness/Dark Circles
As if puffy eyes in the morning weren't bad enough, they are often accompanied by unsightly dark circles. This combination can make you appear old and tired.
Puffy eyes and dark circles can happen at any age, but there is a reason why you're noticing them more in your 30s and 40s. As we age, the eye's collagen begins to break down, allowing bluish veins to become more visible.
When our underlying eye tissue weakens, fat in our upper eyelids can slide down, creating an appearance of puffiness. Even though you may feel well rested, old age can cause you to wake up with puffy eyes anyway.
Although this can take its toll on your self-esteem, there is a simple fix. Our chemist worked his magic and added caffeine to our eye cream. Caffeine is a potent antioxidant which is tough enough to penetrate skin and has a soothing effect. It's also effective at constricting skin for a tighter appearance.
Take the skin care quiz
Discoloration
Dark discoloration of the skin (also known as melasma) can make you feel self-conscious. Whether it's caused by sun exposure, rosacea or genetics, you probably wish that your brown spots and red marks weren't so noticeable.
With our eye cream, you can finally reduce the appearance of discoloration around the eyes and potentially eliminate it altogether. Our eye cream contains Niacinamide, a superstar ingredient in skincare which has anti-inflammatory properties that can reduce the appearance of brown spots and red marks.
A Simple Solution to Keep Your Youthful Good Looks
Following a basic skincare regimen is essential to achieving healthy, vibrant skin. But for those in their late 20s and up, it's time to consider an anti-aging eye cream as well.
By getting started early, you can significantly slow down the signs of aging around the eyes and retain your youthful appearance for longer. Best of all, you can still keep things simple. Check out our men's skincare kit, choose the right level for you and get everything you need sent straight to your door. With Tiege Hanley, fighting off old age has never been easier.
---
// © Copyright 2023 Tiege Hanley