Subscription
Shipping Address
Order Date

This subscription's skin care system will get replaced.

${ address.name }




${ address.products }

${ displaySubscriptionName(address) }




${ displayProducts(address) }

${ displayAddress(address) }
${ formatDate(address.scheduleDate) }

${ address.name ? address.name : displaySubscriptionName(address)}
${ address.products }
${ displayProducts(address) }
Shipping Address
${ displayAddress(address) }
Delivery Date
${ formatDate(address.scheduleDate) }
This subscription's skin care system will get replaced.
5 Easy Steps to Build Confidence
Confidence doesn't come naturally to every man. Follow these five easy steps to start feeling better about yourself.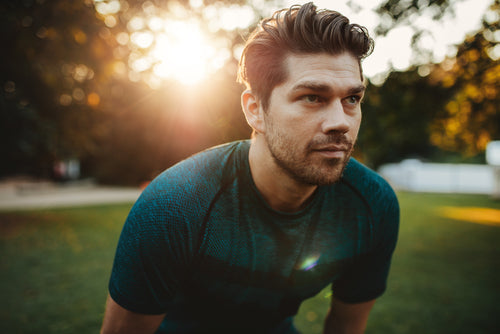 When you lack confidence, everything seems harder. Getting a promotion, asking out women, making friends and other related tasks can feel downright impossible to a man who doesn't believe in himself.
Even men who appear to have everything going for them in life can feel self-conscious and unsure at times. The important thing is to recognize when you feel this way and take steps to slowly build up your confidence once more.
What can you do to increase your manly confidence? Here are three things you need to know:
Setting small goals in the beginning is essential to creating positive feedback loops that build confidence.
There are numerous psychological tricks you can use to manipulate your brain and boost your confidence.
Practicing self-care can teach men to treat themselves with kindness and help them banish negative thoughts.
TRY MEN'S SKIN CARE
Step #1: Start Small
When building up your self-confidence, it's important that you set yourself up for success. Taking on too big of a challenge in the beginning will only make you feel disappointed in yourself if you fail.
In fact, our ambitious nature is why so many people inevitably fail at their New Year's resolutions. To give yourself a better chance at succeeding, it's critical that you make small goals for yourself.
For example, instead of committing to the gym five times a week, it makes far more sense for a newbie gym-goer to hit the gym two or three times a week to start. Giving yourself these small wins will grow your confidence and help you set larger goals.
Step #2: Use Psychological Hacks to Grow Your Confidence
The saying "fake it until you make it" is backed by scientific evidence. Numerous studies have found that there are several things you can do to trick your brain into giving you a confidence boost.
For instance, sitting up straight in your chair or standing straight with your shoulders back can instantly make you feel more confident. A 2010 study published in NeuroRegulation found that students who slouched in their chairs while performing math exercises were less confident in their answers compared to those who sat up straight (see claim: "…posture can affect mental math and inhibit abstract thinking.")
Similarly, cracking a smile can also make you feel less stressed and more confident. At the very least, try not to frown.
According to a 2009 study in the Journal of Cosmetic Dermatology, researchers found that treatments which prevent frowning (such as Botox injections) could help patients maintain a positive mood (see claim: "Treatments that prevent frowning correlate with reduced negative mood.") If you want a tightening effect without resorting to Botox, you can try using a facial firming serum for men, which can reduce the appearance of fine lines without the needles or steep cost.
Step #3: Start Exercising
Even if your goal isn't to get stronger or leaner, getting regular exercise can significantly boost your confidence. Exercising triggers a release of chemicals called endorphins which give your brain a natural high.
It's also a great way to boost your confidence if you struggle with social anxiety. Getting a gym membership forces you into low-pressure social situations which can slowly build your confidence.
Step #4: Practice Self-Care
A lot of men dismiss the idea of self-care because they think of lighting candles and taking a hot bath. Although some men do practice self-care in this way (no judgment), there are far more things you can do to make time for yourself.
For instance, taking care of your skin. Getting on a regular skin care regimen and actually paying attention to your skin can help boost your confidence like no other.
It doesn't take much—just a few minutes in the morning and at night to wash and moisturize your face. Not only will it feel good, it can also clear up your skin and give you a major confidence boost.
Other self-care practices you can try might include spending time outdoors, practicing meditation or simply going to the gym. Making time to take care of your body and mind is critical to feeling confident and self-assured.
Take the skin care quiz
Step #5: Stop Comparing Yourself
Here is the harsh reality: There will always be someone who is better looking, makes more money and has more talent than you do. Why waste your time comparing yourself to others when it only brings you down?
This year, it's time for you to unfollow social media accounts that make you feel bad about yourself. They aren't doing anything for your mental well-being and are slowly sucking away the progress you've made in growing your confidence.
Growing Confidence Takes Time
Although these steps are easy to follow, keep in mind that you won't magically become a confident person overnight. Feeling good about yourself takes time and consistency.
Even after you feel more self-assured, don't be surprised when you have times where your confidence wanes. The important things are recognizing these negative feelings, being compassionate with yourself and continuing to move forward.
---
// © Copyright 2023 Tiege Hanley