Subscription
Shipping Address
Order Date

This subscription's skin care system will get replaced.

${ address.name }




${ address.products }

${ displaySubscriptionName(address) }




${ displayProducts(address) }

${ displayAddress(address) }
${ formatDate(address.scheduleDate) }

${ address.name ? address.name : displaySubscriptionName(address)}
${ address.products }
${ displayProducts(address) }
Shipping Address
${ displayAddress(address) }
Delivery Date
${ formatDate(address.scheduleDate) }
This subscription's skin care system will get replaced.
5 First Date Tips for Men
Nervous for your first date? Relax, you got this. Discover a few first date tips for guys who need a little help in the love department.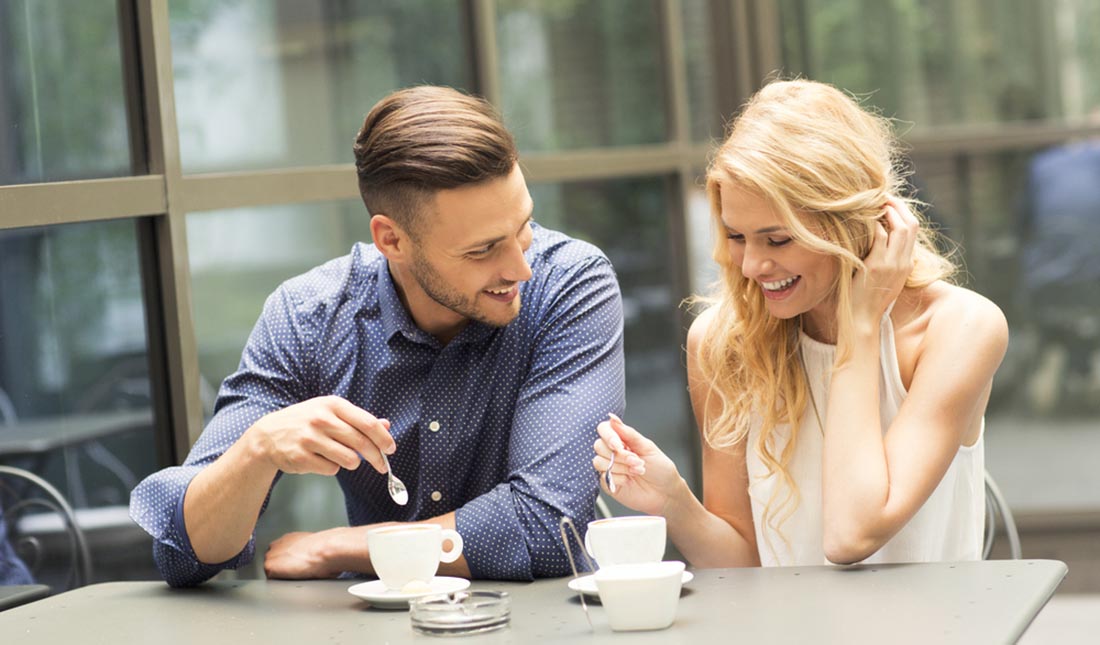 So, you're going on a first date and you're a gigantic bundle of nerves. Congratulations, that means you're human.
Everyone feels a little bit anxious on first dates. It's perfectly normal.
The key to overcoming your jitters is by being prepared. To help you out, we've put together a quick list of first date tips that will make your first meetup smoother sailing.
Here are a few things you need to know about first date tips for men.
Try to plan a first date that you can shorten or extend, depending on your compatibility
Don't be afraid of awkward silences. Practice active listening with your date
Make a good first impression by putting careful thought into your appearance
Take a deep breath and relax—you got this. Here are five first date tips to keep in mind that will help you land a second.
1. Be Flexible
Going out on a date with someone you don't know very well? Skip the long, drawn-out dinner date and try to choose a flexible activity instead, such as getting coffee or ice cream. That way, you're not stuck waiting for the check after realizing early into your date that the two of you aren't compatible.
TRY MEN'S SKIN CARE
Bonus tip: Skip the coffee date altogether and go for something sweet. According to a 2014 study published in the Journal of Social and Personal Relationships, people are more likely to show interest in an initial relationship when they're exposed to something sweet, such as ice cream or chocolates (see claim: "…participants evaluated a hypothetical relationship, but not an existing relationship, more favorably when exposed to sweet taste compared to non-sweet taste control.")
2. Practice Active Listening
A lot of people are so terrified of awkward silences on first dates that they don't actively listen to what the other person has to say. They just wait for their turn to speak. That's a problem, because active listening is key to connecting with your date and may even influence how attractive you are.
According to a 2014 study published in the International Journal of Listening, participants who engaged with someone who gave active listening responses were not only more satisfied with the conversation, they also perceived the responder to be more socially attractive (see claim: "Participants who received either active listening responses or advice were more satisfied with their conversation and perceived the confederate to be more socially attractive.")
If you really can't stand silences, try this instead: briefly summarize what the person said or ask for clarification. Your ability to practice active listening will give you a significant edge in the dating world and beyond.
3. Put Effort into Your Appearance
Guys, do you have any inkling of the immense effort that a woman puts into her appearance? Even though she may look effortlessly beautiful, she probably spent a decent amount of time choosing her outfit and doing her hair and makeup.
The least you can do is show up looking like you put some thought into your own appearance. If you don't have any fashion sense, start reading some fashion websites for men such as GQ.
TAKE THE SKIN CARE QUIZ
Don't forget about your skin care routine (or lack thereof). If you want to dazzle her with your clear, blemish-free skin, pick up a few skin care products and start taking better care of that handsome mug of yours.
4. Don't Treat Your Date Like an Interview
No one wants to feel like they're being interrogated on a first date. Go easy on the hardball questions that get too personal too quickly.
Keep your first date questions fun and light, but also purposeful. For instance, you could ask her where in the world she would travel if money and responsibilities were no issue. It's a great question because it's fun, not related to work and will give you a better idea of their adventurous side.
5. Put Your Phone Away
Nothing is worse than having an honest conversation be interrupted by the sound of text message alerts. Guys, you are destroying perfectly good dates by paying too much attention to your phone.
Unless you're pulling out your phone to take a fun selfie with your date, be respectful and keep it away from your date. Better yet, put it on silent mode. This way, you can still show her pictures on your phone without it possibly buzzing or chirping.
Final Words of Advice
Remember, you're both there by choice. She wouldn't have agreed to a first date if she wasn't at least a little bit interested in you.
With that in mind, try to relax and be yourself. If she's into it, great. If not, then it wasn't meant to be.
References
Ren, Dongning, et al. "Sweet Love: The Effects of Sweet Taste Experience on Romantic Perceptions." Journal of Social and Personal Relationships, vol. 32, no. 7, Nov. 2015, pp. 905–921.
Harry Weger Jr., Gina Castle Bell, Elizabeth M. Minei & Melissa C. Robinson (2014) The Relative Effectiveness of Active Listening in Initial Interactions, International Journal of Listening, 28:1, 13-31
---
// © Copyright 2023 Tiege Hanley