Subscription
Shipping Address
Order Date

This subscription's skin care system will get replaced.

${ address.name }




${ address.products }

${ displaySubscriptionName(address) }




${ displayProducts(address) }

${ displayAddress(address) }
${ formatDate(address.scheduleDate) }

${ address.name ? address.name : displaySubscriptionName(address)}
${ address.products }
${ displayProducts(address) }
Shipping Address
${ displayAddress(address) }
Delivery Date
${ formatDate(address.scheduleDate) }
This subscription's skin care system will get replaced.
Guys, Follow These 5 Steps to Take a Good Selfie (Updated March 2020)
Ready to boost your selfie game, gentlemen? Follow these five steps for a good selfie and learn how to snap the perfect shot of your handsome mug.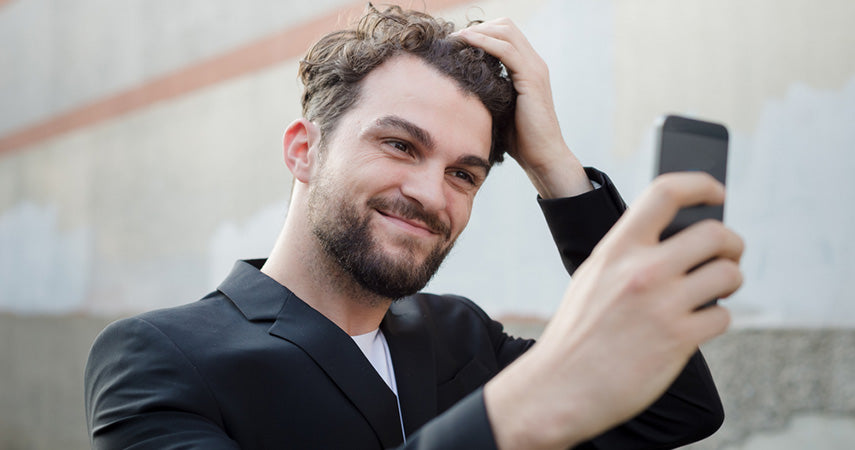 If you're on Instagram and own a phone, you've definitely taken a selfie or two before. The beauty of a selfie is that you're in total control of everything, from the lighting and angle to the exact time of day you snap the picture.
Basically, you have all the potential to capture your true, handsome self.
Unfortunately, taking a good selfie can be a struggle for a lot of guys.
Whether you need a great picture for your dating profile or you simply want to share an interesting shot with your followers, it helps to know how to take a decent photo of yourself.
If you're looking to level up your selfie game, you've come to the right place, gentlemen.
When it comes to taking the perfect selfie, here are several things you should know:
Use lighting to your advantage to enhance the quality of your selfie.
Pictures from below are often unflattering.
Learning how to use your phone's filters and editing tools can improve your selfie.
Step One: Make Sure You Look Good
Unlike other photo ops, you have total say over when you want to take the perfect shot.
You can wait until you're having an amazing hair day or your favorite outfit is fresh out of the dryer to take the best selfie possible.
On a similar note, make sure that you're well-rested, too.
Although our men's eye cream can do wonders for your eyes by smoothing the appearance of wrinkles, sleep is essential if you want to look and feel your best.
It's all about using a high-quality men's skin care kit to create a routine that will showcase your healthy skin.
CONTROL EYE BAGS
Step Two: Stage Your Photo
Gentlemen, the bathroom mirror selfie is old news.
Unless you're taking it half naked to send to your girlfriend, there is no good reason to share a bathroom selfie with the world.
Have some fun with your selfies and make them interesting.
Take a selfie with a beautiful backdrop, a silly picture with your friends or a selfie with your cat. 
Alpha M's cat, Angelo, steals the show—and our hearts.
Taking pictures with animals is great because they're always down for a selfie and most people love seeing them in your pictures.
Plus, they do some pretty silly things—perfect for a good selfie.
Step Three: Find Your Lighting
Lighting is one of the most important components of good photography, selfies included.
Too dark and your picture can look low quality, while too much light can show every stubborn blemish and accentuate premature wrinkles.
For the best lighting, try facing a window with the camera held out in front of you.
Standing in front of a window usually creates the perfect amount of light for selfies.
Step Four: Play Around with Angles
One of the biggest mistakes that guys make is taking selfies strictly from below, as opposed to above.
In fact, guys take pictures from this angle so frequently that a study was done to find out why.
According to a 2017 study published in Psychological Science, men often take photos from below while women take photos from above. Researchers believe men do this to appear larger and more dominant (see claim: "…men take and display photographs portraying themselves in a high relative physical position to highlight their size and appear dominant.")
The problem with this angle is that it often gives an unflattering shot of your nostrils and can make you appear fuller in the face.
Instead, play around with different angles to find your most flattering side.
Take the skin care quiz
Step Five: Learn How to Edit
After you've snapped the perfect selfie, it's not ready for social media just yet.
Your phone's editing options and filters can enhance the quality of your photo and make you look even better.
Learning to play with colors, saturation, brightness and filters can help take your photo from amateur-looking to amazing in seconds.
While the editing and filters may seem a little narcissistic, there is no shame in wanting to look your best in a photo.
In fact, a 2017 study published in Frontiers in Psychology found that approval, belonging and documentation were the top three motivating reasons for taking selfies, all of which had nothing to do with narcissism (see claim: "…none of the selfie motivating factors was found to relate to narcissism.")
Picture Perfection
The best way to get the perfect selfie is to have fun with it. Keep in mind that the point of a selfie isn't to show off or be too serious.
Finally, make sure that you're having a great skin day. While filters are effective at hiding imperfections, you will eventually get called out by your followers if you don't look like your real self in person!
If you don't want to rely so much on filters to make yourself look attractive, taking good care of your skin is essential.
Start by washing your face regularly, exfoliating twice a week and using a daily moisturizer.
With a regular routine, you'll no longer need to rely on a filter to disguise the acne between your eyebrows or the pimple on your forehead.
References
Makhanova, Anastasia, et al. "Relative Physical Position as an Impression-Management Strategy: Sex Differences in Its Use and Implications." Psychological Science, vol. 28, no. 5, Aug. 2017, pp. 567–577., doi:10.1177/0956797616688885.
Etgar, Shir, and Yair Amichai-Hamburger. "Not All Selfies Took Alike: Distinct Selfie Motivations Are Related to Different Personality Characteristics." Frontiers in Psychology, vol. 8, 2017, doi:10.3389/fpsyg.2017.00842.
---
// © Copyright 2023 Tiege Hanley