Subscription
Shipping Address
Order Date

This subscription's skin care system will get replaced.

${ address.name }




${ address.products }

${ displaySubscriptionName(address) }




${ displayProducts(address) }

${ displayAddress(address) }
${ formatDate(address.scheduleDate) }

${ address.name ? address.name : displaySubscriptionName(address)}
${ address.products }
${ displayProducts(address) }
Shipping Address
${ displayAddress(address) }
Delivery Date
${ formatDate(address.scheduleDate) }
This subscription's skin care system will get replaced.
6 Meals Every Guy Should Know How to Cook
Looking for a few delicious meals you can make at home? Check out these quick and easy recipes for guys that will take your home-cooked meals to the next level.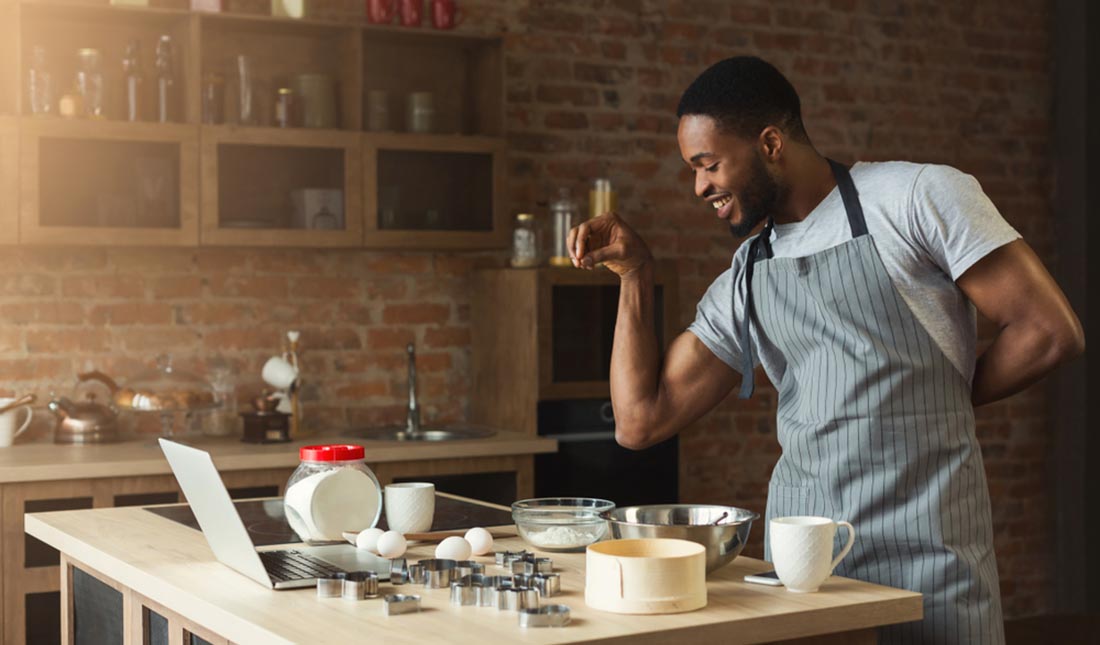 It's a simple fact: Man can't live on takeout alone.
Well, you probably could, but that would be bad for your waistline—and your wallet, for that matter.
Learning how to cook your own delicious meals at home is a valuable skill in life.
If you've got some extra time on your hands—and a hungry belly—then allow us to introduce a few easy meals you can whip up in the comfort of your own home.
First, here are three things you need to know to cook delicious meals at home:
You don't need to be a Michelin-star chef to cook an amazing meal
A cast iron skillet is an easy way to enhance the flavor of your meals
Be aware that recipes may not work perfectly due to the differences in oven temperatures
Ready to level up your cooking skills?
Here are six meals every guy should know how to cook.
1. Pan-Roasted Chicken with Vegetables
Healthy and bursting with flavor, a roasted chicken and vegetable dish is definitely a meal that every guy should know how to cook.
A sheet pan roasted chicken with veggies takes just a few minutes to put together yet tastes as though it took you hours.
It's also a great recovery meal after a brutal CrossFit workout.
Just add a side of brown rice to your meal and you can maximize your gains long after you've stopped sweating.
To make your pan-roasted chicken, simply chop up some chicken and seasonal veggies and place everything on a sheet pan.
Season them with olive oil, salt, pepper and Italian seasoning.
Bake at 500 degrees Fahrenheit for 15 minutes and voila!
2. A Simple Pasta Dish
Cooking for your girlfriend or a group of friends?
Classic pasta is always a crowd-pleaser.
TRY MEN'S SKIN CARE
When eaten in moderation, it can also be part of a healthy diet—yes, really. A 2017 study published in BMJ Open showed that people who ate a low-glycemic diet still lost weight even when they consumed pasta (see claim: "Pasta in the context of low-GI dietary patterns significantly reduced body weight…")
To keep your pasta on the healthier side, go easy on the heavy sauces and throw in some protein and vegetables.
Grilled chicken and asparagus pesto pasta is the perfect example of a healthy pasta dish.
Just grill up some seasoned chicken and asparagus, combine with store-bought pesto, boil some fusilli (the spiral pasta), add some parmesan cheese and boom—you have the perfect date night meal.
3. A Perfectly Seared Steak
Every guy should know how to cook a steak at home that drips with juicy flavor and meaty goodness.
If you can't make it to your favorite steakhouse, go out and buy yourself some "choice" ribeye steaks with plenty of marbling (i.e., the fatty white streaks on the steak).
Lay your steaks on a cutting board and pat them dry with a paper towel.
Season your steaks with salt and pepper.
Heat up a cast iron skillet on high heat and coat the pan with a teaspoon of olive oil.
For a medium-rare steak, cook a one-inch thick steak for about three or four minutes on each side.
Allow your steak to rest on a plate for about five minutes before gobbling up your juicy masterpiece.
4. An Asian-Inspired Noodle Dish
Ah, ramen: a classic college food staple.
If you're anything like us, you probably have a few packs of the stuff tucked away in your pantry right now (old habits die hard).
Why not give your instant ramen noodles a sophisticated twist?
Start by boiling a pack of ramen noodles (oriental flavor, preferably).
TAKE THE SKIN CARE QUIZ
Toss in some chopped green onion, fresh cilantro and snow peas.
Cook for a minute and add medium-sized, deveined shrimp.
Cook for another two minutes and transfer to a bowl.
Top with bean sprouts and chopped peanuts and boom—you now have an easy, Asian-inspired dish that is perfect for lazy weeknights.
5. A Killer Frittata
If you want to seriously impress your girl, you should know how to make a hearty breakfast for the two of you.
A delicious and healthy frittata looks striking in a cast iron skillet (seriously, get one of these if you don't already have one) and is easy to make.
Start by setting your oven to 375 degrees.
Beat eight large eggs together in a bowl and add a dash of oregano, minced garlic, salt and pepper.
Up the flavor by throwing in ¾ cup shredded mozzarella cheese to your egg mix.
Add 1/3 cup of heavy cream, mix together and set aside.
In a large cast iron skillet, stir-fry a combination of vegetables like spinach and mushrooms.
Add the egg mixture and put in the oven for 12 minutes or so.
Allow it to rest for a few minutes and then dig in!
6. A Fancy Cheese Board
OK, so maybe a cheese board isn't actually a meal.
But there are a few reasons why knowing how to make a cheese board at home is well worth your time.
First and foremost, it's a subtle way to show off your incredible hosting chops.
Everyone is sure to be mega-impressed with the guy who creates a cheese board as opposed to simply cracking open a bag of Doritos and calling it good.
Secondly, cheese isn't that bad for you.
In fact, research shows that cheese can actually make you live longer (see claim: Dairy consumption was associated with lower risk of mortality and major cardiovascular disease…")
Lastly, making a cheese board couldn't be easier.
Invest in a nice cheese board, load it up with a few types of cheese, add some grapes and olives and boom–it looks effortlessly fancy.
Final Thoughts
Like tying a necktie or following a skin care routine, knowing how to cook a few basic meals is something that every guy should know how to do.
The next time you find yourself stuck at home with nothing to do, try your hand at making one of these meals.
And remember: It's OK if you're not on Gordon Ramsay's level after your first attempt.
Practice makes perfect, gentlemen!

References
Chiavaroli, Laura, et al. "Effect of Pasta in the Context of Low-Glycaemic Index Dietary Patterns on Body Weight and Markers of Adiposity: A Systematic Review and Meta-Analysis of Randomised Controlled Trials in Adults." BMJ Open, vol. 8, no. 3, Mar. 2018, p. e019438.
Dehghan, Mahshid, et al. "Association of Dairy Intake with Cardiovascular Disease and Mortality in 21 Countries from Five Continents (PURE): A Prospective Cohort Study." The Lancet, vol. 392, no. 10161, Elsevier, Nov. 2018, pp. 2288–97.
---
// © Copyright 2023 Tiege Hanley