Subscription
Shipping Address
Order Date

This subscription's skin care system will get replaced.

${ address.name }




${ address.products }

${ displaySubscriptionName(address) }




${ displayProducts(address) }

${ displayAddress(address) }
${ formatDate(address.scheduleDate) }

${ address.name ? address.name : displaySubscriptionName(address)}
${ address.products }
${ displayProducts(address) }
Shipping Address
${ displayAddress(address) }
Delivery Date
${ formatDate(address.scheduleDate) }
This subscription's skin care system will get replaced.
How to Impress Your Girlfriend: 5 Easy Things Any Guy Can Do
Don't know how to impress your girlfriend? Whether you've been dating for a month or a year, there are plenty of simple things you can do to sweep a girl off her feet—no special talent required.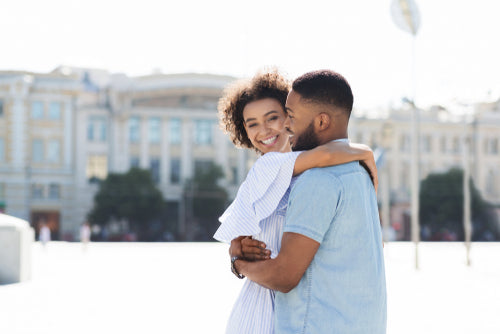 Believe it or not, your girlfriend is not impossible to impress. You don't need to make big, grand gestures to sweep her off her feet or make a lasting impression.
In fact, it's often the little things that women notice which impress them the most. Whether it's being more mindful of your thoughts or writing them a touching, handwritten note, you can tug at her heartstrings without having any special talent.
Any guy can learn how to impress their girlfriend. Here are three things all men need to know:
You don't need to look like Ryan Gosling to impress her, but you do need to put effort into your appearance.
Prove to your girlfriend that you know her by catering to her hobbies and interests.
Pay her compliments on both her physical and non-physical traits.
TRY MEN'S SKIN CARE
Plan a Thoughtful Date
When was the last time you took your girlfriend out on a special date? No, not just dinner at a restaurant you both enjoy. We're talking about a date that she will brag to her girlfriends about later.
A thoughtful date is one that caters to her interests and demonstrates that you truly know her. For instance, does she have a favorite band or author? Find out when her favorite musicians will be in town or when an author she loves will be doing a book signing near you.
It will blow her away when you surprise her with these thoughtful dates. In fact, it will make her more attracted to you as well.
According to a 2014 Chinese study, women rated men with positive traits (such as kindness and thoughtfulness) more attractive (see claim: "Positive personality can increase perceptions of facial attractiveness.")
If you don't have much money, get creative with free date ideas and create special moments that neither of you will forget.
Put More Effort into Your Appearance
We understand that men are in a rush in the morning and don't want to complicate their routine but gentlemen—it only takes a few more minutes to improve your appearance and make your girl weak in the knees.
Whether it's adding a bit of product to your hair or sticking to your skin care regimen, the little things you do in the morning can make all the difference to your appearance. Your gal is likely to notice the results of your hard work and be equally happy to know you're taking care of yourself.
Improving your appearance (whether it's taking care of acne or reducing dark circles under your eyes) can help boost your confidence and just about every girl likes a confident guy. Kick-start your own uncomplicated skin care routine with a men's skin care kit to help maintain your confidence for months to come.
Gift Her Something from the Heart
Are you an artist? A woodworker? A welder? Consider using your hobby to impress your girlfriend.
For instance, gifting your girlfriend with a handmade wood carving is almost guaranteed to melt her heart. This goes for anything that demonstrates how much time and effort you clearly spent on the gift. Even a handwritten note will do the trick.
It could cost you absolutely nothing—and yet, your girlfriend will treasure your handmade gift for years to come. If she doesn't appreciate a gift that you spent weeks or months making, then you may want to reevaluate your relationship.
Take the skin care quiz
Practice Mindfulness and Empathy
It's no secret that men often struggle to express their emotions. However, the key to impressing your girlfriend might just be listening carefully to her and being more mindful.
Multiple studies suggest that mindfulness is an attractive quality for men to possess. One speed-dating experiment found that women were more attracted to mindful men, while men weren't influenced by a woman's mindfulness at all (see claim: " Men were more attracted to women who were more physically attractive, but female mindfulness did not influence male initial attraction.")
Practicing mindfulness can help you learn how to better manage your anger, as well as appear cool and calm under pressure. If your girlfriend isn't impressed with your ability to handle pressure, your boss certainly will.
Choose Your Compliments Carefully
Every woman enjoys a sincere compliment from her significant other. However, not all compliments are created equally.
There is a time and a place to call her "hot" and "sexy." But to really impress her, be sure to switch things up and call her "beautiful" or "stunning."
If you want to knock it out of the park with your compliments, try using metaphorical language to compliment her (i.e., "your eyes are as beautiful as a sunset"). According to a Chinese study published in Scientific Reports, women are more attracted to men who use metaphorical compliments as opposed to literal ones (see claim: "women find men who typically use novel metaphorical language to compliment appearance more attractive…")
Also, don't forget to compliment her on other things that aren't physical. Is she good at cooking? Does she have a knack for negotiating? Does she have a beautiful singing voice? Paying attention to her hobbies and special talents is a surefire way to impress your girlfriend.
Final Thoughts
You don't need washboard abs or a fancy car to impress a girl. Whether you've been dating for two months or two years, you can wow your girlfriend by sprucing up your appearance and paying close attention to her wants and needs.
---
// © Copyright 2023 Tiege Hanley