Subscription
Shipping Address
Order Date

This subscription's skin care system will get replaced.

${ address.name }




${ address.products }

${ displaySubscriptionName(address) }




${ displayProducts(address) }

${ displayAddress(address) }
${ formatDate(address.scheduleDate) }

${ address.name ? address.name : displaySubscriptionName(address)}
${ address.products }
${ displayProducts(address) }
Shipping Address
${ displayAddress(address) }
Delivery Date
${ formatDate(address.scheduleDate) }
This subscription's skin care system will get replaced.
6 Waxing Tips for Men
Thinking about getting waxed? Before you do, check out a few waxing tips for men that will help make the experience less painful.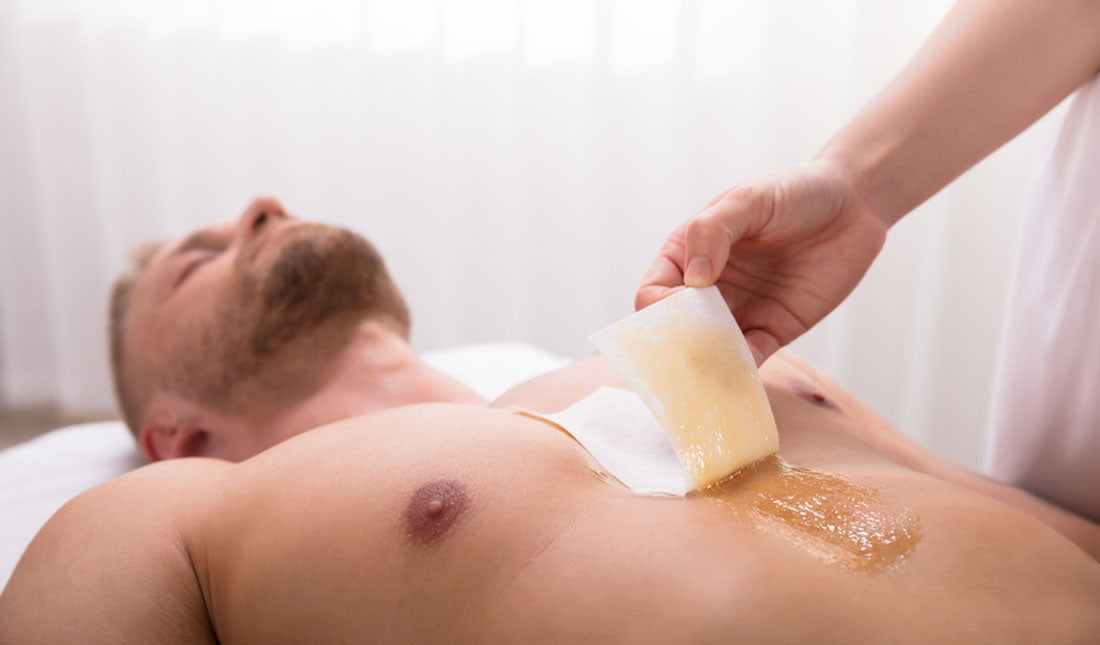 Ah, the joys of waxing. For a lot of guys, the word alone conjures up frightening images of Steve Carell screaming in pain during his famous waxing scene in The 40-Year-Old Virgin.
While waxing has a reputation for being incredibly painful, it's truly not as bad as it looks or sounds. As long as you prep your skin beforehand and treat it properly right after, you should have a relatively painless experience.
Here are three things to consider before you wax:
Waxing is a lot less painful when you put in the prep work and pop a nonsteroidal anti-inflammatory drug (NSAID) beforehand.
Exfoliating your skin two days before can result in a smoother wax job.
Applying a cold pack to your skin after you wax can reduce pain and inflammation.
You don't need to fear the wax, guys. With the following waxing tips, you can achieve a smooth, hair-free look without suffering unnecessary pain.
1. Make Sure Hair Is at the Optimal Length
The America Academy of Dermatology recommends waxing hair when it's at a length of about one-fourth to three-fourths of an inch long. This length is the sweet spot for achieving smooth skin without experiencing any unnecessary pain.
If your hair is too long, use grooming scissors to cut it to the recommended length. If your hair is too short, give it enough time to grow out before scheduling your wax appointment.
CONTROL EYE BAGS
2. Exfoliate Your Skin Two Days Before
Exfoliating your skin helps remove dead skin cells and excess oil from the surface for a smoother, cleaner wax job. However, it can also make your skin a little sensitive to the wax, so be sure to scrub at least two days in advance of your waxing session.
If you're waxing your eyebrows, use a gentle facial scrub to exfoliate your skin. For the rest of your body, you can use either a body scrub or your loofah to get your skin primed and ready.
3. Avoid Retinoids on Waxing Day
Retinoids are the anti-aging superheroes of the skin care world. According to a 2017 study published in the International Journal of Cosmetic Science, retinoids such as retinol can increase the thickness of the skin and reverse signs of aged skin that contribute to impaired skin barrier function (see claim: "0.4% topical ROL shows remarkable anti-aging effects through improvement of the homeostasis of epidermis and dermis by stimulating the proliferation of keratinocytes and endothelial cells, and activating dermal fibroblasts.")
Unfortunately, the exfoliating effect they have on the skin can contribute to a painful waxing experience, which is why you'll want to skip them on the day you wax. It's also not a bad idea to skip your moisturizer as well because wax adheres best to dry skin.
Take the skin care quiz
4. Take a Pain Killer Before You Go
Taking nonsteroidal anti-inflammatory drugs (NSAIDs) before you wax can significantly reduce the pain you may feel. If you're getting waxed anywhere on the face or in the groin area, pop one about an hour or two in advance to reduce the pain of these highly sensitive areas.
Just make sure that you don't go overboard with the pain meds (and always take with food). According to a 2018 study published in Pharmacoepidemiology & Drug Safety, researchers found that roughly 15 percent of people who regularly take NSAIDs were exceeding the recommended daily dose, which can have negative side effects like internal bleeding (see claim: "EDL occurred among 11% of users for ibuprofen, 4% of users for other NSAIDs, and on 9.1% of NSAID usage days.")
5. Think Twice if You Have Sensitive Skin
Waxing is rough on the skin, so guys with sensitive skin may want to consider alternative hair removal methods. Otherwise, you may end up with red bumps on the skin known as folliculitis.
Shaving with a mild razor and using premium-quality skin care ingredients to prep your skin is key to reducing skin irritation. Minus a few exceptions, you can basically shave any spot by yourself—yes, even your back.
6. Reduce Discomfort with Cold Packs
After you finish waxing, consider applying a cold pack to the area to reduce pain and inflammation. Cold therapy works by decreasing blood flow to the area, which temporarily reduces nerve activity to minimize post-wax pain.
If you don't have a cold pack, you can wrap a frozen bag of peas or corn in a paper towel instead. Apply it to the area for 10 minutes every two hours until the pain recedes.
Final Thoughts
Waxing isn't that big of a deal. As long as you take good care of your skin beforehand and lay off the retinoids on wax day, you should experience a mild sting and nothing more. Good luck!
---