Subscription
Shipping Address
Order Date

This subscription's skin care system will get replaced.

${ address.name }




${ address.products }

${ displaySubscriptionName(address) }




${ displayProducts(address) }

${ displayAddress(address) }
${ formatDate(address.scheduleDate) }

${ address.name ? address.name : displaySubscriptionName(address)}
${ address.products }
${ displayProducts(address) }
Shipping Address
${ displayAddress(address) }
Delivery Date
${ formatDate(address.scheduleDate) }
This subscription's skin care system will get replaced.
7 Best Gym Bags for Men
Looking for a new gym bag to motivate your workouts? Check out some of the best gym bags for men that combine both style and function.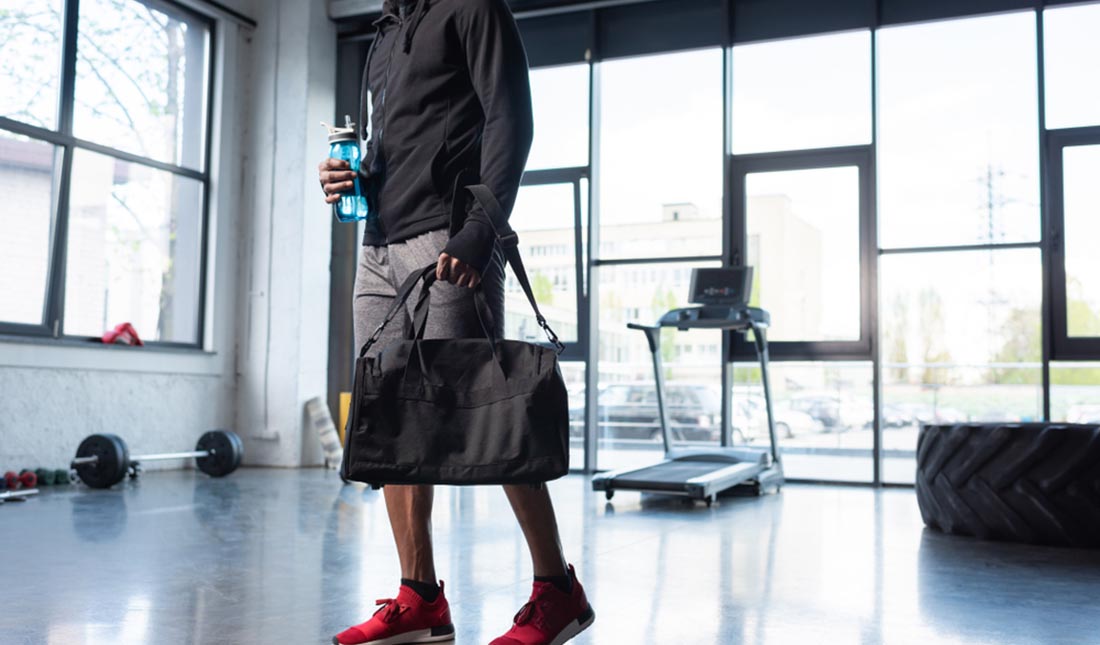 There are a handful of men's accessories that no guy should be without, and a gym bag is definitely at the top of the list. Whether you're schlepping it to and from the gym or using it as a weekend getaway bag, a trusty gym bag should be equal parts practical and stylish.
If you're looking for a gym bag that has both brains and beauty, you've come to the right place. We've done the research and rounded up a few gym bags for men that are worthy of carrying both your sweaty gym socks and your cashmere sweaters alike.
Before we dive in, here are three things worth knowing about gym bags for men.
If you travel frequently or prefer a lightweight bag, the ReNew Transit Weekender by Everlane is an optimal choice
For an all-around best gym bag, you can't go wrong with the DSPTCH Gym/Work Bag
Those who are carrying a lot gear will appreciate the Nike Vapor Power Bag
Ready to find your new travel/workout companion? Below, we've listed the best gym bags for men. Enjoy!
Need a gym bag that works as hard as you do? Look no further than the DSPTCH Gym/Work Bag. Perfect for busy professionals, this work-to-workout bag is roomy enough for all your gym essentials and features additional compartments for laptops and tablets.
TRY MEN'S SKIN CARE
This bag features moisture-resistant nylon to keep your stuff nice and dry during the rainy season. It also has a ventilated shoe compartment for increased airflow, which may help you get rid of that stubborn case of athlete's foot you just can't seem to shake.
Tired of digging around for items in your huge gym bag? The Aer Gym Duffel 2 solves this frustration by taking smart organization to the next level. This small but spacious bag features multiple compartments that are ideal for smaller items such as keys, protein bars and your wallet.
The Aer Gym Duffel 2 is the Goldilocks of bag sizes—not too small, but not so large that carrying your bag around is a workout in itself. Its sleek and refined style isn't a bad perk either.
Stylish and practical, the Solo Weekender Backpack Duffel is perfect for schlepping to the gym or going on last-minute adventures. It has a fully padded laptop compartment and converts from backpack to duffel bag with ease. The real winning feature is its separate shoe compartment, because let's face it—your shoes have probably been in some downright disgusting places.
Don't believe us? In a 2014 study published in the journal Anaerobe, researchers analyzed the bottoms of shoes and found more bacteria than your average bathroom/toilet surfaces (see claim: "Shoe bottom swab samples had the highest percent of positive samples (25/63; 39.7%) followed by bathroom/toilet surfaces (5/15; 33.3%), house floor dust (4/12; 33.3%), and other surface swabs (7/37; 18.9%).") How is that separate shoe compartment looking now?
If you consider yourself a practical guy, the Under Armour Packable Duffel Bag may be for you. This affordable, functional and no-nonsense bag can easily hold your athletic clothes, gym shoes and all of your skin care products for your post-workout cleanup. You can pack it down to nothing when it's not in use.
Best of all, you can easily toss it in the washing machine without ruining it. And to answer your unspoken question—Yes, you really do need to wash your gym bag. This is especially true if you work out in polyester clothes (odor-causing bacteria love polyester clothes) and then leave them in your gym bag for hours on end.
Carhartt is a brand with a reputation for making high-quality gear with a timeless aesthetic, and their Legacy Gear Bag is no exception. This durable bag is coated with durable water repellent to help keep all your gear nice and dry, no matter what Mother Nature throws at you.
If you tend to be pretty rough with your gym bag, the Carhartt Legacy Gear Bag won't disappoint. It's a versatile bag that will get you through any activity, whether it's indoors or outside.
Thanks to its simple yet genius design, the ReNew Transit Weekender from Everlane is one of the most travel-friendly gym bags around. In fact, that's probably why this gym bag for men is often out of stock at Everlane.
TAKE THE SKIN CARE QUIZ
If you're a frequent flyer, you'll love the luggage handle pass-through (which is also a pocket) that makes it easy to rest your gym bag on top of your luggage. There are also multiple ways to carry this bag, from crossbody to shoulder or in-hand.
If you're a guy who simply wants a reliable bag that's built to perform, you can't go wrong with the Nike Vapor Power Bag. There's plenty of features to love—a separate shoe compartment, multiple zippered pockets, ample space and its stylish colorway.
This Nike bag is a great choice if you're carrying around a lot of gear and need a well-built bag to hold your training gear. And did we mention that it's not black? Some of us appreciate a pop of color on our gym bags, and the Nike Vapor Power Bag delivers on that front.
Final Thoughts
There is no best gym bag for everyone. It all depends on your lifestyle and workout needs. Regardless of what you're looking for in a workout bag, these seven gym bags are special in their own right.
References
Alam, M. Jahangir, et al. "Investigation of Potentially Pathogenic Clostridium Difficile Contamination in Household Environs." Anaerobe, vol. 27, June 2014, pp. 31–33.
American Society for Microbiology. "Polyester clothes stink after exercise; cotton, not so much." ScienceDaily. ScienceDaily, 3 September 2014.
---
// © Copyright 2023 Tiege Hanley