Subscription
Shipping Address
Order Date

This subscription's skin care system will get replaced.

${ address.name }




${ address.products }

${ displaySubscriptionName(address) }




${ displayProducts(address) }

${ displayAddress(address) }
${ formatDate(address.scheduleDate) }

${ address.name ? address.name : displaySubscriptionName(address)}
${ address.products }
${ displayProducts(address) }
Shipping Address
${ displayAddress(address) }
Delivery Date
${ formatDate(address.scheduleDate) }
This subscription's skin care system will get replaced.
How to Get Rid of Athlete's Foot (Once and for All)
Dealing with a persistent case of athlete's foot? Learn how to get rid of athlete's foot once and for all with a little good advice.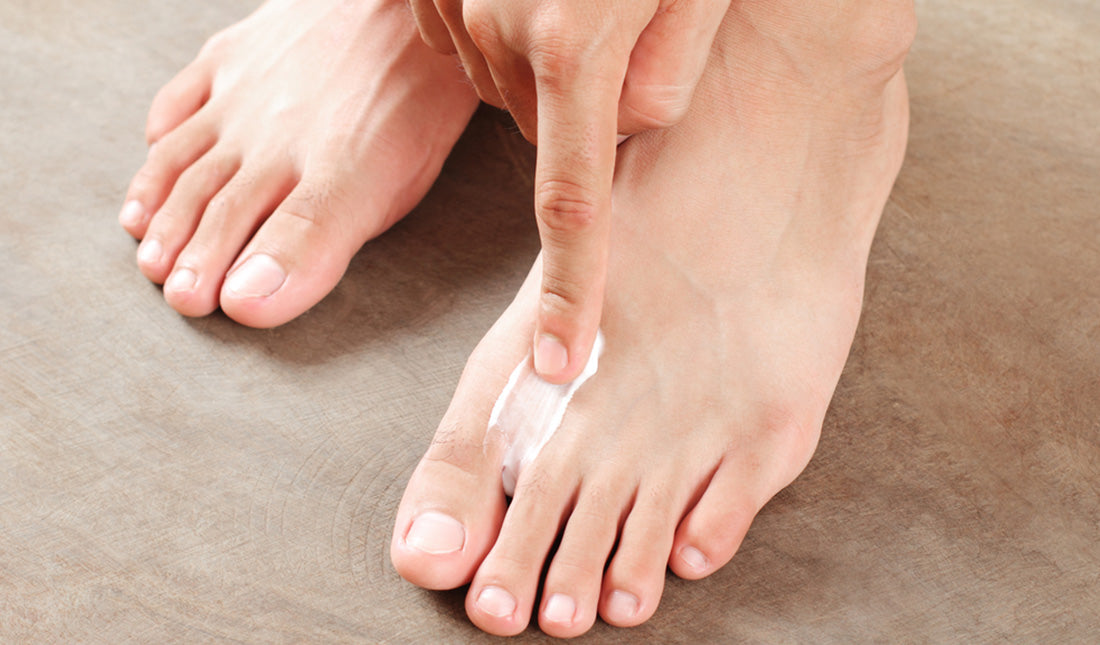 If you've ever struggled with a stubborn case of athlete's foot, then you know just how much of a nightmare it can be to deal with. You've probably thrown money at countless antifungal creams and sprays, only for the itching, burning and stinging to return.
Although the fungal infection known as athlete's foot can be incredibly difficult to treat, there is some good news. Even the most persistent cases of athlete's foot can usually be cleared up by taking a multipronged approach to the problem.
Here are a few things you need to know about how to get rid of athlete's foot:
Athlete's foot is a skin infection caused by multiple types of fungi
Applying prescription-strength Lamisil can help cure athlete's foot
Practicing better foot hygiene is crucial to keeping athlete's foot from returning
Want to finally kick athlete's foot to the curb? Follow the steps below and say goodbye to the persistent rash on your feet, once and for all.
GOT WRINKLES?
1. Apply Prescription Strength Lamisil
We know that you're probably sick and tired of buying antifungal creams for your athlete's foot. However, there is one antifungal cream in particular that you need to know about: Lamisil.
Lamisil is the brand name for terbinafine, an antifungal medication that is highly effective at curing athlete's foot.  In a 2007 study published in the American Journal of Clinical Dermatology, researchers combed through existing literature on the use of antifungal agents for the treatment of athlete's foot and found that terbinafine had a notable advantage over other antifungal products (see claim: "…terbinafine has an apparently unique advantage over other antifungal agents with respect to the required duration of treatment for tinea pedis.")
Note that Lamisil comes in both cream and tablet form. Both forms typically require a prescription from your doctor.
2. Practice Better Foot Hygiene
Let us guess: You applied Lamisil for a week as instructed, only for your athlete's foot to come back with a vengeance. What's the deal?
You probably ended up catching athlete's foot again by repeating the same hygiene mistakes that made you catch it the first time. Going barefoot in communal showers, saunas and locker rooms can significantly increase your chances of getting athlete's foot because it's a highly contagious foot fungus.
Another common mistake you might be making: Wearing damp socks. If you exercise regularly and/or have a problem with excessive sweating, then you may be creating the perfect environment for fungi to thrive.
To get rid of your athlete's foot once and for all, focus on keeping feet dry. Be sure to invest in moisture-wicking socks and remember to change them often. You should also wear shoes in saunas, locker rooms and other communal areas to reduce your risk of picking up athlete's foot again.
3. Apply Tea Tree Oil
If Lamisil and other antifungal creams are ineffective at treating your athlete's foot, you may want to consider using tea tree oil to treat your fungal infection. Tea tree oil is well-known for its antifungal properties, and there is some evidence to show that applying tea tree oil can help cure athlete's foot.
In a 2002 study published in the Australasian Journal of Dermatology, researchers split patients with athlete's foot into three groups: Placebo group, 25 percent or 50 percent tea tree oil solution. Researchers found that the 25 and 50 percent tea tree oil solutions were effective at treating athlete's foot compared to the placebo group (see claim: "There was a marked clinical response seen in 68% of the 50% tea tree oil group and 72% of the 25% tea tree oil group, compared to 39% in the placebo group.")
Although tea tree oil is generally considered safe for use, it should be noted that it can cause skin irritation in certain individuals. Always dilute tea tree oil in a carrier oil before applying it to your skin.
Take the skin care quiz
4. Stick with Your Routine
Mark our words, sticking to an uncomplicated skin care routine is key to getting rid of stubborn skin problems. The same holds true for your athlete's foot. You can't suddenly become lax about your routine; otherwise, your fungal infection is sure to make an unwanted comeback.
If you want to get rid of your athlete's foot for good, then you need to form good habits and stick with them. Every time you step out of the shower, dry your feet thoroughly. Any time you exercise, change your socks immediately. Always wear shower shoes in the locker room, even if you feel a bit silly doing it.
By sticking to these habits, you're much more likely to have healthy feet that are finally rid of fungi for good.
When to See a Doctor
Athlete's foot doesn't need to be a long-term problem. If you've tried everything under the sun, including the steps mentioned above, don't hesitate to seek out your doctor. He/she can help get to the bottom of your pesky fungal infection, once and for all.
References
Korting, Hans Christian, et al. "Comparable Efficacy and Safety of Various Topical Formulations of Terbinafine in Tinea Pedis Irrespective of the Treatment Regimen: Results of a Meta-Analysis." American Journal of Clinical Dermatology, vol. 8, no. 6, 2007, pp. 357–64.
Treatment of Interdigital Tinea Pedis with 25% and 50% Tea Tree Oil Solution: A Randomized, Placebo‐controlled, Blinded Study - Satchell - 2002 - Australasian Journal of Dermatology - Wiley Online Library. Accessed 23 Dec. 2019.
---
// © Copyright 2023 Tiege Hanley