Subscription
Shipping Address
Order Date

This subscription's skin care system will get replaced.

${ address.name }




${ address.products }

${ displaySubscriptionName(address) }




${ displayProducts(address) }

${ displayAddress(address) }
${ formatDate(address.scheduleDate) }
${ address.name ? address.name : displaySubscriptionName(address)}
${ address.products }
${ displayProducts(address) }
Shipping Address
${ displayAddress(address) }
Delivery Date
${ formatDate(address.scheduleDate) }
This subscription's skin care system will get replaced.
7 Sneaky Causes of Red, Irritated Skin
Can't figure out what's causing your skin to become red and irritated? We break down seven sneaky causes of irritated skin and how you can address each of them quickly.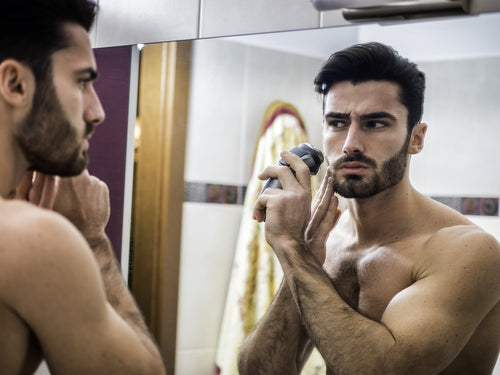 For men with sensitive skin, it's a constant struggle to avoid things that might cause skin irritation. From pet allergies to certain medications, there is a never-ending list of things that can irritate your skin and make it appear flushed.
If you've ruled out psoriasis, eczema and other common skin conditions as the source of your red skin, it may be time to look at some not-so-obvious things that could be irritating your skin. Here are three of the things every man with sensitive skin needs to know:
Men with sensitive skin should always check the ingredients on their skin care products to check for harsh chemicals, fragrances and dyes.
Prepping your skin to deal with harsh weather can help prevent redness.
Finding a skin care solution for sensitive skin types is one of the keys to keeping skin healthy and flake-free.

Laundry Detergent
Does your skin become unbearably red and itchy after wearing clothes fresh out of the laundry? You may have contact dermatitis, a common skin condition caused by irritating laundry detergents.
Laundry detergents can contain fragrances and chemical dyes which can trigger an allergic reaction in people with sensitive skin.
Fortunately, the fix is simple. Just find a hypoallergenic laundry detergent which doesn't contain harsh chemicals.
Skin Care Products
Not all skin care products for men are created equal. Some skin care products contain harsh ingredients which are known for causing irritation and dryness.
For instance, Benzoyl Peroxide is a common acne-fighting ingredient which is often the source of irritation in many acne treatment products. Although it's an effective ingredient for many acne-sufferers, research shows that Salicylic Acid is more effective at fighting acne than Benzoyl Peroxide and is much gentler on the skin (see claim: "The results demonstrated that only patients treated with the salicylic acid cleanser had a significant reduction in comedones.")
Other seemingly benign skin care products often contain artificial fragrances and dyes, which are also known to cause redness and irritation. For sensitive skin types, it's best to ditch these products and find a high-quality skin care system that is formulated specifically for your skin.
TRY MEN'S SKIN CARE
Extreme Weather
Our skin is equipped to handle temperature changes, but some extreme temperature fluctuations can result in red, irritated skin.
In the winter, frigid temps can suck the moisture from the surface barrier of the skin and cause it to become dry and itchy. To keep skin hydrated, be sure to wear a men's moisturizer with SPF each day and consider investing in a humidifier.
The heat is no better for our skin. In addition to sunburn, the heat and humidity can cause our sweat ducts to become blocked, resulting in red, itchy bumps.
Over-Exfoliating
Exfoliation should be part of every man's skin care regimen. Still, it's important to remember that too much exfoliation is bad for your skin.
Over-exfoliating can strip the skin of its natural oils, causing your skin to become irritated and red immediately afterwards. Even worse, your skin's oil glands may try to produce excess oil to compensate, leading to acne breakouts.
Keep exfoliation to a maximum of twice per week. Our gentle exfoliating scrub is suitable for even the most sensitive skin.
Medication
Unfortunately, there are many drugs on the market which list itchy rashes as a common side effect. If you recently started a new medication, it may be the culprit causing your red skin.
Penicillin is known for causing allergic reactions in some patients. Other drugs which are known to cause drug-induced rashes include aspirin, iodine and anti-seizure medications.
If you have persistent red, itchy skin that is believed to stem from your medication, speak with your doctor immediately. He or she can likely switch you to something less irritating.
Take the skin care quiz
Seborrheic Dermatitis
Seborrheic dermatitis is a common skin condition which affects men slightly more often than women (see claim: "More men than women have SD, but it shows no preference for any racial or ethnic group.") This chronic, inflammatory condition is characterized by red skin, persistent dandruff and itchy skin.
Although the causes of seborrheic dermatitis are not quite known, we do know that this condition can be triggered by stress, fatigue, medication or other factors. Treatment usually involves a topical cream and/or an antifungal shampoo.
Diet
Your diet plays an enormous role in the outward appearance and health of your skin. The foods you eat can potentially be the source of your skin woes.
Spicy foods, alcohol and other foods which cause your internal temperature to rise quickly can cause redness of the skin. Similarly, food allergies can cause reactions which produce hives, itchiness, eczema or swelling.
If you already suffer from an existing skin condition such as eczema or rosacea, consider limiting your intake of spicy foods and alcohol. These can exacerbate your symptoms and cause flareups.
A Skin Care Solution for Sensitive Skin Types
Although catering to your sensitive skin can be annoying at times, it's critical to begin taking better care of your skin. Even people with normal skin types can benefit from removing harsh laundry detergents and limiting their alcohol intake.
One of the best things you can do for your sensitive skin is to get on a skin care regimen that is free of fragrances, dyes and harsh ingredients. Each of Tiege Hanley's skin care systems for men is formulated for all skin types. Do you have sensitive skin? Let us know what works best for you by posting a comment below.
---