Subscription
Shipping Address
Order Date

This subscription's skin care system will get replaced.

${ address.name }




${ address.products }

${ displaySubscriptionName(address) }




${ displayProducts(address) }

${ displayAddress(address) }
${ formatDate(address.scheduleDate) }

${ address.name ? address.name : displaySubscriptionName(address)}
${ address.products }
${ displayProducts(address) }
Shipping Address
${ displayAddress(address) }
Delivery Date
${ formatDate(address.scheduleDate) }
This subscription's skin care system will get replaced.
5 Alternatives to Accutane for Treating Acne
Looking for alternatives to Accutane that actually work? Learn more about the side effects of Accutane and discover five acne treatments worth trying instead.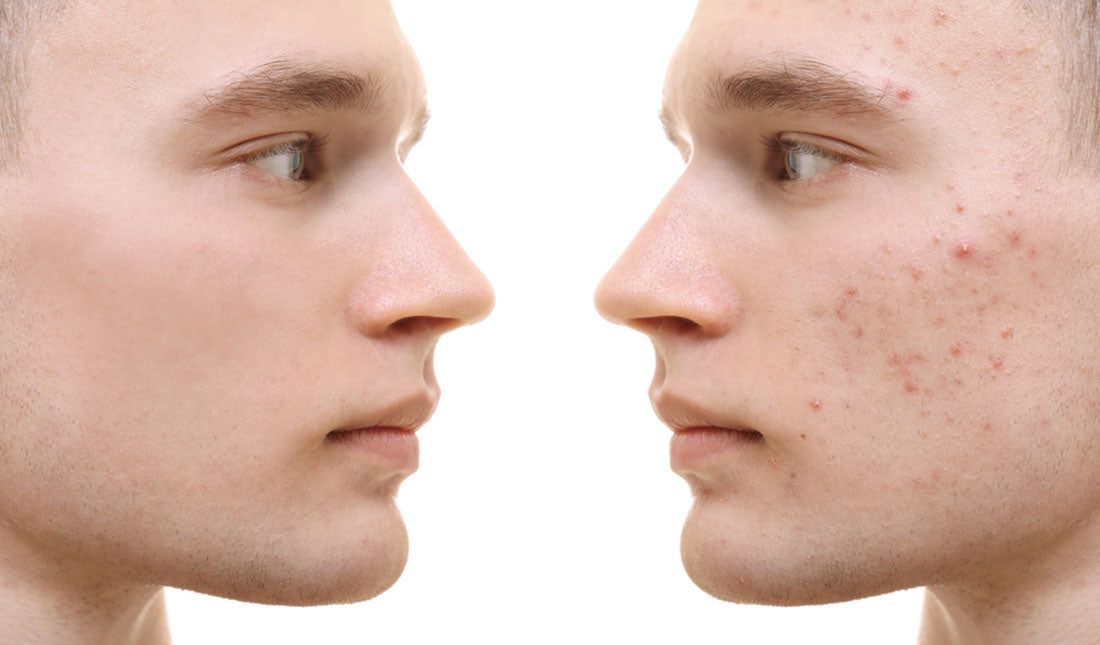 Isotretinoin (brand name: Accutane, among others) is often considered the last resort for moderate to severe acne, and for good reason.
Although the powerful systemic drug is often effective at treating inflammatory acne, it can also come with a slew of scary side effects that would give any reasonable person pause.
So if you're searching for alternatives to Accutane, you've come to the right place.
In this article, we'll summarize how Accutane works, why it's considered controversial in the first place and the best alternatives to Accutane.
Before we dive in, here are three things you should know about Accutane alternatives:
Accutane can have a range of side effects including dry skin, depressed mood and liver problems
The best Accutane alternatives include OTC topical treatments, hormonal drug therapies and oral antibiotics
If OTC acne treatments don't clear up your skin, see your dermatologist to discuss your options
What Is Accutane?
Accutane, or isotretinoin, is an oral medication that has been used to treat moderate to severe cystic acne for some 30 years now.
To be more specific, isotretinoin is a retinoid—a class of compounds derived from vitamin A.
Retinoids are commonly prescribed for their ability to clear up acne and reduce acne scarring.
But how does Accutane work, exactly?
According to earlier research on the subject, Accutane appears to work by suppressing oil (sebum) production, which has been known to play a role in the development of acne (see claim: "…isotretinoin produced a marked suppression of sebum production.")
As you may know already, acne can develop when excess oil and dead skin cells clog the hair follicle.
Is Accutane Safe?
Despite its ability to clear up stubborn forms of acne, Accutane has suffered from a major PR problem.
It started in 2000 when a former U.S. congressman's son died at age 17 from an apparent suicide.
The 17-year-old started taking Accutane in 1999, which his father blamed for his son's suicidal thoughts.
The subsequent lawsuit that arose from the controversy was the slow downfall of Accutane.
The brand was officially discontinued in 2009 due to declining sales.
Actual Tiege Hanley customer testimonial:

"Over a 3 year period, I probably spent over two grand in skin care and still had acne. I decided to reach out and request to be a part of the

Tiege Hanley Acne trial

and I have been blown away. After two weeks, my skin was clear. It's not the acne cream alone that cleared it up, but how all of the products work together as a whole." Kyle B., NJ.
GOT ACNE?
It should be noted that there is currently no strong evidence to show that Accutane can cause suicidal ideation (see claim: "Consideration of the limited data available would suggest that the incidence of depression and suicide during isotretinoin therapy may be no greater than the background incidence.")
However, that doesn't mean that Accutane is without its problems.
According to a 2018 review published in the British Journal of Dermatology, adverse side effects from isotretinoin may include cheilitis, dry skin, elevated liver enzymes, depressed mood and decreased appetite, among others.
Due to these potential side effects, alternatives to Accutane (isotretinoin) appeal to many acne sufferers.
5 Best Alternatives to Accutane
If you're not ready to try isotretinoin, there are other acne treatment options worth considering.
Below are the top five alternatives to Accutane that have shown promise at clearing up stubborn acne:
1. Adapalene
Like Accutane, adapalene (brand name: Differin) is another retinoid that is commonly prescribed to treat acne.
But unlike Accutane, adapalene is a topical treatment that comes in gel form.
Differin Gel was finally approved by the Food and Drug Administration for over-the-counter use in 2016, making it the first topical retinoid to be made available OTC.
According to a 2007 review published in Therapeutics and Clinical Risk Management, adapalene can produce similar results as Accutane, only with less side effects (see claim: "Although isotretinoin is less irritating than tretinoin, adapalene is significantly less irritating than isotretinoin.")
Still, you may want to be careful when using retinoids to treat acne.
Although adapalene may have less side effects compared to Accutane, it can still result in skin irritation.
2. Salicylic Acid
If you have sensitive skin, an acne cream with Salicylic Acid may be the best option for treating your stubborn blemishes.
This powerful beta-hydroxy acid works as a natural exfoliator to remove excess oil which can plug the hair follicles and cause acne breakouts.
Compared to Benzoyl Peroxide, Salicylic Acid has been shown to be just as effective at treating certain types of acne with fewer side effects.
Because of this, Salicylic Acid remains one of the most popular acne-fighting ingredients on the market.
3. Benzoyl Peroxide
Benzoyl Peroxide has anti-bacterial properties that make it an effective treatment for both inflammatory and non-inflammatory acne.
Although it doesn't exfoliate the skin like Salicylic Acid, it does have the ability to kill acne-causing bacteria.
But like adapalene, Benzoyl Peroxide can result in skin irritation.
If you notice burning, itching or redness at the application site, stop using Benzoyl Peroxide immediately.
TAKE THE SKIN CARE QUIZ
4. Hormonal Drugs
Dealing with hormonal acne?
In that case, you may want to ask your doctor about hormonal drug therapies such as Spironolactone and the birth control pill.
Hormonal drug therapy works by balancing the hormonal fluctuations that can lead to stubborn acne breakouts.
Think of this way: Instead of putting out the fire, you'd be preventing the fire from starting in the first place.
5. Oral Antibiotics
Another possible Accutane alternative involves taking oral antibiotics.
Certain antibiotics like erythromycin and doxycycline can help reduce the amount of acne-causing bacteria on the skin, resulting in fewer acne breakouts.
Although oral antibiotics have been a mainstay acne treatment for years, they aren't meant to be taken forever.
Your dermatologist should prescribe it to you for a few months before having you switch to a long-term acne treatment system.
The Bottom Line
Although isotretinoin is effective at clearing up moderate to severe acne, it may come with unwanted side effects.
If you're not ready to use isotretinoin just yet, try one of the above alternatives and see if it helps your acne.
Remember to give a new acne product at least a few weeks to kick in and start working its magic.
With any luck, clear skin will be yours once again.

References
Goldstein, J. A., et al. "Comparative Effect of Isotretinoin and Etretinate on Acne and Sebaceous Gland Secretion." Journal of the American Academy of Dermatology, vol. 6, no. 4 Pt 2 Suppl, Apr. 1982, pp. 760–65.
Magin, Parker et al. "Isotretinoin, depression and suicide: a review of the evidence." The British journal of general practice : the journal of the Royal College of General Practitioners vol. 55,511 (2005): 134-8.
Piskin, Suleyman, and Erol Uzunali. "A review of the use of adapalene for the treatment of acne vulgaris." Therapeutics and clinical risk management vol. 3,4 (2007): 621-4.
---
// © Copyright 2023 Tiege Hanley