Subscription
Shipping Address
Order Date

This subscription's skin care system will get replaced.

${ address.name }




${ address.products }

${ displaySubscriptionName(address) }




${ displayProducts(address) }

${ displayAddress(address) }
${ formatDate(address.scheduleDate) }

${ address.name ? address.name : displaySubscriptionName(address)}
${ address.products }
${ displayProducts(address) }
Shipping Address
${ displayAddress(address) }
Delivery Date
${ formatDate(address.scheduleDate) }
This subscription's skin care system will get replaced.
Red Bump on Stomach – Acne or Ingrown Hair?
Red bumps on the stomach are usually nothing to worry about. Find out whether the red bump on your stomach is acne, an ingrown hair or something else entirely.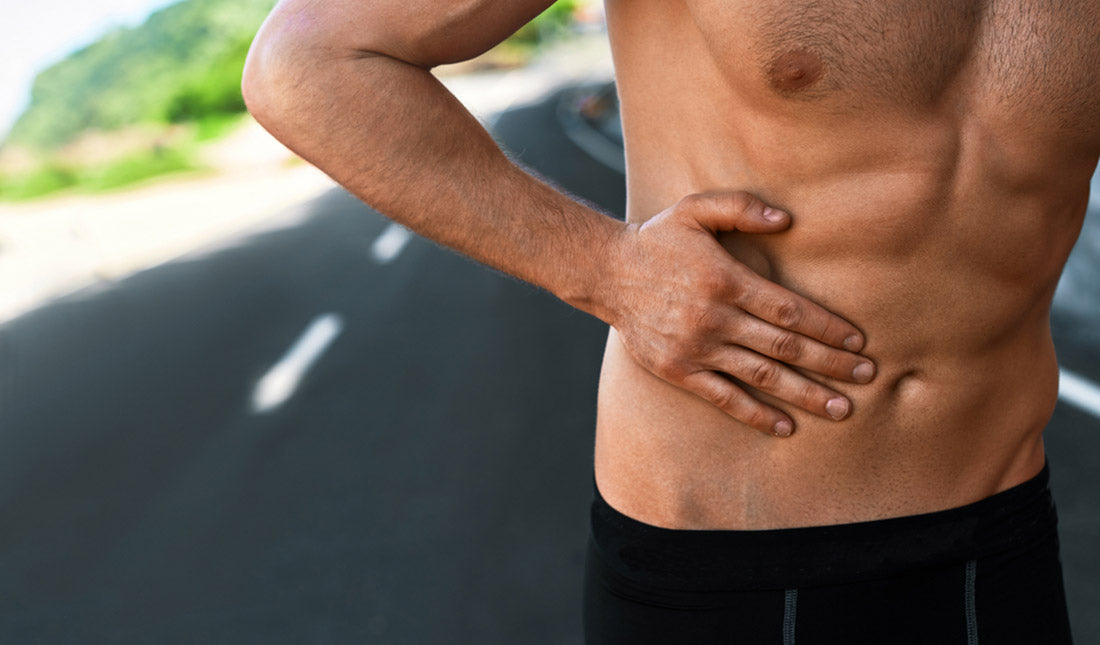 One of the more frustrating truths about acne is that it can develop almost anywhere on the body.
Case in point: acne on the stomach.
Compared to your face and scalp, there aren't many oil glands on your stomach.
This means that most people don't need to worry about getting stomach pimples on a regular basis.
More likely, the red bump on your stomach is an ingrown hair.
To uncover the truth, we'll discuss what causes pimple-like bumps on the stomach and how to treat them.
Here are three things you need to know about red bumps on the stomach:
The most common cause of acne on the stomach is tight clothing or sports equipment
Ingrown hairs on the stomach are likely the result of shaving or waxing
Other potential causes of red bumps on the stomach include folliculitis, bug bites, lichen planus and boils
Acne on the Stomach
Like we said, acne on the stomach isn't common.
There simply aren't enough oil glands in this area to make stomach pimples a regular skin care complaint.
However, it's not impossible to get acne on the stomach.
If you frequently exercise in tight clothing, you can theoretically break out in places where the clothing rubs against the skin.
This specific type of acne is known as acne mechanica.
How to Get Rid of Acne on the Stomach
Fortunately, acne on the stomach usually goes away on its own within a week or so.
If you want to speed up the process, you can use an acne treatment system to get rid of pimples faster.
Over-the-counter acne products containing Salicylic Acid are going to be your best bet.
Salicylic Acid-based products are known for being tough on acne and gentle on the skin, resulting in less skin irritation and fewer acne blemishes.
Actual Tiege Hanley customer testimonial:

"Over a 3 year period, I probably spent over two grand in skin care and still had acne. I decided to reach out and request to be a part of the

Tiege Hanley Acne trial

and I have been blown away. After two weeks, my skin was clear. It's not the acne cream alone that cleared it up, but how all of the products work together as a whole." Kyle B., NJ.
GOT ACNE?
Ingrown Hair
The red bump on your stomach could also be an ingrown hair.
The pesky cousin to the pimple, an ingrown hair develops when your hair grows back into your skin rather than up and outwards.
If you shave or wax your stomach area, the red bump on your stomach is almost certainly an ingrown hair.
Having curly or coarse hair can also increase your chances of developing ingrown hairs, especially after you shave.
How to Get Rid of Ingrown Hair
Ingrown hairs can be painful, regardless of where they're located.
To get rid of an ingrown hair on your stomach, keep the area clean by washing regular with antibacterial soap.
According to researchers from the Department of Dermatology at NYU Langone Medical Center, you should NOT attempt to tweeze the hair, as this may introduce new bacteria into the area.
Instead, use a skin care product containing Salicylic Acid or Glycolic Acid to gently exfoliate the skin around the ingrown hair.
Other Potential Causes of Red Bumps on Stomach
Pimple-like bumps on the skin can be tricky to diagnose.
If it's not acne on the stomach or an ingrown hair, then what could it possibly be?
To help you get to the bottom of your red bump, here are a few more common causes of pimple-like bumps on the stomach:
Folliculitis
Acne-like bumps on the stomach may be folliculitis, a skin condition in which the hair follicle becomes damaged, infected and inflamed.
Folliculitis is caused by a bacterial infection—most commonly, a type of bacteria known as Staph aureus.
According to the American Academy of Dermatology, you can damage your hair follicles by wearing tight clothing, rubbing your skin too much, shaving and even something as harmless as using a hot tub.
In fact, the latter is so common that it's known as "hot tub folliculitis."
Bug Bite
If your red bump is painful and/or itchy, it could be a bug bite.
This type of bump often appears in the form of a welt on the skin.
Although most bug bites are harmless, some bug bites and stings can cause serious side effects and allergic reactions.
If your bug bite causes extreme swelling beyond the site of the sting, seek medical attention immediately.
If the bug bite is minor, apply an anti-itch cream to the site or a home remedy such as a baking soda paste.
After you apply a treatment, do your best to leave the bug bite alone.
TAKE THE SKIN CARE QUIZ
Lichen Planus
Purplish, flat bumps on the stomach may be a mild form of lichen planus, an inflammatory skin condition that may look like a rash.
Although the condition is non-infectious and benign, the lesions can cause pain and discomfort.
Corticosteroids are typically the first line of treatment for lichen planus.
However, your doctor may also suggest retinoids, antihistamines or light therapy as alternative treatments.
Boil
Boils are another common skin condition that can look an awful lot like pimples.
Boils (aka, furuncles) are basically a skin infection that begins in the hair follicle and results in a pus-filled bump.
Boils are particularly common under the arm, on the buttocks and around the waist area.
They're usually firmer and more painful than folliculitis.
To treat your boil, apply a warm compress to the area to reduce pain and draw the pus out.
Once the boil has drained, clean the area with an antibacterial soap and allow it to heal.
The Bottom Line
Although ingrown hairs and acne on the stomach are annoying, neither are a major cause for concern.
Still, there is a chance that the red bump on your skin is something else entirely.
If you're worried about it or experiencing any discomfort, schedule an appointment with your doctor.

Reference
NYU Langone Medical Center. "Best practices for ingrown hair or 'razor bumps'." ScienceDaily. ScienceDaily, 28 January 2015.
---
// © Copyright 2023 Tiege Hanley