Subscription
Shipping Address
Order Date

This subscription's skin care system will get replaced.

${ address.name }




${ address.products }

${ displaySubscriptionName(address) }




${ displayProducts(address) }

${ displayAddress(address) }
${ formatDate(address.scheduleDate) }

${ address.name ? address.name : displaySubscriptionName(address)}
${ address.products }
${ displayProducts(address) }
Shipping Address
${ displayAddress(address) }
Delivery Date
${ formatDate(address.scheduleDate) }
This subscription's skin care system will get replaced.
How Does Salicylic Acid Work?
Have you ever wondered how Salicylic Acid works? Learn how this acne-fighting ninja can get to work treating your stubborn acne.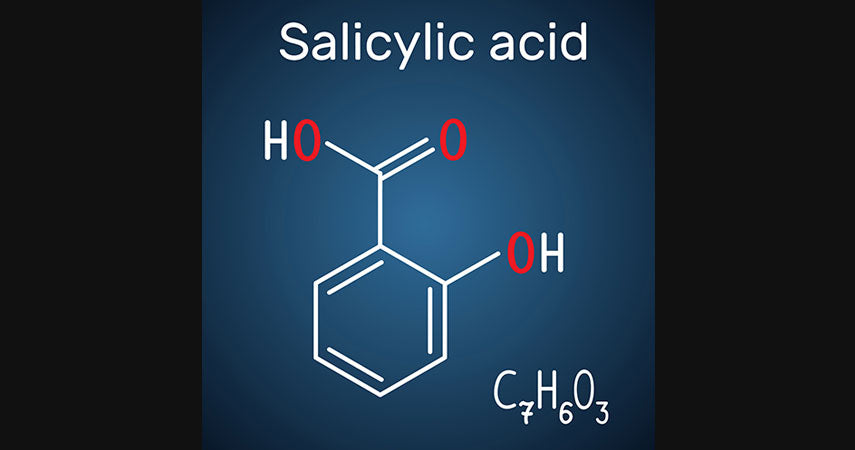 Salicylic Acid has a well-earned reputation as an acne-fighting ninja. Tough on acne, yet gentle on the skin, this superstar ingredient can be found in some of the most effective acne treatment systems on the market.
Despite its widespread use, most people don't know how Salicylic Acid works. What makes it so effective against acne? More importantly, how can you take advantage of it?
Here are three things you need to know about Salicylic Acid:
Salicylic Acid is a natural remedy for acne and other chronic skin conditions.
The esters of Salicylic Acid are found in the bark and leaves of the willow tree.
A well-known beta-hydroxy acid, Salicylic Acid is oil soluble and can penetrate deep into the pores of your skin.
What Is Salicylic Acid?
Before we talk about how Salicylic Acid (SA) works, it helps to know what it is and where it came from. SA is a hydroxy acid, specifically, a beta-hydroxy acid (BHA).
BHAs are derived from foods or natural plants. In the case of Salicylic Acid, it's derived from the bark of a willow tree (salicis arbore in Latin), from which it gets its name.
Unlike water-soluble alpha-hydroxy acids, beta-hydroxy acids are oil-soluble. This means that they can penetrate more easily through the skin's natural oils.
Are you starting see why Salicylic Acid is so effective at treating acne? Its ability to penetrate oily skin is just one characteristic that makes it a rock star ingredient in the skin care industry.
CONTROL EYE BAGS
Salicylic Acid Properties
Salicylic Acid is best known for its acne-fighting abilities, but how exactly does it work? Let's take a closer look:
Natural Exfoliator
One of the most useful abilities of Salicylic Acid is that it's a natural and effective exfoliant. It has keratolytic properties, meaning that it's especially great at sloughing off the outer layer of the skin and promoting cell turnover.
This powerful exfoliating ability also makes Salicylic Acid comedolytic, which means that it can prevent the formation of comedones (acne blemishes). You may already know that acne is caused by a build-up of oil, dead skin cells and bacteria. Salicylic Acid can penetrate deep into pores and loosen clogs, allowing the material to be sloughed away.
Reduces Sebum Production
Acne most often occurs when our sebaceous (oil) glands are overactive and produce too much oil. Salicylic Acid can reduce oil production by penetrating through the lipid barrier of the skin and inhibiting oil secretion.
This was proven in a 2014 study published in the Journal of Cosmetic Dermatology. In the study, 20 patients with acne were split into two groups. One group was treated with Pyruvic Acid, while the remaining 10 were treated with Salicylic Acid.
Scientists measured their oil production before the study and two weeks after completion. The results indicated that patients who were treated with Salicylic Acid had significantly less oil on their faces after the completion of the study (see claim: "…sebumetric measurements demonstrated a greater reduction in the facial skin lipid film among the patients treated with salicylic peel.")
Take the skin care quiz
Anti-Inflammatory
Given that Salicylic Acid is a principal metabolite of aspirin, it's not surprising that it has powerful anti-inflammatory properties. This potent acne-fighting ingredient can reduce inflamed pimples by clearing out clogged pores and allowing them to shrink.
On a more scientific level, Salicylic Acid can help suppress gene expression in the body which results in inflammation. Specifically, Salicylic Acid can inhibit the nuclear factor NF-κB pathway, which can be triggered by proinflammatory cytokines and microbial products.
How to Best Use Salicylic Acid for Acne
There is a good reason why Salicylic Acid is one of the best ingredients for treating acne. Not only is it effective at treating acne, it's also safe and gentle on sensitive skin types.
In a 2008 study published in Dermatologic Surgery, Salicylic Acid was shown to be just as effective as Glycolic Acid. More importantly, it produced fewer side effects (see claim: "The salicylic acid peel had sustained effectiveness and fewer side effects.")
However, there are limitations to Salicylic Acid. It's more effective on blackheads and whiteheads compared to deep, acne cysts.
It also matters how you use it. There is a good reason why we put Salicylic Acid in our Acne Cream and not our face wash. It doesn't make sense to wash off the active ingredient that will help combat your acne.
Final Words
Salicylic Acid has been used for thousands of years, and for good reason. Its powerful, acne-fighting abilities can clear up stubborn acne and help you restore your handsome good looks.
Just remember to take it slow when experimenting with any new skin care product. Always do a patch test on a small part of your skin to see how it reacts. This will minimize any redness or irritation that you might feel with Salicylic Acid.
---