Subscription
Shipping Address
Order Date

This subscription's skin care system will get replaced.

${ address.name }




${ address.products }

${ displaySubscriptionName(address) }




${ displayProducts(address) }

${ displayAddress(address) }
${ formatDate(address.scheduleDate) }

${ address.name ? address.name : displaySubscriptionName(address)}
${ address.products }
${ displayProducts(address) }
Shipping Address
${ displayAddress(address) }
Delivery Date
${ formatDate(address.scheduleDate) }
This subscription's skin care system will get replaced.
5 Ways to Get Rid of Acne on Temples
Can't seem to get rid of acne on the temples? Check out these expert tips on how to kick your temple acne to the curb.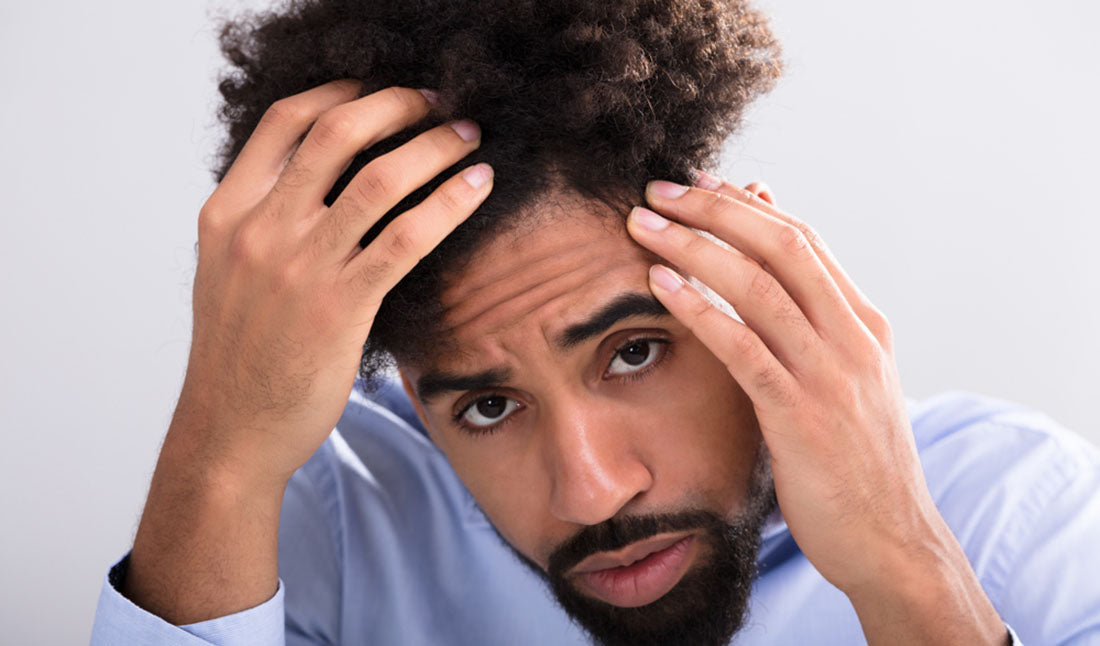 Acne on the temples can be annoyingly stubborn. Even when you do everything right, the pimples on the sides of your face can remain there for weeks or even months on end.
There may be a simple explanation for why your temple acne is so persistent. Though acne on the temples is influenced by hormones and genetics, it can also be caused by wearing dirty hats, using the wrong hair care products and many other daily habits.
While getting rid of acne on the temples may seem impossible, there are a few tried-and-true ways to kick it to the curb for good. The trick is to be consistent with your routine.
Here are three things you should know about acne on temples:
Acne on the temples may be caused by dirty hats and using pore-clogging pomades.
Salicylic Acid treatments are particularly effective at combating temple acne.
A consistent skin care routine is key to getting rid of stubborn acne on the temples.
You're not doomed to live with acne on the temples forever. Below, we'll discuss five simple ways to combat temple acne to help you achieve a clear complexion once again.
1. Clean Your Headwear
When was the last time you washed your favorite baseball cap or your motorcycle helmet? If the answer is "never," you may want to think about giving it a good scrub.
Headwear can get surprisingly dirty, especially when you work out frequently or live in a hot and humid climate. As your dirty and sweaty hat rubs against your temples, the friction and heat it generates is the perfect place for acne-causing bacteria to thrive.
GOT ACNE?
2. Rethink Your Hair Products
Hair care products are a sneaky cause of stubborn acne on the temples. Pomade and other popular hair styling products often contain comedogenic oils that clog pores and cause breakouts.
If you suspect that your pomade is the cause of your temple acne, look for hair styling products that contain Kukui Nut Oil and other ingredients that won't clog pores. You may want to consider washing the product out of your hair before bedtime as well.
3. Get on a Regular Skin Care Routine
Hands down, one of the best ways to combat stubborn temple acne is by getting on a regular skin care regimen. Washing your face twice daily, scrubbing once or twice a week and using a daily moisturizer is key to keeping oil under control.
Though your oil glands play a vital role in the skin, they're also a key player in the nightmare that is acne. According to a review published in the Journal of Lipid Research, facial skin is home to as many 900 oil glands per square centimeter (see claim: "They can number as many as 400–900 glands/cm2 on the face.")
These oil glands can be triggered for a number of reasons, making your acne a million times worse. To keep blemishes at bay, check out Tiege Hanley's Skin Care System Level 1 which includes all the basics you need to maintain clear and healthy skin.
Take the skin care quiz
4. Wash Your Pillowcase
According to the American Academy of Dermatology, the human body sheds up to 40,000 skin cells on a daily basis. These old skin cells can build up on your pillowcase, combine with your skin's natural oils and clog pores.
If you're not washing out your hair gel before bed, the combination of dead skin cells on your pillow and comedogenic oils from your pomade can create a line of acne down the sides of your face. Fortunately, you can easily fix the problem by changing your pillowcase every three days and getting the product out of your hair before bedtime.
5. Use a Salicylic Acid-Based Treatment
If you've tried everything to get rid of your temple acne to no avail, try using an acne cream with Salicylic Acid to treat your most stubborn blemishes. Salicylic Acid is a beta hydroxy acid, which is a type of hydroxy acid that weakens the "cellular glue" that holds dead skin cells together.
Salicylic Acid is particularly effective for guys because it's oil-soluble, meaning that it can penetrate deeper into oily skin. Best of all, it has minimal side effects compared to the harsh, drying effects of Benzoyl Peroxide.
Consistency Is Key
Temple acne can be tricky to eliminate. On top of the usual suspects such as hormones and genetics, there are also a few sneaky factors that can be contributing to your temple acne.
The key to clearing up your acne once and for all is to be consistent with your skin care routine. If you're struggling to stick to your skin care routine, check out Tiege Hanley's uncomplicated Skin Care Systems and find a routine that works best for you and your skin!
---
// © Copyright 2023 Tiege Hanley