Subscription
Shipping Address
Order Date

This subscription's skin care system will get replaced.

${ address.name }




${ address.products }

${ displaySubscriptionName(address) }




${ displayProducts(address) }

${ displayAddress(address) }
${ formatDate(address.scheduleDate) }

${ address.name ? address.name : displaySubscriptionName(address)}
${ address.products }
${ displayProducts(address) }
Shipping Address
${ displayAddress(address) }
Delivery Date
${ formatDate(address.scheduleDate) }
This subscription's skin care system will get replaced.
Acne Under Chin: 5 Causes and How to Treat
Can't seem to shake the acne under your chin? Learn about five common causes of acne under the chin and the best acne treatments to fix the problem for good.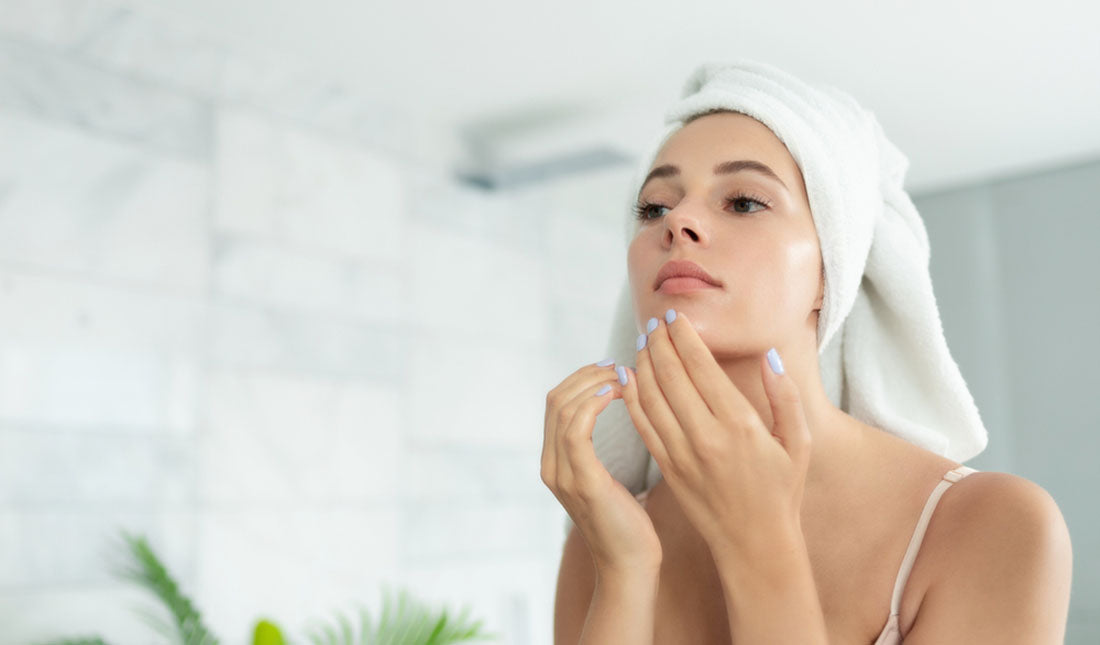 If you've experienced the "joy" of puberty, then you've almost certainly gotten a pimple on your chin before. The chin is an area inside your T-zone, which is the part of your face that has a high number of oil glands.
But what if you're getting acne under the chin as opposed to directly on it? Although it might seem like an odd place to get a pimple, it's not at all uncommon.
Pimples under the chin may occur in teenagers and adults alike. Below, we'll discuss a few common causes of acne under the chin and how you can banish your blemishes for good.
First, here are a few things you need to know to treat acne under the chin:
Acne under the chin may be triggered by hormones, excessive face touching and improper hygiene.
Common treatments for acne blemishes under the chin include topical treatments, prescription retinoids and birth control.
There is no one acne treatment that works for everyone.
What Causes Acne Under the Chin?
To successfully banish the acne under your chin, it helps to know what's causing it in the first place. Although it could be that you simply have acne-prone skin, there may be other factors at play that are making you break out under the chin.
GOT ACNE?
Ready to get to the bottom of your blemishes? Here are a few common causes of acne under the chin.
1. Hormonal Acne
If you've heard about hormonal acne, then you may know that fluctuating hormones can trigger acne breakouts. Although it's more commonly associated with puberty, hormonal acne can occur in adults as well.
According to a 2016 review published in Clinical, Cosmetic and Investigational Dermatology, hormonal acne appears to crop up most commonly in the lower part of the face such as the jawline and the chin (see claim: "…hormonal acne concentrates in the lower third of the face along the chin and jaw lines.") It can take the form of mild blemishes and deep, painful cysts.
2. Touching Your Face
Do you frequently rest your chin in your hand? Many of us are guilty of this bad skin care habit.
Although touching your face doesn't directly cause acne, it's certainly not doing the acne under your chin any favors. If you struggle with oily skin, the additional heat and pressure from your hand can create the perfect environment for acne-causing bacteria to thrive. 
3. Sports Equipment
Much like repeatedly touching your face, your sports equipment can also trigger acne breakouts by trapping heat and sweat to the skin. In fact, acne from sports equipment is so common that there is a term for it: acne mechanica.
If you wear any type of helmet with a chin strap, it could be contributing to your acne. But rather than give up your protective headwear, we suggest cleaning your helmet regularly to reduce acne breakouts.
4. Improper Face Washing
Sure, you may wash your face with a mild cleanser twice daily. But are you washing your face the right way?
When it comes to our daily face wash routine, many us overlook the area underneath our chin. If you have oily skin, missing this spot repeatedly can lead to acne under the chin. The next time you cleanse, make sure that you get underneath your chin!
5. Rosacea
What you think is acne under the chin might actually be rosacea, a common skin disorder which primarily affects the forehead, cheeks, nose and chin. When left untreated, acne-like lesions can develop on the face.
According to the American Academy of Dermatology, common treatments for acne rosacea include azelaic acid, metronidazole, sulfur and retinoids. Be sure to talk with your dermatologist before trying any of these treatments.
How to Treat Acne Under the Chin
There is no one-size-fits-all treatment for blemishes under the chin. However, the following acne treatment options have shown promise in banishing acne under the chin.
Try an OTC Topical Treatment
The first-line treatment for acne under the chin is typically an over-the-counter (OTC) topical such as Salicylic Acid or Benzoyl Peroxide. If you have sensitive skin, we recommend using an acne cream with Salicylic Acid because it's less likely to cause skin irritation.
Another topical treatment you can try is azelaic acid, a little-known ingredient that can fight acne blemishes. Azelaic acid is particularly effective on inflammatory acne due to its antimicrobial and anti-inflammatory properties.
Take the skin care quiz
Get a Prescription Retinoid
Retinoids can help unclog pores of the skin and remove excess oil, which is key to reducing acne breakouts under the chin. While there are some retinoids available OTC, seeing a dermatologist for a prescription retinoid is preferable.
Retinoids shouldn't be combined with certain acne-fighting ingredients such as Salicylic Acid. By seeing a dermatologist for a prescription retinoid, you can be sure that you're using retinoids in such a way that will reduce the possibility of skin irritation.
Consider Birth Control
It's not uncommon for doctors to prescribe birth control to treat acne in women. Birth control for acne works by regulating the hormones, reducing hormone level fluctuations that can trigger acne breakouts.
If you've tried over-the-counter acne treatments with no luck, it may be worth seeing your doctor. They can determine whether your hormones are truly to blame and recommend a birth control that works for you.
The Takeaway
Everyone gets acne under the chin at some point in their life. Once you've pinned down the cause, all that's left to do is find the acne treatment option that works best for you. If none of the above treatments work, consider scheduling an appointment with your dermatologist.

Reference
Elsaie, Mohamed L. "Hormonal treatment of acne vulgaris: an update." Clinical, cosmetic and investigational dermatology vol. 9 241-8. 2 Sep. 2016.
---
// © Copyright 2023 Tiege Hanley