Subscription
Shipping Address
Order Date

This subscription's skin care system will get replaced.

${ address.name }




${ address.products }

${ displaySubscriptionName(address) }




${ displayProducts(address) }

${ displayAddress(address) }
${ formatDate(address.scheduleDate) }

${ address.name ? address.name : displaySubscriptionName(address)}
${ address.products }
${ displayProducts(address) }
Shipping Address
${ displayAddress(address) }
Delivery Date
${ formatDate(address.scheduleDate) }
This subscription's skin care system will get replaced.
Adult Acne in Men: What Causes It and How to Treat
Adult acne in men can be a major struggle and a confidence-buster. Learn about the causes of adult acne in men and how to best treat it.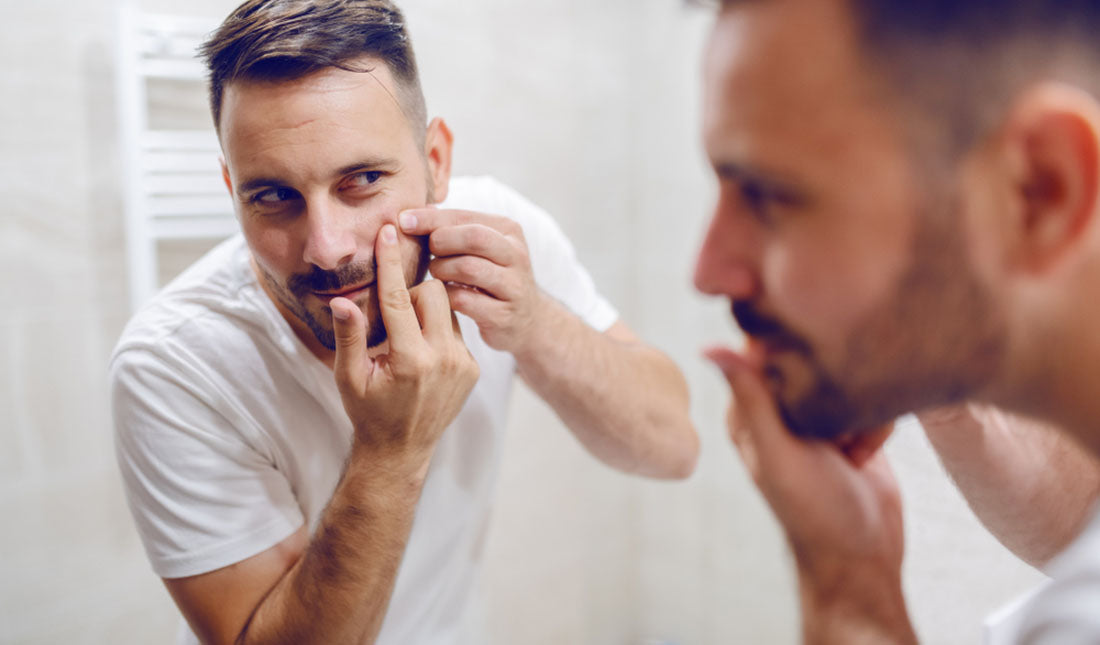 As a teenager, you may have been given the impression that all of your acne problems would magically go away the moment you reached adulthood.
Since you're reading this blog, we're guessing that didn't end up happening for you.
If it makes you feel any better, you're definitely not alone in dealing with adult acne.
A lot of guys struggle to control their acne breakouts well into their 20s and 30s.
To treat your adult acne, it helps to get to the root of the problem.
So, what are the common causes of adult acne in men and what steps can you take to treat it?
Before we answer, here are three things you should know about adult acne in men:
Adult acne in men is commonly caused by stress, genetics and the wrong skin care products.
The best way to treat adult acne in men is by sticking to a consistent skin care routine.
Salicylic Acid is a powerful acne-fighting ingredient that can clear up stubborn blemishes.
What Causes Adult Acne in Men?
All forms of acne are ultimately the result of a clogged pore.
When the pores of your skin become clogged with excess oil and dead skin cells, you've got a recipe for an acne breakout.
The reason why acne is often associated with teenagers is due to surge of androgens (male sex hormones) that occur during puberty.
These hormones signal your oil glands to produce more oil, which inevitably clogs your pores and leads to obnoxious pimples.
Adult acne is slightly different.
For one thing, it affects different areas of the body.
According to a 2008 study published in the Journal of the American Academy of Dermatology, adult acne is usually seen on the jawline and the chest (see claim: "It generally affects the face, particularly the mandibular region, the zone below the jawline, the cervical region, and sometimes the chest.")
Adult acne also differs in its underlying causes.
Here are a few of the most common causes of adult acne in men:
1. Stress
Most of us have struggled with stress pimples before.
Although the reason why you get them is still up for debate, scientists strongly suspect that it has something to do with the hormone cortisol.
Cortisol (aka, the "stress hormone") is released by the adrenal glands during periods of high stress.
When cortisol production ramps up, it can trigger your oil glands to start working in overtime.
The excess oil creates the perfect storm for adult acne breakouts.
GOT ACNE?
2. Pollution
The environment can also have a negative effect on your skin.
Air pollution can add an invisible layer of chemicals, dirt and grime to your face that increases the likelihood of clogged pores.
Additionally, UV rays from the sun can contribute to premature aging and increase your risk of skin cancer.
Applying a daily moisturizer with SPF can help protect your skin and, potentially, keep acne-causing grime off your face.
3. Using the Wrong Products
If you're prone to adult acne, using the right skin care products for your skin type is important.
Some skin care products may contain pore-clogging oils that are far too heavy for your acne-prone skin.
Look for skin care products with noncomedogenic oils such as Calendula Oil, which hydrate your skin without clogging your pores.
Actual Tiege Hanley customer testimonial:

"Over a 3 year period, I probably spent over two grand in skin care and still had acne. I decided to reach out and request to be a part of the

Tiege Hanley Acne trial

and I have been blown away. After two weeks, my skin was clear. It's not the acne cream alone that cleared it up, but how all of the products work together as a whole." Kyle B., NJ.
4. Genetics
We hate to be the bearer of bad news, but your adult acne may just come down to genetics.
In a 1997 study published in the British Journal of Dermatology, researchers found that 50 percent of adult acne sufferers had a family history of post-adolescent acne (see claim: "A family history revealed that 100 (50%) of patients had a first-degree relative with post-adolescent acne.")
If larger pore sizes run in your family, it may be a contributing factor to your adult acne.
Large pores are commonly associated with increased oil production, which can lead to acne breakouts.
5. Bad Habits
Bad habits such as smoking are probably not doing your adult acne any favors.
According to a 2009 study published in Dermato Endocrinology, there is a possible correlation between cigarette smoking and increased oil production (see claim: " …a strong correlation with smoking habit (p < 0.0001), as well as an increase in the grade of sebum peroxidation (p < 0.05…")
Research compiled by the American Academy of Dermatology shows that your diet can also potentially play a role in the development of adult acne.
Thus, living well may be your best defense against blemishes in adulthood.
How to Get Rid of Adult Acne
When it comes to tackling adult acne in men, the best thing to do is to get on a regular skin care routine.
Choosing the right products for your skin—and using them consistently—is key to eliminating stubborn pimples in adulthood.
TAKE THE SKIN CARE QUIZ
Here's what you need to do to finally kick your adult acne to the curb:
1. Wash Twice Daily
Your bar soap is meant for your body—not your face!
Swap it out with a mild facial cleanser that is specifically formulated for the skin on your face.
Your skin will be much happier for it.
2. Exfoliate Regularly
Exfoliating your skin with a gentle face scrub will help remove dead skin cells that can build up and clog your pores.
Just be careful not to overdo it on the face scrub. Too much scrubbing can make the problem worse!
3. Moisturize Your Face
Even guys with acne-prone skin need to moisturize their face daily.
The reason is that it helps keep your skin barrier happy and healthy.
Be sure to choose a moisturizer with hydrating oils that won't clog your pores.
4. Use Salicylic Acid
Last but not least, consider using a powerful acne-fighting ingredient like Salicylic Acid.
Salicylic Acid is a beta-hydroxy acid, which is a chemical exfoliant that does an amazing job at eliminating excess oil from the skin.
For best results, we recommend using an acne cream with Salicylic Acid.
This way, the active ingredient remains on your face (as opposed to being washed off with a cleanser).
Wrapping Up
While adult acne can be a major struggle, it's not impossible to treat.
By following these tips, you can get back to clear skin once more.

References
Skroza, Nevena et al. "Adult Acne Versus Adolescent Acne: A Retrospective Study of 1,167 Patients." The Journal of clinical and aesthetic dermatology vol. 11,1 (2018): 21-25.
Goulden, V et al. "Post-adolescent acne: a review of clinical features." The British journal of dermatology vol. 136,1 (1997): 66-70.
Capitanio, Bruno et al. "Acne and smoking." Dermato-endocrinology vol. 1,3 (2009): 129-35. doi:10.4161/derm.1.3.9638
---
// © Copyright 2023 Tiege Hanley