Subscription
Shipping Address
Order Date

This subscription's skin care system will get replaced.

${ address.name }




${ address.products }

${ displaySubscriptionName(address) }




${ displayProducts(address) }

${ displayAddress(address) }
${ formatDate(address.scheduleDate) }

${ address.name ? address.name : displaySubscriptionName(address)}
${ address.products }
${ displayProducts(address) }
Shipping Address
${ displayAddress(address) }
Delivery Date
${ formatDate(address.scheduleDate) }
This subscription's skin care system will get replaced.
How to Avoid Acne from Wearing a Face Mask
We discuss how to avoid acne from wearing a face mask and get to the bottom of why it happens in the first place.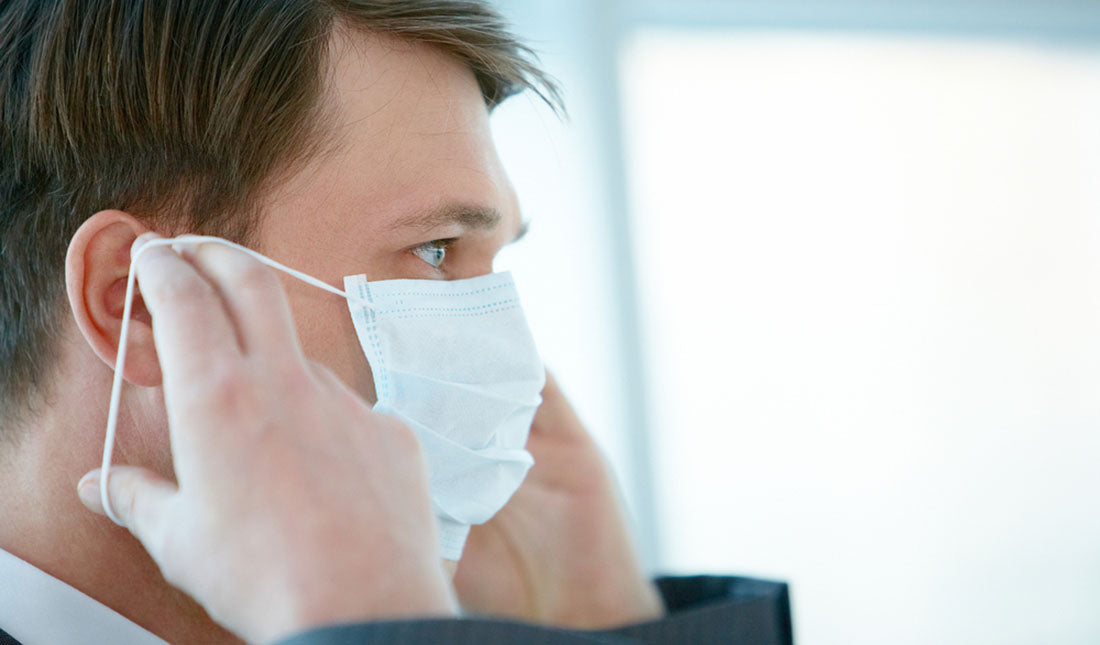 In early April, the Centers for Disease Control and Prevention began advising people to voluntarily wear masks in public.
Since then, you may have noticed that all your face mask wearing has resulted in some pretty frustrating acne breakouts.
Wearing personal protective equipment (PPE) for several hours a day can be brutal on your skin.
The good news?
There are plenty of things you can do about it.
Here are three things you need to know about PPE-related acne:
The heat, friction and moisture from wearing a face mask can lead to acne breakouts.
If you have sensitive, dry or acne-prone skin, you may be more likely to experience PPE-related irritation.
Wearing a clean face mask and following a simple skin care routine can help you avoid PPE-related acne.
Your skin doesn't need to suffer from wearing PPE. 
Here's how to avoid acne from wearing a face mask while still adhering to CDC guidelines.
Acne from Face Mask: Why It Happens
If your skin is the worst it's ever been, you're far from alone.  
Healthcare workers (many of whom wear PPE for 12-hour shifts) have been reporting all kinds of skin issues lately.
In a recent study published in the Journal of the American Academy of Dermatology, a whopping 97 percent of healthcare workers report some degree of skin damage caused by infection-prevention measures (see claim: "The general prevalence rate of skin damage caused by enhanced infection-prevention measures was 97.0% (526 of 542) among first-line health care workers.")
Bruising, swelling and acne aren't limited to healthcare workers.
With more people wearing masks out in public, the adverse effects on the skin are becoming an issue for many non-essential workers, too.
But why does it happen in the first place?
Heat, Friction and Humidity
The most likely explanation for your mask-related breakouts is acne mechanica.
This type of acne is triggered by a combination of heat, friction and humidity.
According to the American Academy of Dermatology, acne mechanica is relatively common in athletes.
Like PPE, sports equipment can create the perfect environment for acne-causing bacteria to thrive.
GOT ACNE?
Sensitive or Dry Skin
N95 masks may be more likely to cause skin problems due to their tight fit.
If you have sensitive skin or an inflammatory skin condition such as rosacea, wearing a tight mask can lead to flare-ups or general skin irritation.
Cloth masks can also be problematic, especially if you have dry skin.
Cloth masks are more likely to absorb your skin's natural oils.
When your skin lacks oil, it can trigger the production of more oil, which leads to clogged pores.
Stress
Let's face it, everyone's been a little stressed out lately.
While stress doesn't cause acne directly, researchers believe that stress and acne are linked.
Feeling anxious and wearing a mask all day can be a double whammy for your skin, especially if you were already acne-prone to begin with.
How to Avoid PPE-Related Acne
The COVID-19 pandemic isn't going away anytime soon.
While some people can solve their acne problem by staying at home to avoid wearing a mask, not everyone has that option.
If you need to wear PPE on a regular basis, here's how to avoid acne from wearing a face mask:
1. Choose the Right Fabric
Wearing a cloth mask?
Be picky about your fabric.
If you're acne-prone, use cotton fabric for the inner layer.
Cotton is breathable and less likely to trigger breakouts.
Polyester is the opposite in that it tends to trap moisture, making it a great outer layer for your mask.
2. Apply a Daily Moisturizer
Before you put on your mask, apply a daily moisturizer to hydrate and protect your skin.
A soothing moisturizer will add an extra layer of protection between your sensitive skin and your mask.
Besides, you should be using a daily moisturizer anyway–mask or not.
Let this be your additional incentive to adopt good skin habits.
TAKE THE SKIN CARE QUIZ
3. Wash Your Cloth Mask Carefully
Hopefully, you're washing your cloth mask regularly per CDC instructions.
But if you have sensitive skin, be warned.
Your laundry detergent may be causing you to break out.
Laundry detergents often contain artificial fragrances and other chemicals that can cause skin irritation and pimples.
Wash your cloth mask with a hypoallergenic laundry detergent that is labeled dye-free and fragrance-free.
Actual Tiege Hanley customer testimonial:

"Over a 3 year period, I probably spent over two grand in skin care and still had acne. I decided to reach out and request to be a part of the

Tiege Hanley Acne trial

and I have been blown away. After two weeks, my skin was clear. It's not the acne cream alone that cleared it up, but how all of the products work together as a whole." Kyle B., NJ.
4. Use Gentle Skin Care Products
On a similar note, look for skin care products that are formulated for sensitive skin.
Your mask is tough enough on your skin without adding harsh skin care products to the mix.
Even if you don't have sensitive skin, using mild cleansers and gentle exfoliating scrubs will help keep your skin healthy and clear.
Final Thoughts
In the grand scheme of things, one could argue that acne is a small price to pay to help reduce the spread of the novel coronavirus.
But why pay the price at all when there are things you can do to avoid it?
Your mental health has probably suffered enough during these trying times.
With these tips, you can get back to clear skin without ignoring CDC guidelines.

References
Lan, Jiajia, et al. "Skin Damage among Health Care Workers Managing Coronavirus Disease-2019." Journal of the American Academy of Dermatology, vol. 82, no. 5, Elsevier, May 2020, pp. 1215–16.
U.S. Centers for Disease Control and Prevention
---
// © Copyright 2023 Tiege Hanley