Subscription
Shipping Address
Order Date

This subscription's skin care system will get replaced.

${ address.name }




${ address.products }

${ displaySubscriptionName(address) }




${ displayProducts(address) }

${ displayAddress(address) }
${ formatDate(address.scheduleDate) }

${ address.name ? address.name : displaySubscriptionName(address)}
${ address.products }
${ displayProducts(address) }
Shipping Address
${ displayAddress(address) }
Delivery Date
${ formatDate(address.scheduleDate) }
This subscription's skin care system will get replaced.
Teenage Acne—Best Acne Treatments for Teens (Updated March 2020)
Tired of dealing with a face full of pimples? We've rounded up the best acne treatments for teens that are proven to combat stubborn blemishes.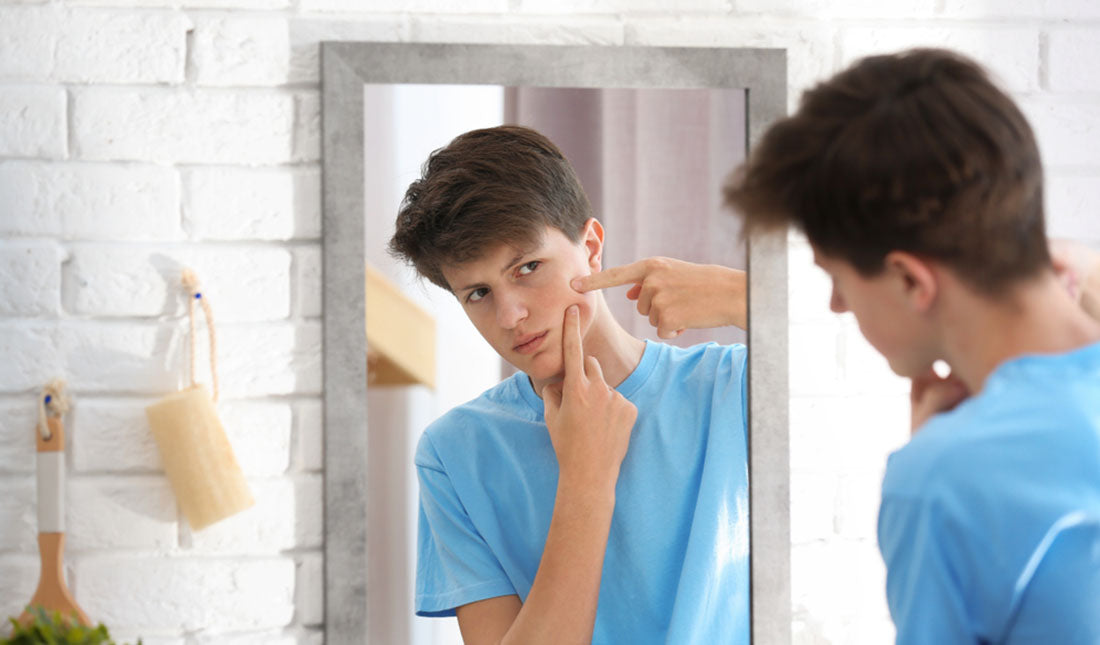 Ah, yes, the dreaded teenage acne. It's arguably one of the worst parts of going through puberty (it's either that or the voice cracking).
The near-constant smattering of pimples on your face can be a huge bummer, to say the least. However, it's just one of those things that virtually every teenager goes through at some point.
Although acne is a normal part of being a teenager, that doesn't mean you need to put up with it.
In fact, there are now several acne treatments for teens that show promise for treating those annoying breakouts of yours.
Before we break down each acne treatment, here are three things you need to know about the best acne treatments for teens:
Teenage skin requires a different approach compared to adult skin
The best acne treatment for teens is simple to use, affordable and powerful enough to penetrate their oily skin
Salicylic Acid and Benzoyl Peroxide are the best OTC acne treatments for teens
GOT ACNE?

Teenage Acne vs. Adult Acne – What's the Difference?
Why do teenagers need a unique approach to acne treatment, anyway?
Here are three major differences in how acne presents itself between teenagers and adults:
Cause/Trigger
The main cause (or trigger, rather) of teenage acne is hormonal fluctuations from puberty.
As teenagers undergo puberty, they experience a rise in androgens (male sex hormones), which stimulate their skin's oil glands.
When the skin's oil glands are stimulated, it leads to an excess production of oil.
This oil clogs the pores of the skin and makes your face break out all of a sudden.
In adults, however, acne is a little more complicated.
Causes and triggers can include factors such as stress, pollution and genetics, to name just a few.
Location
While acne can pop up anywhere on the face, it's more likely to appear in certain locations, depending on your age.
As a teenager, you may be more likely to get acne on the forehead, nose and chin, due to the higher number of oil glands in these areas.
Though adults can and do experience acne in these places as well, it's a little bit different.
According to a 2018 study published in The Journal of Clinical and Aesthetic Dermatology, adults tend to experience acne on the lower half of the face, such as the jawline and the chin (see claim: "It generally affects the face, particularly the mandibular region, the zone below the jawline, the cervical region, and sometimes the chest.")
Actual Tiege Hanley customer testimonial:

"Over a 3 year period, I probably spent over two grand in skin care and still had acne. I decided to reach out and request to be a part of the

 

Tiege Hanley Acne trial

 

and I have been blown away. After two weeks, my skin was clear. It's not the acne cream alone that cleared it up, but how all of the products work together as a whole." Kyle B., NJ.
Physiological Differences
Finally, there are a few physiological differences in the skin that can influence the treatment of teenage vs. adult acne.
Teens generally have tougher and more resilient skin compared to adults, which means they may be able to withstand harsher acne treatment systems.
Of course, this isn't a guarantee that you can use Benzoyl Peroxide on your skin (which is known for causing skin irritation) without any side effects.
No matter what type of acne treatment system you use, always do a spot test before applying the product to your entire face.
Take the skin care quiz
Best Acne Treatments for Teens
You now know that teenage acne is generally the result of overactive oil glands.
You also know that teenage skin can be tough, which means you need an acne treatment system that is powerful enough to penetrate your skin's resilient epidermis while getting rid of excess oil.
Which acne treatments show the most promise? Let's take a look:
1. Salicylic Acid
When it comes to treating your teenage acne, you probably want to choose the easiest method first.
Thus, your first choice will likely be an over-the-counter acne treatment system formulated with Salicylic Acid, which is a well-known acne-fighting ingredient.
Salicylic Acid is particularly effective at treating teen acne because it's oil-soluble, which means it can penetrate your oily skin to eradicate blemishes.
If you deal with stubborn blackheads and whiteheads regularly, you can use an acne cream with Salicylic Acid to help nip them in the bud–fast.
2. Benzoyl Peroxide
Another over-the-counter acne treatment, Benzoyl Peroxide (BPO) works by fighting acne-causing bacteria and removing excess sebum (oil) from the skin.
It's also effective at vanquishing stubborn whiteheads and blackheads, as well as the occasional red pimple.
However, BPO is known for causing skin irritation in some teens.
If you notice side effects such as redness, drying and peeling, consider using Salicylic Acid instead. (See also our comparison of Salicylic Acid vs. Benzoyl Peroxide.)
3. Isotretinoin (Accutane)
If your acne is moderate-to-severe, you may need to reach for a heavy duty acne treatment, such as isotretinoin.
Also known as Accutane, isotretinoin is an oral medication used to treat severe acne that takes the form of painful cysts and nodules.
Isotretinoin is particularly effective at combating teenage acne due to its ability to slow the shedding of skin cells that clog pores.
According to a 2009 review published in Dermato Endocrinology, taking 0.5 to 1 mg of isotretinoin per day can significantly reduce excess oil by up to 90 percent in as little as six weeks (see claim: "A dose of 0.5–1.0 mg/kg/day dramatically reduces sebum excretion by the order of 90% within 6 weeks.")
The downside to isotretinoin is its many potential side effects, some of which include dry skin, cheilitis, elevated liver enzymes, depressed mood and decreased appetite.
It's also expensive, so you may want to consider isotretinoin as a last resort.
The Path to Achieving Clear Skin
As a teen, getting rid of acne can seem impossible.
We want to tell you that your acne will get better as you age, but there's no guarantee you won't struggle with acne as an adult.
That's why it's important to get on a regular skin care routine sooner rather than later.
By forming good habits now, you can put yourself on the path to blemish-free skin in no time.

References
Skroza, Nevena et al. "Adult Acne Versus Adolescent Acne: A Retrospective Study of 1,167 Patients." The Journal of clinical and aesthetic dermatology vol. 11,1 (2018): 21-25.
Layton, Alison. "The use of isotretinoin in acne." Dermato-endocrinology vol. 1,3 (2009): 162-9.
---
// © Copyright 2023 Tiege Hanley