Subscription
Shipping Address
Order Date

This subscription's skin care system will get replaced.

${ address.name }




${ address.products }

${ displaySubscriptionName(address) }




${ displayProducts(address) }

${ displayAddress(address) }
${ formatDate(address.scheduleDate) }

${ address.name ? address.name : displaySubscriptionName(address)}
${ address.products }
${ displayProducts(address) }
Shipping Address
${ displayAddress(address) }
Delivery Date
${ formatDate(address.scheduleDate) }
This subscription's skin care system will get replaced.
Best Multivitamins for Men—We Review the Research
Getting your daily nutrients from diet alone can be difficult. Find out what guys should look for in a multivitamin and the best brands on the market, according to research.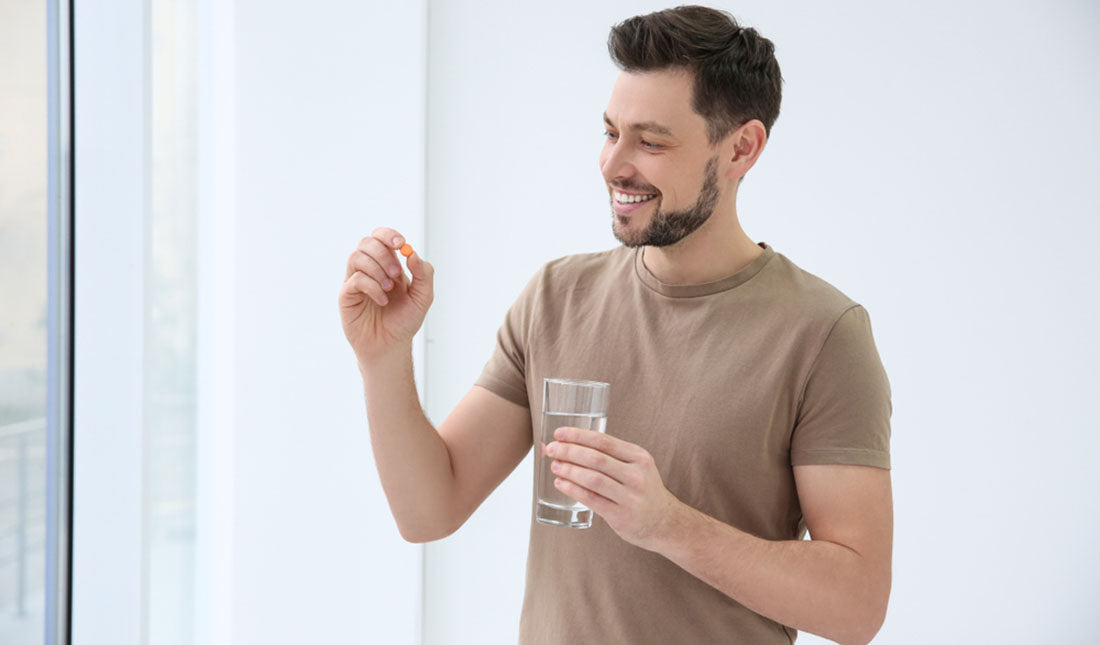 Despite your best efforts to eat a healthy, well-balanced diet, you could be missing a few key nutrients. In this case, taking a daily multivitamin for men to fill in the gaps in your nutrition may not be a bad idea.
With so many multivitamins on the market, how do you know which one is right for you? Which nutrients do guys need compared to women? To help guys find the best multivitamin to support their overall health and well-being, we're taking a deep dive into the research.
Here are three things you need to know about multivitamins for men:
There is still wide debate as to whether multivitamins are helpful or harmful to our health.
Men should specifically focus on a multivitamin with essential nutrients such as Vitamins B12 and D, as well as zinc, potassium and iodine.
Guy-specific formulas such as One A Day Men's and Nature Made Multi For Him can help guys reach their nutritional needs.
Do Guys Need a Multivitamin?
Before we get too far into the best multivitamins for men, it's important to note that there is still an ongoing debate on the usefulness of multivitamins. Some scientists argue that taking a multivitamin provides no significant benefit and may even prove harmful to some individuals, while some say there may be an advantage to taking a daily multivitamin.
What the Science Says
Daily multivitamins are often recommended to guys for their potential to reduce the risk of cardiovascular disease, of which men are twice as likely to suffer from than women. In particular, low levels of Vitamin D (which we can get from the sun as well as our diet) have long been linked to a higher risk of cardiovascular disease, according to a 2009 author manuscript published in the American Journal of Medicine (see claim: "…vitamin D deficiency predisposes individuals to increased risk of incident hypertension, IHD, sudden cardiac death, or heart failure.")
Although it's often suggested that taking a multivitamin can reduce cardiovascular disease in guys, there is no conclusive evidence to back this claim up. In a 2012 study published in JAMA Network, taking a daily multivitamin had no significant effect in major cardiovascular events in men compared to the placebo (see claim: "Compared with placebo, there was no significant effect of a daily multivitamin on major cardiovascular events…")
However, there is also some evidence that multivitamins can be beneficial. For example, a 2012 study published in JAMA Network found a link between multivitamin usage and a reduced risk of cancer in men (see claim: "Daily multivitamin use was associated with a reduction in total cancer among 1,312 men with a baseline history of cancer…")
The bottom line: Multivitamins may or may not be beneficial. It's up to you to take charge of your health and see a healthcare provider for guidance on a multivitamin and/or nutritional guidance.
TRY MEN'S SKIN CARE
What Should Men Look for in a Multivitamin?
You don't need to be a scientist to know that men and women have several key physiological differences. While the two genders are more alike than different, these slight nutritional variances mean that men and women require different approaches to nutrition.
For instance, you won't usually find iron in a men's multivitamin. This is because women are far more likely to be iron-deficient than men.
So, what should guys be looking for in a multivitamin? Based on the current research, here are a few must-have ingredients for men:
Vitamin D—As we already mentioned, Vitamin D deficiencies have been linked to an increased risk of heart attack and stroke, which men are already at a higher risk for compared to women. Vitamin D plays a key role in helping our bodies absorb calcium to promote healthy bones.
Zinc—Zinc is another common nutrient deficiency throughout the world. This key mineral is responsible for protein production, immune function and nutrient metabolization within the body. It also plays a key role in testosterone production in men, which was shown in a 1996 study published in Nutrition (see claim: "We conclude that zinc may play an important role in modulating serum testosterone levels in normal men.")
Vitamin B12—According to a 2018 study published in Annals of Nutrition & Metabolism, men are more likely to have an insufficient intake of Vitamin B12 (see claim: "…men are susceptible to vitamin B12 deficiency.") This vitamin is vital for healthy function of the nervous system and the brain.
Potassium—A lot of guys don't get enough potassium in their diets. This essential nutrient is critical for normal cell function and body tissue repair (listen up, weightlifters.) Without it, guys can experience fatigue and muscle weakness. Moreover, a 2018 study published in Nutrition Today suggests that kidney stones and elevated blood pressure may be the result of insufficient potassium levels (see claim: "…elevated blood pressure and kidney stones as meaningful pathological end points that may result from insufficient potassium intake.")
Iodine—Iodine is a trace element that is responsible for producing the thyroid hormone, a crucial hormone that plays a vital role in the regulation of many bodily functions such as heart rate, muscle strength, body weight and more. According to a 2009 study published in Endocrine Reviews, an estimated two billion individuals don't get enough iodine in their diets (see claim: "…it is estimated that 2 billion individuals have an insufficient iodine intake.")
Take the skin care quiz
Best Multivitamins for Men
It's incredibly difficult to study specific brands of multivitamins for several reasons. Not only can multivitamin brands change their formula at will, but scientists often have different definitions of what they consider to be a multivitamin.
Even so, there are some reputable brands that contain most—if not all—of the essential nutrients that guys need. Here are a few of the best multivitamins on the market today.
Nature Made Multi For Him—Packed with antioxidants such as Vitamins C and E, Nature Made Multi For Him contains a whopping 22 key nutrients to support overall health and well-being. It's also gluten-free, yeast-free and contains no added colors or preservatives.
One A Day Men's Pro Edge—If you live an active lifestyle, consider opting for a vitamin to support your increased vitamin and mineral needs. While One A Day Men's Pro Edge may not boost your athletic performance, it does contain 200 percent daily value of Vitamin B12 and Vitamin B6, 50 percent magnesium and 200 percent Vitamin D to support active guys.
GNC Mega Men Sport—Another excellent option for active guys, GNC Mega Men Sport contains an array of B vitamins which can potentially boost energy production and cognitive function in those with low levels of B vitamins. It also contains a small amount of selenium, which plays an important role in metabolism and thyroid function, and 100 percent daily value of Iodine.
Rainbow Light Men's One—This non-GMO multivitamin is formulated to mimic the vitamins and minerals found in a range of colorful superfoods such as kale, carrots, broccoli and blueberries. The Rainbow Light Men's One also contains probiotics to promote a healthy gut.
These multivitamins are all specifically formulated for guys to address specific health concerns such as muscle development, heart health and immune functions. Just keep in mind that your needs will vary depending on your age and lifestyle. Always consult with your doctor before taking any of these multivitamins.
---