Subscription
Shipping Address
Order Date

This subscription's skin care system will get replaced.

${ address.name }




${ address.products }

${ displaySubscriptionName(address) }




${ displayProducts(address) }

${ displayAddress(address) }
${ formatDate(address.scheduleDate) }

${ address.name ? address.name : displaySubscriptionName(address)}
${ address.products }
${ displayProducts(address) }
Shipping Address
${ displayAddress(address) }
Delivery Date
${ formatDate(address.scheduleDate) }
This subscription's skin care system will get replaced.
Best Self Tanner for Men (and How to Apply)
Want to get sexy, bronzed skin without exposing yourself to UV rays? Here are our top recommendations on self tanners for men, plus how to apply it like a pro.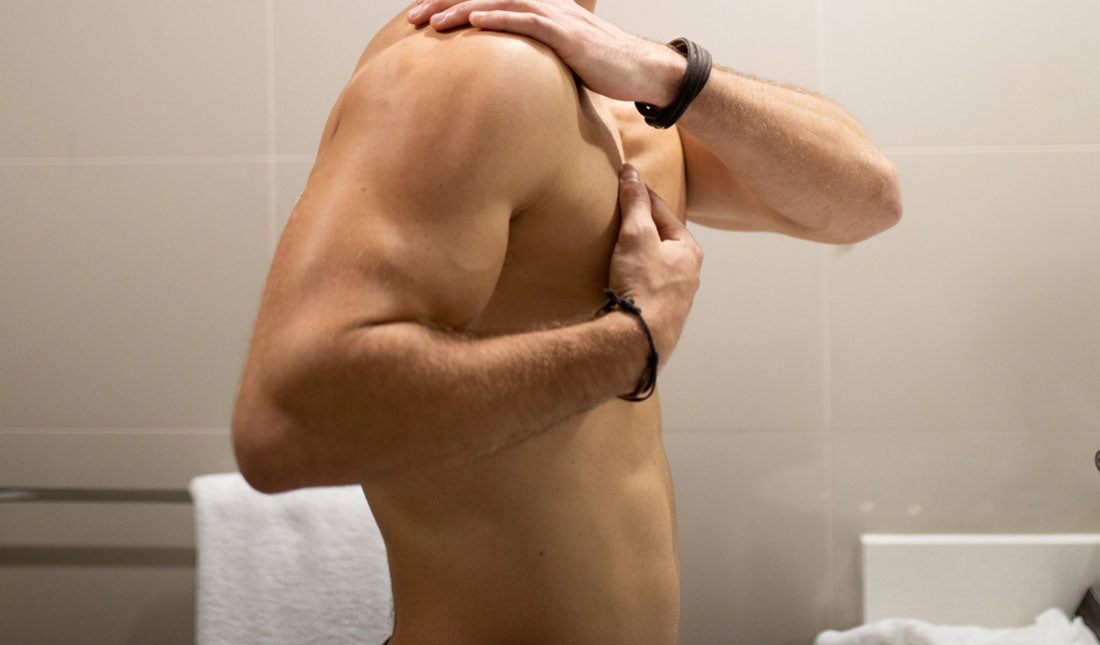 We can't help our natural desire for tanned skin.
After all, a sun-kissed glow has long been associated with health and vitality.
But if you're anything like us, you're not exactly down for the time commitment or the increased risk of skin cancer that's comes with getting sexy, bronzed skin.
In that case, there's always a self tanner—aka, a sunless tan.
The right self tanner can give you a subtle, faux glow, while the wrong one can make you resemble an Oompa-Loompa.
To help you achieve the former and not the latter, we're going to discuss how a self tanner works and recommend a few of our favorites.
Here are three things you should know about self tanners for men:
Self tanners can give you a tan without exposing you to harmful UV rays.
Most self tanners contain dihydroxyacetone, an ingredient that darkens dead skin cells.
When applying a self tanner, follow the instructions carefully and don't rush the process.
Ready to get a sexy, faux glow?
Here are the best self tanners for men—plus, how to apply it like a pro.
How Does a Self Tanner Work?
Self tanning products usually contain an active ingredient called dihydroxyacetone (DHA), the simplest ketone form of sugar.
DHA interacts with the proteins in dead skin cells to produce pigments called melanoids, which temporarily darken the skin.
A DHA-induced tan doesn't come off readily with soap and water. This can be a good thing or a bad thing, depending on how you feel about the final result.
However, it's important to note that DHA-containing products do NOT protect against ultraviolet (UV) light. Most self tanners only have a SPF of 1-4.
For reference, the Food and Drug Administration generally recommends a daily SPF of 15 or higher, even on cloudy days.
TRY MEN'S SKIN CARE
Self Tanners for Men: Recommendations
Self tanners for men come in a variety of forms including gels, lotions, sprays, wipes and mousses.
Here are a few of our recommendations:
If streakiness and blotchiness are your top concerns, reach for a spray tan mist like this one from James Read.
This lightweight formula contains soothing aloe vera and witch hazel (an antiseptic), making it perfect for your post-shave routine.
Got acne-prone skin?
We recommend opting for a mousse self tanner.
According to a 2015 study published in The Journal of Clinical and Aesthetic Dermatology, mousses are generally the best option for guys with oily skin because they don't have as much moisture in them (see claim: "…mousses contain less moisture so they can be beneficial to users with more oily skin.")
In terms of price, St. Tropez Self Tan Bronzing Mousse is in the middle of the road.
But having clear skin AND a realistic glow makes it worth every penny.
3. Best Premium Self Tanner for Men: TAN-LUXE
If you don't mind shelling out for a sun-kissed glow, check out these potent face drops from TAN-LUXE.
Packed with high-quality ingredients such as vitamin E, raspberry seed oil and aloe vera, this cruelty-free and toxin-free product is a worthy addition to your daily skin care routine.
If you're looking for a more affordable self tanner for men, check out Banana Boat Self-Tanning Sunless Lotion.
The self-adjusting color formula lets you have total control over your tan's color.
Expect to achieve a natural-looking tan that lasts roughly four to five days.
TAKE THE SKIN CARE QUIZ
How to Apply a Self Tanner
Choosing a self tanner is relatively easy. Learning how to apply a self tanner for men isn't always straightforward.
To avoid streaks and blotchiness, follow these tips for application:
1. Prep Your Skin
To prep your skin for a self tanner, scrub your skin with a gentle exfoliating scrub.
Avoid moisturizers and other skin care products that might contain oils.
Oils can make it harder for the self tanner to absorb evenly.
The exception to this is if you have dry skin–in which case, it's better to put a little moisture back into your skin.
2. Dry Off
After you get out of the shower, let your skin dry 100 percent before you apply a self tanner.
If you apply a self tanner while you're still wet, the product will leave streaks and residue behind.
3. Apply in a Circular Motion
Apply your self tanner in small sections, starting from the bottom and working your way up.
If you're using a self tanning lotion, massage the product into your skin using a circular motion to prevent streaks.
Do your arms and hands last.
4. Go Easy on Certain Spots
Take the time to blend the product carefully around the ankles, knees and elbows.
These spots tend to absorb more self tanner. The nose and the upper lip can also absorb more product, so watch out for that.
5. Give Yourself Time to Dry
Once you're finished applying the self tanner, set a timer for 10 minutes before you get dressed.
After 10 minutes is up, put on loose clothing for the next three hours or so.
Getting a Safe, Sun-Kissed Glow
Your first experience with a self tanner may not be the best.
Keep trying and learn from your mistakes.
Even with all its faults, a self tanner remains an easy and affordable way to get a safe, luscious glow.
And if you're not ready for the self-application route, try going to a tanning salon for a spray tan for men (another UV-free way of getting that golden glow).

References
U.S. Food and Drug Administration
Garone, Michael et al. "A review of common tanning methods." The Journal of clinical and aesthetic dermatology vol. 8,2 (2015): 43-7.
---
// © Copyright 2023 Tiege Hanley