Subscription
Shipping Address
Order Date

This subscription's skin care system will get replaced.

${ address.name }




${ address.products }

${ displaySubscriptionName(address) }




${ displayProducts(address) }

${ displayAddress(address) }
${ formatDate(address.scheduleDate) }

${ address.name ? address.name : displaySubscriptionName(address)}
${ address.products }
${ displayProducts(address) }
Shipping Address
${ displayAddress(address) }
Delivery Date
${ formatDate(address.scheduleDate) }
This subscription's skin care system will get replaced.
Best Shaving Creams for Men
Is your old shave cream not cutting it? Check out the best shaving creams for men rated by the experts at Tiege Hanley.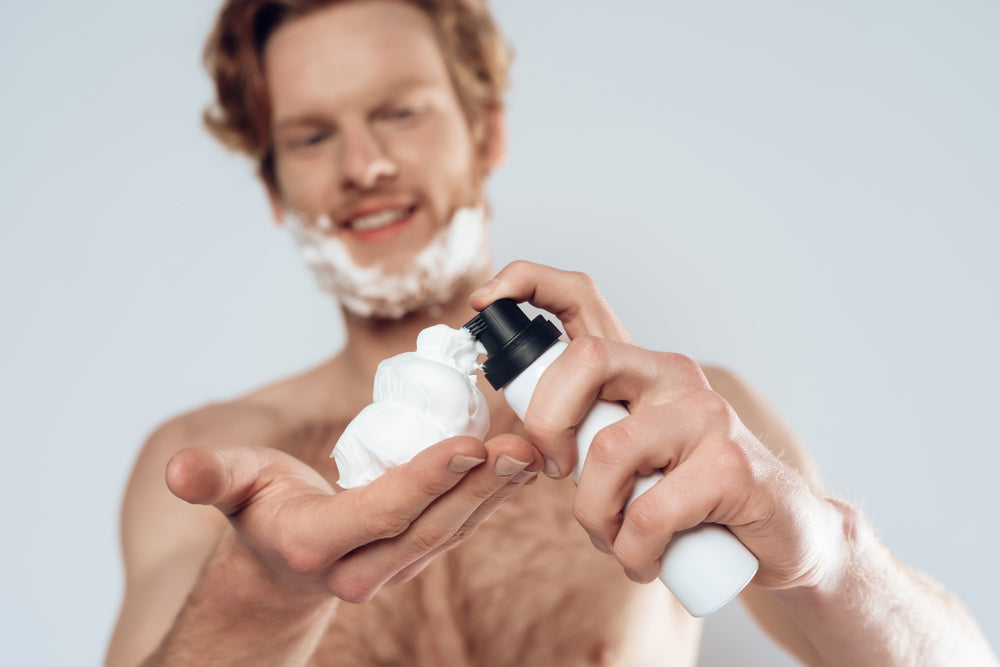 Man has been using shaving cream for thousands of years. While these early lathering products didn't always produce the best results, they were sufficient at the time.
We're happy to report that modern shaving creams have come a long way. Shaving creams are now available in a variety of types and formulas to help guys achieve a spectacularly close shave.
What are the best shaving creams for men? That depends on what shaving tool you're using and your skin type.
Here are three things you need to know about the best shaving creams for men:
Choosing a quality shaving cream free of artificial fragrances is crucial for guys with sensitive skin
The best shaving creams for men contains skin-soothing ingredients and don't test on animals
For a solid shaving cream for men, check out Pacific Shaving Company's Caffeinated Shaving Cream
GOT WRINKLES?
The Importance of a High-Quality Shave Cream
Your choice of shaving cream is just as important as your shaving technique (read: very important). A high-quality shaving cream can solve some of your most pressing skin care woes, such as irritating razor bumps and painful ingrown hairs.
However, the opposite can be true for shaving creams as well. Certain ingredients in shaving creams such as artificial fragrances and dyes have been known to cause allergic reactions.
These ingredients are particularly worrisome for guys with sensitive skin. In a 1994 study published in Contact Dermatitis, researchers suggested that shaving creams containing fragrance can trigger an allergic reaction in men with a perfume allergy by creating small wounds in the skin (see claim: "…shaving with a razor blade might be the cause of perfume contact allergy, by creating small wounds that increase the penetration of applied perfume substances…")
While it may be more cumbersome, checking the ingredient label on your shaving cream (and all of your skin care products, for that matter) is well worth the effort. By choosing the right shaving cream and following a few shave tips from the American Academy of Dermatology, you can achieve a buttery-smooth shave with zero redness or irritation.
Best Shaving Cream for Men
We get that shopping for shaving cream can be inconvenient. That's why we've gone ahead and rounded up the best shaving creams for men to make your decision a lot easier.
If you shave with a traditional safety razor, a mug and a badger brush, all you need is a traditional shave cream to complete your set. Consider Proraso, a traditional shave cream that is suitable for every skin type. This Italian shaving cream will provide the thick, creamy lather you need to achieve a close shave without side effects such as razor bumps or red, irritated skin.
Proraso uses a vegetable stearin-based formula packed with botanical and natural oils to help your razor glide smoothly over your skin. It's also cruelty-free and contains no parabens, silicones or artificial colors.
2. Best Shaving Cream for Cartridge Razors: PURE by Gillette
PURE by Gillette is a shave cream for men that is infused with soothing Aloe Vera and is alcohol-free, paraben-free and sulfate-free. The formula is designed to protect the skin from the harsh effects of multi-blade razors, making it the ideal choice if you prefer to use cartridge razors.
Don't let the name deter you from trying Nancy Boy's Signature Shave Cream. Despite its connotations, this shaving cream is packed with premium quality ingredients that will deliver manly results at a fraction of the cost.
Specifically, it contains ingredients such as Cucumber, Vitamin E and Calendula to soothe skin and prevent post-shave irritation. However, it does contain coconut oil, which can clog your pores and make acne breakouts worse.
With its neutral scent and ability to deliver a comfortable shave, Taylor of Old Bond Street (TOBS) Shaving Cream is hands down one of the best shaving creams for men with sensitive skin. This product is one of the few shave creams for sensitive skin types that contains no artificial fragrances, parabens or preservatives.
In this shaving cream, you'll find soothing and moisturizing ingredients such as Aloe Vera and Vitamin E. Even if you don't have sensitive skin, it's still a worthy addition to your daily morning routine.
Take the skin care quiz
Made from naturally-derived caffeine, this shaving cream by Pacific Shaving Company ticks off every box. Not only is it vegan, cruelty-free, paraben-free and TSA travel-friendly, the Caffeinated Shaving Cream is also loaded with antioxidants and premium ingredients to deliver a safe and effective shave.
When you finally upgrade to a safety razor, you won't need to worry about finding a new shaving cream. This shaving cream works equally well for both cartridge razors and safety razors alike.
Final Thoughts
It's difficult to pin down a single best shaving cream for men because everyone has different skin care needs. However, if you're looking for a solid shave cream, you can't go wrong with Pacific Shaving Company's Caffeinated Shaving Cream.
References
Edman, B. "The Influence of Shaving Method on Perfume Allergy." Contact Dermatitis, vol. 31, no. 5, Nov. 1994, pp. 291–92. PubMed, doi:10.1111/j.1600-0536.1994.tb02021.x.
---
// © Copyright 2023 Tiege Hanley