Subscription
Shipping Address
Order Date

This subscription's skin care system will get replaced.

${ address.name }




${ address.products }

${ displaySubscriptionName(address) }




${ displayProducts(address) }

${ displayAddress(address) }
${ formatDate(address.scheduleDate) }

${ address.name ? address.name : displaySubscriptionName(address)}
${ address.products }
${ displayProducts(address) }
Shipping Address
${ displayAddress(address) }
Delivery Date
${ formatDate(address.scheduleDate) }
This subscription's skin care system will get replaced.
Blind Pimples: How to Treat Pimples Under the Skin
Blind pimples are a painful form of acne located deep within the skin. Learn from Tiege Hanley how you can effectively treat this stubborn type of acne and how to prevent blind pimples.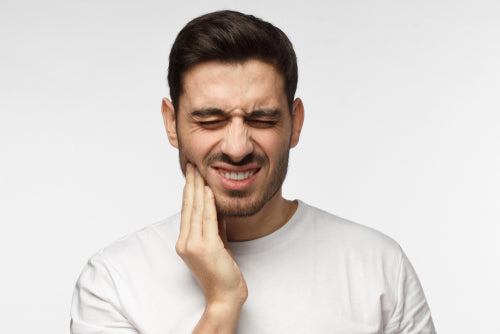 Let's be clear: all pimples are frustrating. However, there is one type of pimple that can be especially bothersome.
Known as blind pimples, these nasty bumps are located deeper within the skin and are often painful to the touch. If you've ever woken up with a painful, swollen zit that resembled a mosquito bite, you've experienced a blind pimple.
As frustrating as blind pimples can be, there are ways to treat them effectively. Here are three things you need to know:
Blind pimples are painful cysts and nodules that lurk beneath the skin, making them difficult to treat.
Picking at your blind pimples is one of the worst things you can do and may lead to permanent scarring.
If topical creams and acne systems don't work, a dermatologist may prescribe you medication for your blind pimples.
Don't Pick!
Picking at any pimple isn't a smart move and can lead to scarring. However, blind pimples are especially bad to pick at because they are located deep inside the skin.
Many of us have tried picking at this type of pimple only to cause further swelling, redness and potentially a scar. Not only does trying to pop a blind pimple make it look worse, it also makes it take longer to heal.
Stick to Your Skin Care Routine
For many guys struggling with a blind pimple breakout, their first inclination is to stop moisturizing and start scrubbing their face like crazy. This is only making things worse!
Your face needs regular moisturization to achieve a healthy oil balance. Quitting your daily moisturizer and over-scrubbing your face will cause excessive dryness and throw off your skin's natural oil production.
To compensate, your skin will produce more oil, which can clog pores and cause acne breakouts. While it might seem counterintuitive, stick to using your daily moisturizer and go easy on the face scrub.
GOT ACNE?
Apply Topical Creams
Blind pimples may be difficult to treat, but there are some things you can do to get rid of them faster. Some over-the-counter acne creams can be effective at treating deep pimples under the skin.
Here are the most common ingredients used to treat blind pimples:
Benzoyl Peroxide—Although Benzoyl Peroxide is effective at treating deep pimples, it has been known to cause redness and irritation in some patients. A recent review of clinical trial results published in the Journal of Dermatology found that long-term use of Benzoyl Peroxide was safe, but that there were mild symptoms at the application site (see claim: "The number of lesions decreased over time from the start of treatment to 12 weeks…dermal symptoms at the application site, and most cases were mild.")
Hydrocortisone—Hydrocortisone can help reduce swelling, inflammation and irritation from blind pimples. However, it's most effective when combined with another acne-fighting ingredient such as Benzoyl Peroxide.
Salicylic Acid—One of the safest and most effective acne-fighting ingredients, Salicylic Acid is known for its comedolytic properties (meaning it prevents the formation of deep pimples). According to a 2015 study published in the Journal of Clinical, Cosmetic and Investigative Dermatology, Salicylic Acid was found safe by all skin types and ethnic groups (see claim: "SA peels have been found to be safe and well tolerated by all racial/ethnic groups and in all skin types.")
Retinoid—Retinoid creams can also be effective at treating mild to serve acne. Topical retinoids such as Retin-A have anti-inflammatory and comedolytic properties which can prevent new pimples from forming while reducing redness and swelling.
Potent topical retinoids such as tretinoin can only be prescribed by a dermatologist, but you may find that an over-the-counter retinoid is better for your skin anyway. Common side effects of prescription retinoids include redness, dry skin, peeling and stinging.
Take the skin care quiz
If All Else Fails, See a Dermatologist
Seeing a dermatologist is often the last resort for many due to price concerns. For some men, a dermatologist may also be the only thing that works on their blind pimples.
In addition to prescribing acne medication, a dermatologist can also give you a cortisone injection which will quickly bring down the swelling and redness. This is a common treatment option when dealing with severe acne cysts or nodules.
Eliminate Blind Pimples with the Right Acne Treatment System
Blind pimples are just another name for one of the most severe forms of acne. If you're a guy who is struggling with blind pimples, try Tiege Hanley's Level 2 Acne System. Formulated specifically for men, our Level 2 Acne System has all the products you need to clear your moderate to severe acne and finally achieve clear, handsome-looking skin.
---
// © Copyright 2023 Tiege Hanley