Subscription
Shipping Address
Order Date

This subscription's skin care system will get replaced.

${ address.name }




${ address.products }

${ displaySubscriptionName(address) }




${ displayProducts(address) }

${ displayAddress(address) }
${ formatDate(address.scheduleDate) }

${ address.name ? address.name : displaySubscriptionName(address)}
${ address.products }
${ displayProducts(address) }
Shipping Address
${ displayAddress(address) }
Delivery Date
${ formatDate(address.scheduleDate) }
This subscription's skin care system will get replaced.
Can Stress Cause Hair Loss?
Can stress cause hair loss or is your thinning hair related to something else? Learn about the link between stress and hair loss as we dive into the research.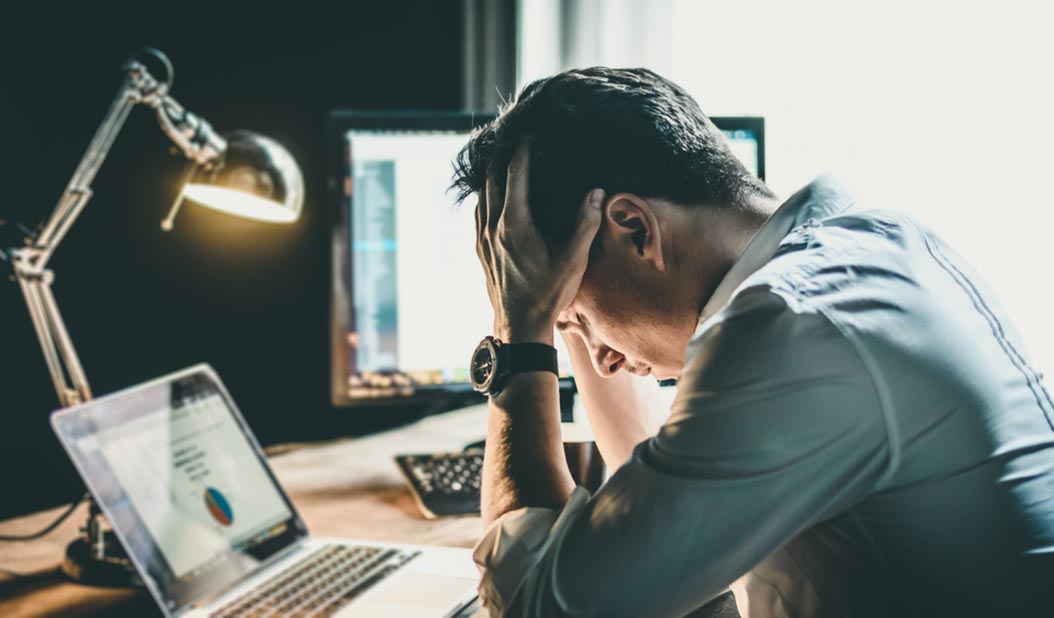 Your workload is piling up, there are a million things you need to do and it seems as though everyone is demanding something from you lately. To say that you're a little stressed is probably the understatement of the year.
To make matters even worse, you've started to notice that your hair is falling out faster than normal. Is it pure coincidence that you're experiencing hair loss right now? Or is your mounting stress to blame for your thinning hair?
As a matter of fact, scientists have found a convincing link between stress and hair loss. If you're dealing with stress-related hair loss right now, we've got the low-down on why it happens and what you can do about it.
But first, here are three things you need to know about stress and hair loss:
Stress can trigger hair to enter the resting phase of its growth cycle, resulting in hair loss.
Telogen effluvium is the most common type of stress-related hair loss.
Stress-related hair loss usually corrects itself on its own.
Stress and Your Hair
It's no secret that stress can affect our skin, but can stress cause hair loss, too? In short, yes, chronic stress can trigger alopecia, the medical term for hair loss. To understand how stress can trigger hair loss, you first need to understand how the hair growth cycle works.
TRY MEN'S SKIN CARE
How Stress Affects the Hair Growth Cycle
Hair grows in cycles, marked by three distinct phases: Anagen, catagen and telogen. According to a 2015 study published in the Journal of Clinical & Diagnostic Research, the anagen phase lasts anywhere from two to eight years, the catagen phase lasts four to six weeks and the telogen phase lasts two to three months (see claim: "The anagen phase may last for about 2 to 8 years, the catagen phase lasts for 4 to 6 weeks and the telogen phase lasts for 2 to 3 months.")
At any given time, about 90 percent of the hair on our head is actively growing (the anagen phase). The catagen phase is simply a short transitional phase that signals the end of the active growth cycle. Finally, the hair follicle enters the telogen phase, or the resting phase.
So, what does all this have to do with stress-related hair loss? Get this: When your body experiences high levels of stress, it can trigger your hair follicles to prematurely enter the telogen phase. This specific type of hair loss is commonly known as telogen effluvium.
What Is Telogen Effluvium?
Unfortunately, not much is known about telogen effluvium. We do know that people with telogen effluvium often report experiencing some traumatic event, such as the following:
Surgery
Childbirth
Major physical trauma
Emotional trauma
Chronic psychological stress
Extreme illness
Extreme changes in weight
Hair typically begins to fall out two to four months after the stressful event occurs. This is because hairs enter the telogen phase and rest for this amount of time before falling out.
Additionally, telogen effluvium can also be a secondary condition. For example, your chronic stress may lead you to eat a poor diet that lacks nutrients. This nutrient deficiency can then trigger hair follicles to enter the resting phase of growth, resulting in hair loss or extreme shedding.
Take the skin care quiz
Other Types of Stress-Related Hair Loss
In addition to telogen effluvium, stress can also trigger other forms of alopecia, such as trichotillomania (aka, hair-pulling disorder) and alopecia areata. Here is a quick look at how stress can influence both types of hair loss:
Trichotillomania
A person with trichotillomania has an extreme urge to pull their hair out from their scalp. The condition is considered a mental disorder and is commonly observed around 10-13 years old. Scientists believe that hair pulling may be a way for the afflicted person to seek temporary relief from stressful situations—hence, its relation to stress.
Alopecia Areata
Alopecia areata is an inflammatory and autoimmune disease in which the immune system mistakenly attacks the hair follicles, resulting in hair loss. Although it's widely believed that stress can trigger alopecia areata, the research has been mixed.
According to a 2015 study published in the Journal of Medicine and Life, there is research that supports the idea that oxidative stress may play a role in the development of alopecia areata (see claim: "Although the etiology of AA is still unclear, there are studies that support the association between oxidative stress and AA.")
Treatment Options for Stress-Related Hair Loss
The good news is that stress-related hair loss often corrects itself. This is a huge relief to many who are understandably nervous about suddenly losing their hair.
However, you might find that your stress-related hair loss persists. In this case, consider scheduling an appointment with your doctor to go over treatment options.
If you're truly worried about your hair loss, you can always ask your doctor about minoxidil. Also known by its brand name, Rogaine, minoxidil is one of the more popular hair loss treatments on the market,
In its oral form, minoxidil may be a treatment option for chronic telogen effluvium. In a 2017 study published in F1000 Research, scientists found that daily oral minoxidil was effective in reducing hair shedding in patients with chronic telogen effluvium (see claim: "Once daily oral minoxidil appears to reduce hair shedding in CTE.")
Bottom Line
To sum things up, hair loss can be caused by stress. However, stress-related hair loss is usually not permanent. You can do things to improve your hair in the meantime, such as switching to a shampoo for thinning hair and eating a healthy diet.
Apart from that, you can just stick to your regular routine and keep living your life. If your hair doesn't correct itself, that's when you know it's time to see a doctor. 
References
Shashikant Malkud. Telogen Effluvium: A Review. Journal of Clinical and Diagnostic Research [serial online] 2015 Sep [cited:2019 Nov 14]
Prie, BE, et al. "Oxidative Stress and Alopecia Areata." Journal of Medicine and Life, vol. 8, no. Spec Issue, 2015, pp. 43–46.
Perera, Eshini, and Rodney Sinclair. "Treatment of Chronic Telogen Effluvium with Oral Minoxidil: A Retrospective Study." F1000Research, vol. 6, 2017. www.ncbi.nlm.nih.gov, doi:10.12688/f1000research.11775.1.
---
// © Copyright 2023 Tiege Hanley