Subscription
Shipping Address
Order Date

This subscription's skin care system will get replaced.

${ address.name }




${ address.products }

${ displaySubscriptionName(address) }




${ displayProducts(address) }

${ displayAddress(address) }
${ formatDate(address.scheduleDate) }

${ address.name ? address.name : displaySubscriptionName(address)}
${ address.products }
${ displayProducts(address) }
Shipping Address
${ displayAddress(address) }
Delivery Date
${ formatDate(address.scheduleDate) }
This subscription's skin care system will get replaced.
Dark Patches on Face? Treatment for Male Melasma
Although melasma in men may not be as common as it is in women, it can still cause cosmetic concerns. Find out from Tiege Hanley which steps can you take to treat male melasma.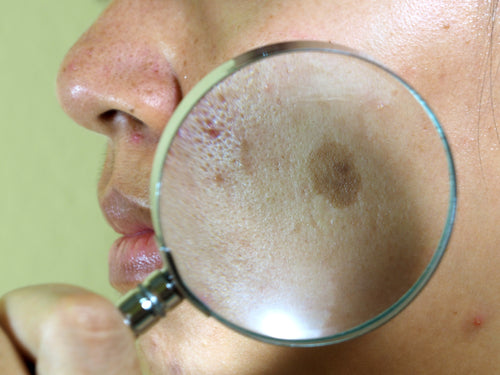 Melasma in men isn't as common as it is in women, but it can negatively affect their lives all the same. These gray-brown patches can appear in a single area on the face or encompass the entire forehead, chin, nose and cheeks.
Although melasma is harmless, it can make any man self-conscious of his appearance. Fortunately, there are now plenty of treatment options which can help reduce melasma and restore your confidence.
Here are several things you ought to know:
Although anyone can be affected by melasma, it primarily affects dark-skinned individuals and women in their childbearing years.
The exact causes of melasma are still uncertain, but researchers believe that sun exposure, hormones, diet, stress and thyroid diseases are common factors.
Using a combination of treatment options is the most effective way to treat melasma in men.
1. Skin Lightening Creams
There are many over-the-counter creams which are said to lighten the skin by reducing melanin, the group of dark pigments which give us the color of our skin. These brightening creams usually contain skin-lightening ingredients such as vitamin C, niacinamide and hydroquinone.
However, don't expect these to magically cure your melasma. Although they are effective at treating regular hyperpigmentation, they aren't always guaranteed to work on melasma.
2. Topical Medicines
Dermatologists are still studying new ingredients to include in topical creams for the treatment of melasma. Currently, the go-to treatment option for many is applying a rotating combination of topical therapies which may be coupled with a retinoid or steroid.
Although one of the most effective ingredients for treating melasma is hydroquinone, other ingredients have shown promise as well. In a 2008 study published in Cutis, researchers found that four of five men with melasma achieved complete clearance of their condition after regularly applying a mequinol 2%/tretinoin 0.01% topical solution (see claim: "Mequinol 2%/tretinoin 0.01% topical solution was an effective and well-tolerated treatment of melasma in men.")
Try Men's Skin Care
3. Dermabrasion and Chemical Peels
Dermabrasion or chemical peels are often a proposed form of treatment for melasma. These two methods both effectively remove layers of the skin to reveal smoother, more even-toned skin.
Although both are commonly used to treat melasma, dermabrasion may prove a more effective form of treatment for men. Dermabrasion is an exfoliating technique which removes several layers of the skin to treat pigmentation issues, while chemical peels only remove the surface layer.
In fact, a study published in the Journal of Aesthetic Plastic Surgery found that out of 410 patients with melasma, 97 percent of them achieved persistent clearance using dermabrasion (see claim: "…mechanical dermabrasion is a relatively safe and highly effective means for curing melasma.") However, keep in mind that this is considered a surgical procedure which will require anesthesia.
It's also important to note that chemical peels may be just as effective and less invasive. According to a 2017 review published in the Indian Journal of Dermatology, researchers noted that chemical peeling remains a highly effective form of melasma management (see claim: "…chemical peels have the capacity to bring about excellent cosmetic improvement.")
4. Laser Treatments
Laser therapy is a popular yet controversial treatment method for melasma. Its controversial nature stems from its potential to worsen hyperpigmentation.
Because it may have unwanted side effects, laser treatments are often only recommended to patients who have not responded to topical creams and chemical peels. If you're currently considering laser treatment for your melasma, it's important that you carefully choose the right type of laser treatment.
Some treatments are more effective at treating melasma than others. For instance, green, red and blue light therapy each have different effects, and skin may not respond to low energy levels seen in green light lasers.
Take the skin care quiz
5. Reducing Sun Exposure
In addition to topical creams and chemical peels, most dermatologists will emphasize the importance of sun protection in their melasma patients. Because sun damage is thought to play a significant role in the development of melasma, those with melasma must try to reduce their sun exposure.
One of the most efficient ways of protecting your face from the sun is by wearing a daily moisturizer with SPF. Other steps you can take to prevent sun damage are to stay out of the sun during peak hours and wear a wide-brimmed hat.
Sun damage not only worsens your melasma, it also increases your chances of skin cancer such as melanoma or developing premature wrinkles. By practicing sun safety, you can aid your skin in more ways than one.
Final Words
Because melasma isn't as common in men, make sure that you confirm with a dermatologist that your dark spots are indeed melasma. There are many other causes of hyperpigmentation in the face, including drug-induced skin pigmentation and dark spots caused by the sun.
Check with your doctor and remember to always wear sunscreen, even when it doesn't look sunny outside. The sun's harmful UV rays can penetrate through clouds, reflect off snow and worsen your dark spots!
---
// © Copyright 2023 Tiege Hanley