Subscription
Shipping Address
Order Date

This subscription's skin care system will get replaced.

${ address.name }




${ address.products }

${ displaySubscriptionName(address) }




${ displayProducts(address) }

${ displayAddress(address) }
${ formatDate(address.scheduleDate) }

${ address.name ? address.name : displaySubscriptionName(address)}
${ address.products }
${ displayProducts(address) }
Shipping Address
${ displayAddress(address) }
Delivery Date
${ formatDate(address.scheduleDate) }
This subscription's skin care system will get replaced.
Do Women Really Like Beards?
Is your facial hair a turn-on or turn-off? We explore the science behind whether women find beards attractive or not.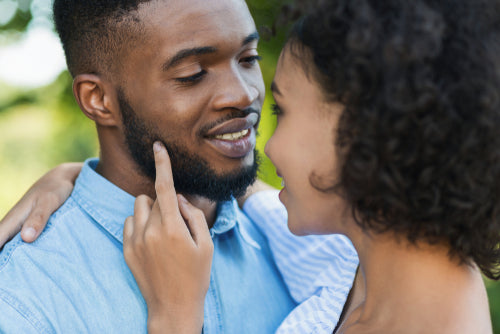 When you decided to grow out your beard, you probably didn't do it to attract a woman. Still, you may have wondered on more than one occasion whether women find your beard attractive or not.
Do most women like beards? Do they like a specific style of beard? Here are three things you need to know:
Numerous studies find that women perceive facial hair—especially stubble—to be attractive.
While some research indicates that bearded men make the best long-term partners, other research finds the opposite to be true.
Keeping your beard well-groomed and tidy is key to appearing attractive to women who prefer facial hair.
Beards—Attractive or Not?
Facial hair has been trendy for quite some time and shows no signs of slowing down. Although men are clearly enjoying the beard boom, studies show mixed reactions from women.
Study #1: Stubble Is Most Attractive to Women
One of the most recent studies confirmed that women do find facial hair attractive—specifically, stubble. Published in the Journal of Evolutionary Biology, the study surveyed over 8,500 women and found that light and heavy stubble were considered most attractive, followed by full beards and clean-shaven faces in last place (see claim: "We found that light and heavy stubble faces were more attractive than either full beards and clean‐shaven faces…")
Study #2: Beards Are Attractive, But Only When They're Scarce
However, an earlier study published in the Royal Society journal Biology Letters found that beards are considered attractive only when they're rare. In other words, a bearded man in a crowd of clean-shaven faces will be thought more attractive than if he were in a crowd of similarly bearded men.
Interestingly, this phenomenon is known to occur in the wild. Known as negative frequency-dependent selection, it occurs when an advantageous gene or trait depends on its frequency in population.
TRY MEN'S SKIN CARE
Study #3: Bearded Men Make Better Partners
Lastly, a 2013 study published in the journal of Evolution and Human Behavior found that bearded men are perceived as being better long-term partners and having better parenting abilities compared to their clean-shaven counterparts (see claim: "Our findings confirm that…full-bearded men may be perceived as better fathers who could protect and invest in offspring.") In this study, researchers also made note of where women were at in their menstrual cycle and found that those who were ovulating were more likely to find facial hair attractive.
How Your Beard Can Potentially Make You Unattractive
It's not all good news for bearded men. Numerous studies have found that sporting facial hair can deter women in various ways.
For example, an often-cited study found that men who have facial hair tend to appear older than their actual age (see claim: "Similarly, bearded men are rated as older…"). This is particularly worrisome for men who are already doing everything they possibly can to look younger.
Another study suggests that masculine-looking men are considered more attractive by women; however, they are perceived as better short-term partners rather than long-term (see claim: "…increased interest for the more highly masculinized man in the context of short-term dating…") This is in stark contrast to the 2013 study mentioned previously.
Finally, it's worth mentioning that any beard can be considered unattractive when it isn't properly cared for. When not well-groomed or washed regularly, beards can lead to breakouts and make a man appear less attractive to women. (Remember that regular use of an exfoliating scrub is especially important for guys with beards.)
Take the skin care quiz
Should You Shave or Grow Out Your Beard?
Beards can potentially make you more attractive to women, but this isn't the only thing you should consider when deciding to grow out your beard. For example, there is your career to think about, as well as your preferred style of facial hair.
Additionally, there is also the fact that some men can't grow out a full beard. If your beard grows in patches, it's best to choose facial hair that doesn't draw attention to this.
The bottom line is that your decision to grow out a beard shouldn't be made based solely on whether women find it attractive or not. After all, beauty is subjective—what one woman finds attractive in your appearance, another may consider unattractive.
Do what feels right for you and remember to always keep your grooming game sharp. With the occasional trim and a touch of product, you can maintain an awesome-looking beard that impresses men and women alike.
---
// © Copyright 2023 Tiege Hanley