Subscription
Shipping Address
Order Date

This subscription's skin care system will get replaced.

${ address.name }




${ address.products }

${ displaySubscriptionName(address) }




${ displayProducts(address) }

${ displayAddress(address) }
${ formatDate(address.scheduleDate) }

${ address.name ? address.name : displaySubscriptionName(address)}
${ address.products }
${ displayProducts(address) }
Shipping Address
${ displayAddress(address) }
Delivery Date
${ formatDate(address.scheduleDate) }
This subscription's skin care system will get replaced.
Dry Skin Under Beard: What Are the Causes and How to Get Rid Of It
Frustrated by dry skin under your beard? Discover the causes of dry skin under your beard and how to cure it in just a few simple steps.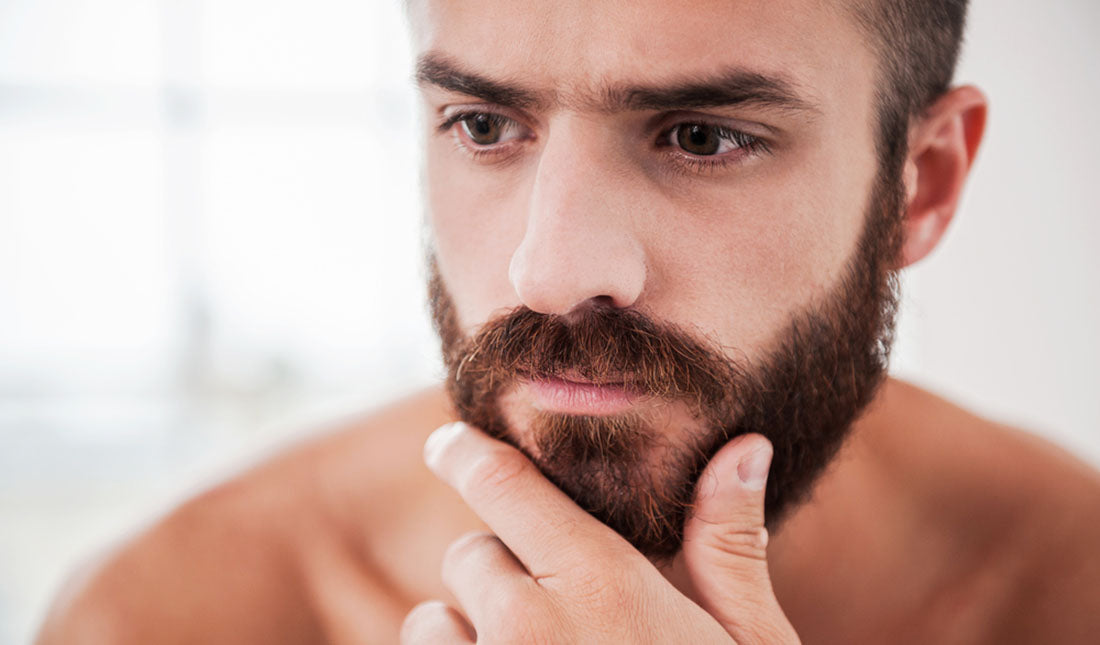 After months of growing out your facial hair, you've finally achieved full-beard status. Congratulations! It takes no small amount of time and patience to grow a thick, bushy beard.
Now, you've run into a common problem: Dry skin under your beard. What's causing your dry, itchy skin and how can you stop it from putting a damper on your bushy beard?
Here are three things you should know about dry skin under your beard:
The most common causes of dry skin under beards include using harsh soaps, extreme weather and genetics.
Beard and skin care go hand-in-hand.
A regular skin care routine and daily beard care is key to getting rid of the dry skin under your beard.
TRY MEN'S SKIN CARE
What Causes Dry Skin Under Your Beard?
When you first started growing out your facial hair, dry skin under your beard probably wasn't what you signed up for. To get rid of this unfortunate problem, you first need to identify why dry skin is occurring under your beard in the first place.
1. Using Bar Soap to Clean Your Beard
The bar soap you're using could be wreaking havoc on the skin underneath your beard. According to a 2014 study published in the Indian Journal of Dermatology, the majority of traditional bar soaps have a high pH in the 9-10 range, which disrupts your skin's pH and has a dehydrating effect (see claim: "The soaps and shampoos commonly used by the population at large have a pH outside the range of normal skin and hair pH values.")
In addition to dehydrating skin underneath the beard, using bar soap can also cause acne breakouts in those with acne-prone skin. To keep skin healthy and happy, switch to a gentle facial cleanser formulated for sensitive skin or use a beard shampoo that won't disrupt your skin's pH balance.
2. Taking Hot Showers
Though your hot showers may feel nice and relaxing, they aren't good for your skin or hair. The hot water from your shower can strip the natural oils from your skin and hair, resulting in dehydrated skin that's as dry as the Sahara Desert.
Of course, a little steam from your shower is a good thing. The steam can help open up your pores and allow for the maximum penetration of your daily men's skin care products.
To strike the right balance, stick to taking lukewarm showers. This will provide just enough steam for your skin without causing excessive dryness.
3. Genetics
If you've always had a problem with dry skin, growing a beard isn't suddenly going to fix the issue. In fact, it could make the problem worse because your facial hair is now competing to soak up the skin's natural oils.
Dry skin can also be associated with certain medical conditions that also have a genetic component to them. For instance, hypothyroidism, eczema and atopic dermatitis are often hereditary and can all contribute to dry, itchy skin.
4. Weather
Have you ever noticed that the dry skin under your beard tends to get worse in the winter? Cold, dry weather can suck the moisture from the air and your skin, leading to a dry, itchy beard.
Unfortunately, your skin's ability to retain moisture during the winter may worsen as you age. In a 2018 study published in BMJ Open, researchers studied the dehydrating effects of weather on the skin and found that older participants fared worse than their younger counterparts (see claim: "Older participants had higher NMF levels than younger participants.")
Take the skin care quiz
How to Get Rid of Dry Skin Beneath Your Beard
When the skin underneath your beard is dry, it can cause itchiness, irritation and the dreaded beard dandruff. It goes without saying that you want the problem taken care of, once and for all.
So, how do you go about doing that? Consider this your new daily skin care routine for your beard:
Step 1: Wash Your Beard Sparingly
Contrary to popular belief, your beard is not a filthy source of bacteria and germs. It doesn't need to be washed every day.
Use a gentle face wash or beard shampoo on your beard once or twice a week. This will give the natural oils on your skin a chance to replenish so that the skin under your beard remains healthy and moisturized.
Step 2: Apply Beard Oil Daily
Although facial moisturizers for men are essential to keeping the skin on your face healthy and hydrated, you've probably noticed that applying a moisturizer to your beard isn't practical. This is where beard oil comes into play.
Massaging beard oil into your beard and skin at least once a day is one of the best ways to combat dry skin under your beard. As an added bonus, it also adds some finesse to your beard and gives you that well-groomed appearance that all guys strive for.
Step 3: Use a Beard Comb
Nope, beard combs aren't just a hipster thing. They do serve a practical purpose by moving your skin's natural oils (and in this case, your beard oil) through the hairs of your beard.
Not only does this improve the look and feel of your beard, but the act of massaging your skin with a beard comb can also boost circulation and provide a more even coating of oil on your skin. The result is hydrated and healthy facial hair and skin that will be the envy of all your friends.
Consistency Is Key
In your journey to bearddom, you may have realized that the skin underneath your beard doesn't magically take care of itself. Without a regular and consistent grooming routine, the skin under your beard can become dry and unbearably itchy.
Fortunately, this problem is often an easy fix. With a good beard oil, a beard comb and Tiege Hanley's skin care system for men, you can give your beard and the skin underneath the care it deserves.
---
// © Copyright 2023 Tiege Hanley