Subscription
Shipping Address
Order Date

This subscription's skin care system will get replaced.

${ address.name }




${ address.products }

${ displaySubscriptionName(address) }




${ displayProducts(address) }

${ displayAddress(address) }
${ formatDate(address.scheduleDate) }

${ address.name ? address.name : displaySubscriptionName(address)}
${ address.products }
${ displayProducts(address) }
Shipping Address
${ displayAddress(address) }
Delivery Date
${ formatDate(address.scheduleDate) }
This subscription's skin care system will get replaced.
How Our Eye Cream for Men Combats 5 Causes of Eye Puffiness
Tired of waking up to puffy eyes? Find out how the right eye cream for men can help you finally eliminate puffiness, dark circles and wrinkles.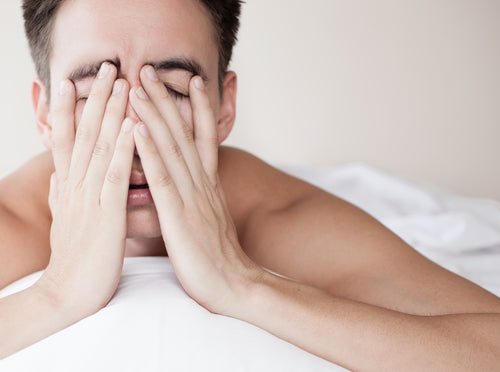 Waking up with puffy eyes is never a good start to your day—especially when you need to appear vibrant and ready for work. Puffy eyes can make you look older than you are, which can eventually take its toll on your self-esteem.
Enough with the puff, gentlemen. With our eye cream specially-formulated for men, you can quickly tamp down the swelling around your eyes and restore your handsome appearance. Here are three things you should know:
Whether your puffy eyes are caused by late nights, salty snacks, stress or alcohol, the result is the same. Puffiness can significantly age your face and negatively impact your self-image.
Reducing puffiness is simple and easy with our eye cream for men. In addition to reducing the puff, Tiege Hanley's AM/PM Eye Cream is formulated to smooth out fine lines and wrinkles and rejuvenate the area around your eyes.
Unlike other skin care products, our eye cream for men is designed for regular guys who want to keep their skin care uncomplicated.
CONTROL EYE BAGS
Causes of Puffy Eyes in Men
There are many reasons why you could be waking up with puffy eyes. While some causes have easy fixes, others can be resolved only with the help of a powerful men's eye cream.
A poor night's sleep can cause fluid to build up around the eyes, resulting in swollen eyes. A lack of sleep can also result in dark circles, which occur when blood vessels in the skin dilate and create a darker appearance.
As if staying up late weren't bad enough for your skin, drinking alcohol can make things even worse. In addition to causing an inflammatory response in the body, alcohol can have a dehydrating effect which causes us to wake up with visible wrinkles and puffiness.
Anyone who has eaten a bunch of salty snacks has experienced bloating and fluid retention. Unfortunately, the skin around the eyes is a prime location for excess fluid because it's so thin.
It's no secret that stress is bad for our skin, but it can also be the cause of swelling under the eyelids. Stress can increase cortisol, a hormone which can influence fluid retention and give eyes a puffy appearance.
As men get older, the skin around the eyes begins to thin and weaken. As the skin loses its elasticity, fluid can accumulate and appear more prominent, lending the eyes their puffy appearance.
As you can see, the buildup of fluid is the most common culprit of puffy eyes and dark circles. But we've got good news, gentlemen—there is a simple solution.
The Solution: Tiege Hanley Eye Cream for Men
For some men, dark circles and swollen eyes are part of their morning routine—but it doesn't need to be that way.
Our eye cream is packed with powerful ingredients that are proven to combat puffiness, dark circles, crow's feet and discoloration. Here is a quick look at how Tiege Hanley's AM/PM Eye Cream can give you tighter skin and a more vibrant appearance:
Reduce water accumulation. You probably know that drinking caffeine can perk you up. But did you know that when applied topically, caffeine can reduce fluid buildup? Our eye cream contains caffeine because it is shown to reduce the accumulation of fat in cells, which can give men that unwanted puffy eye look. It's also a potent antioxidant which can help protect against skin cancer.
Take the skin care quiz
Stop muscle contractions. Muscle contractions can increase wrinkles and give men crow's feet on top of their puffy eyes. To relax the muscles and tighten the skin, our eye cream contains Acetyl Hexapeptide-8—a synthetic peptide which studies suggest can mimic the effect of Botox. This misunderstood skin care ingredient is essential for men who need a little extra help smoothing out fine lines and retaining their youthful good looks.
Reduce red blotchiness. When your eyes are not only swollen but also have signs of discoloration, you need a solution fast. Our AM/PM Eye Cream contains Niacinamide (aka vitamin B3), a powerful anti-aging ingredient which restores skin tone and reduces the appearance of red, blotchy skin.
The solution to enjoying a youthful and vibrant appearance is simple. With Tiege Hanley's AM/PM Eye Cream for men, you can finally achieve amazing skin without adding a bunch of unnecessary steps to your skin care routine.
---
// © Copyright 2023 Tiege Hanley