Subscription
Shipping Address
Order Date

This subscription's skin care system will get replaced.

${ address.name }




${ address.products }

${ displaySubscriptionName(address) }




${ displayProducts(address) }

${ displayAddress(address) }
${ formatDate(address.scheduleDate) }

${ address.name ? address.name : displaySubscriptionName(address)}
${ address.products }
${ displayProducts(address) }
Shipping Address
${ displayAddress(address) }
Delivery Date
${ formatDate(address.scheduleDate) }
This subscription's skin care system will get replaced.
Best Men's Face Moisturizer
Your skin is as unique as you are, which is why you need a face moisturizer for men that meets your unique needs. No matter what your age, background or skin complaints, the right men's moisturizer can help. Skin, like any other organ, simply needs tender treatment. Tiege Hanley breaks down all the details.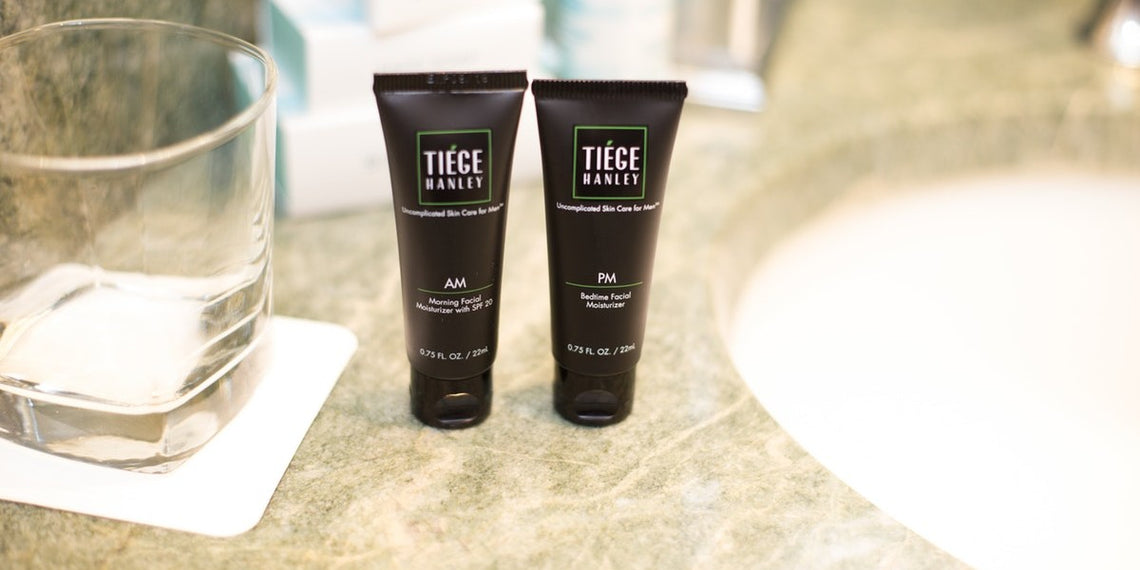 Your skin is as unique as you are, which is why you need a face moisturizer for men that meets your unique needs. Perhaps you've spent your life frustrated by recurring acne or by scaly patches that never seem to go away. Maybe you hate the shine of oil or wear a beard to hide trouble, even though you like yourself better clean-shaven. Or perhaps you have generally good skin but are a little distressed by the fine lines and wrinkles beginning to creep in at the seams.
No matter what your age, background or skin complaints, the right men's moisturizer can help. Skin, like any other organ, simply needs tender treatment. If you provide it, you're bound to see better results than if you just hope for the best.
Point being, if you want to see a fresh, clean, glowing complexion, you need a skin moisturizer that actually works. Before we talk about where to find a top men's face moisturizer, let's talk about what the best moisturizers look like and why hydration matters in the first place.
Face Moisturizer for Men
Many guys, when they first come to us, are confused about what to look for when shopping for to find the best face moisturizer for men. Society tricks us into thinking that hydration isn't a dude thing to do. Like, do gentlemen even need a face moisturizer?
Answer: Yes, you need it—it does more than you imagine.
First, guys need a face moisturizer because the skin needs moisture, and guys have skin. It's really as simple as that. When left to fend for itself, your protective covering has to lock in moisture, keep pores clear of debris, filter out chemicals and toxins and protect you from UV rays—all at the same time. Moisturizer can help mitigate several of these chores, as we'll discuss below.
Next, what is the purpose of face moisturizer? In a nutshell, whether you're dry or oily, you need to lock in moisture. We know this isn't rocket science—it's right there in the name, after all. Nevertheless, many companies forget the basic fundamentals of moisturizer, which is to provide a layer on top of the skin that keeps the water your skin needs underneath that surface. It should be light and breathable, not clogging pores or encouraging debris buildup.
Lastly, moisturizer helps everyone. Whether you need a moisturizer for dry skin or oily skin, the goal is a balance—you're neither producing too much oil nor too little, and you're neither moisture-less or oversaturated. Plus, moisturizer brings many other benefits to the table as well.
TRY MEN'S SKIN CARE
Men's Moisturizer with SPF
For one thing, your moisturizer should pull double duty as a skin protectant, which is where SPF comes in. Damaging UVA and UVB rays cause pigmentation and dark spots, and they increase your chances of cancer. In the short term, they can cause redness, flaking and peeling. Trust us, we've been helping men look amazing for a while now, and in that time we've discovered one thing: Sunburns do not look amazing.
When you wear a sunscreen every morning, you prevent such outcomes, all while boosting health.
For instance, our Morning Facial Moisturizer (SPF 20) contains Lavandula Oil to reduce redness and protect against bad microbes, as well as Calendula Extract to reduce inflammation and keep skin clean—both important qualities if you get sun. Plantain Extract gives you natural, daily relief from UV doses large and small, helping stop sunburn in its tracks if that sneaky celestial body does manage to get past your sunscreen.
Face moisturizers with SPF, should reduce oil while nourishing the skin. Our face moisturizer with SPF, not to brag, contains iron, calcium, vitamins and anti-oxidants, all in one simple, effective and affordable package.
Moisturizer for Men with Oily Skin
When you're dealing with oiliness, you need moisturizer built to help with oily skin. At first glance, this may seem counterintuitive. Many men in this position assume that moisturizer is "bad." Even the best moisturizer for oily skin is bound to generate more greasiness, right? 
Wrong. In fact, when it comes to moisturizer, men significantly undervalue the benefits. When you use a balancing and nourishing product such as our Bedtime Facial Moisturizer, you give your complexion the hydration it needs. Without that hydration, your skin desperately pumps out oils in an effort to moisturize naturally. Unfortunately, your skin's oil, also called sebum, is neither as light nor as attractive as our naturally crafted alternative. The result, when you leave skin to its own devices, is much more oiliness than if you had used a moisturizer.
Simply put, a good moisturizer works for oily or dry, because it gives skin what it needs. It's a myth that oily skin needs more scrubbing, while dry skin needs thick layers of cream. All skin needs a few basic ingredients, such as those that provide:
Elasticity, as provided by the Niacinamide and Acetyl Hexapeptide-8 in our bedtime moisturizer
Antioxidant properties, like those found in our morning and evening moisturizers
Antimicrobial properties, so the skin doesn't have to fight its own battles
Anti-inflammatory benefits, so light burns or dry winter spells don't increase the chances of oil overproduction
If you're looking for a men's face moisturizer for your oily skin, keep these tips in mind.
Take the skin care quiz
Moisturizer for men with Dry Skin
What's the goal of finding a face moisturizer for dry skin? Well, dry skin is not appealing. It can result in redness, flakiness and scaling if it gets bad enough. Even when it's not particularly visible, it can still itch like no one's business, making shaving unpleasant or increasing your chances of nicks. And believe it or not, acne and dry skin often go hand in hand.
Wait, you're thinking, isn't acne associated with oil? Yes and no. Oily complexions definitely suffer from acne, but those who suffer from a combination (oily and dry) skin experience it as well. In an effort to hydrate skin, your body may produce more oil than normal, clogging pores. This leaves patches of your face dry, while others patches still break out.
Dryness has other downsides. Your skin dulls, builds up debris and chaps more easily in the cold. It's not soft and doesn't have that healthy glow you may see on other guys. If you've wondered what they know that you don't, the secret could be as simple as a men's moisturizer with SPF, nourishing vitamins and skin-balancing minerals.
Combined with a good face wash that doesn't strip skin, such as our Daily Face Wash, you get even more bang for your buck, cleaning out pores without stripping oils and increasing chances of acne. Combine with a little of our AM/PM Eye Cream and presto, you've got face-wide locked-in moisture for the consistently clear, clean, glowing skin that impresses ladies and menfolk alike.
The bottom line? Here at Tiege Hanley, you get simplified skin care for men, a routine you can count on and a comprehensive subscription service delivered right to your front door. 
Men's Skin Care Products, Right on Your Doorstep
One of the biggest complaints we hear from our guys is that, before they found Tiege Hanley, they had no good options for affordable and effective skin care. Instead, they were forced to pay big markups from third-party retailers or go without. If that's you, then worry no longer.
Our goal is to provide you with the best possible moisturizers and other products to get the skin you want, at a price you can afford. We focus on value above all else. Our skin care line comes straight to your door, so you can skip the driving, parking, waiting in line and paying inflated prices associated with stepping out to purchase products.
Even better, we respect your budget with a tiered subscription system that meets your monthly spending limits. Want a basic approach? You'll love our Level 1 package, which combines the cleansing properties of a daily face wash and twice-weekly exfoliating scrub with the hydrating effects of morning and evening moisturizers. Level 2 adds in our AM/PM Eye Cream to get rid of puffiness and dark circles for good, while Level 3 goes nuclear on fine lines, wrinkles and free radicals, keeping you young and youthful-looking day and night.
Want to learn more about our products? We would love to tell you more, so check them out today.
---