Subscription
Shipping Address
Order Date

This subscription's skin care system will get replaced.

${ address.name }




${ address.products }

${ displaySubscriptionName(address) }




${ displayProducts(address) }

${ displayAddress(address) }
${ formatDate(address.scheduleDate) }

${ address.name ? address.name : displaySubscriptionName(address)}
${ address.products }
${ displayProducts(address) }
Shipping Address
${ displayAddress(address) }
Delivery Date
${ formatDate(address.scheduleDate) }
This subscription's skin care system will get replaced.
4 Tricks to Get Rid of Puffy Eyes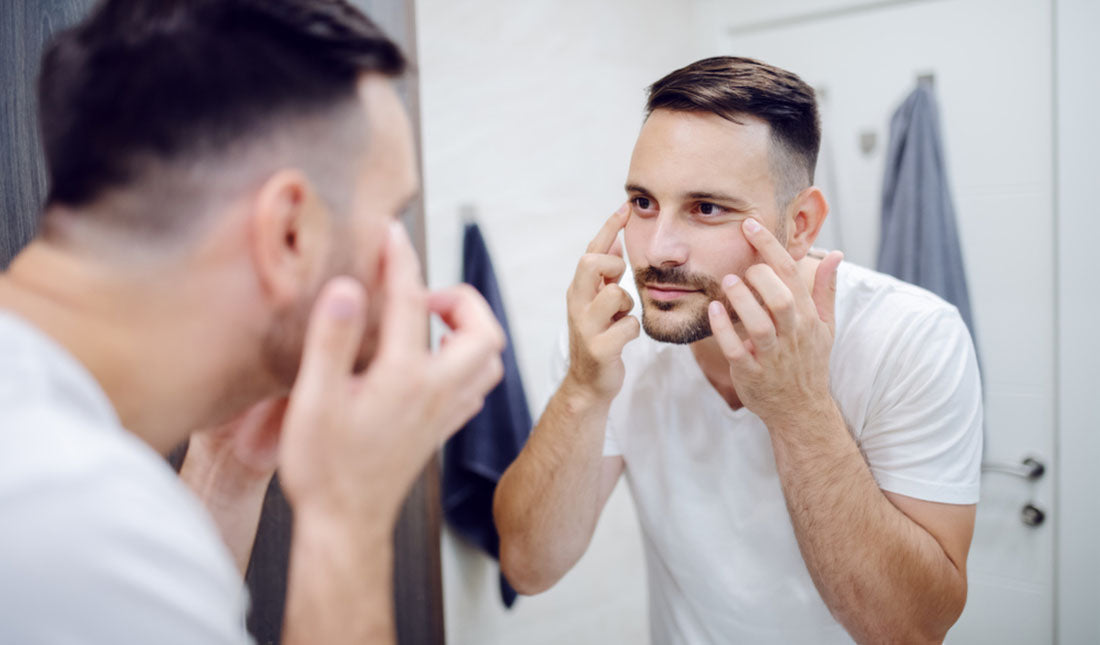 Waking up to puffiness under the eyes is arguably one of the worst ways to start your day. As if you didn't feel bad enough about your puffy eyes, your coworkers are bound to comment on your "tired" appearance.
If you want to know how to get rid of puffy eyes, you've come to the right place. We've rounded up a few tried and true tricks to combat eye puffiness.  
Before we dive in, here are a few things you need to know about how to get rid of puffy eyes:
Eye puffiness can result from a buildup of lymphatic fluid
Home remedies such as cucumber slices and tea bags may be helpful in reducing puffy eyes
A powerful eye cream formulated with caffeine can tighten the skin and drain excess fluid from the eyes
There is a long list of reasons why your eyes might be puffy: Allergies, eating salty foods, watching sappy rom-coms…you get the picture. Before you despair over your puffy eyes, try a few of these tips to reduce the swelling.
CONTROL EYE BAGS
1. Apply Cucumber Slices to Your Eyelids
Even if you've never set foot in a spa facility, you've probably heard about women putting cucumber slices over their eyelids to reduce under-eye swelling. Is there any truth to this beauty myth?
As it turns out, cucumbers can do a lot of good for your puffy eyes. According to a 2013 study published in Fitoterapia, cucumbers contain phytochemicals that can reduce swelling and soothe irritated skin (see claim: "It gives a soothing effect against skin irritations and reduces swelling.")
The phytochemicals in cucumbers also act as potent antioxidants, which are well-known for their ability to reduce redness on the face and fight off wrinkle-causing free radicals. To take advantage of these phytochemicals, just cut up a chilled cucumber into slices. Lean back in your favorite recliner, place a cucumber slice on each eye and listen to your favorite podcast for five to 10 minutes while they combat the puff.
2. Apply Tea Bags to Your Eyelids
Don't have cucumbers in your refrigerator? Use tea bags instead. The caffeine in green and black tea can improve the appearance of under-eye puffiness, dark circles and red skin.
In fact, caffeine is a commonly used ingredient in skin care products due to its wide-ranging effects. According to a 2013 study published in Skin Pharmacology and Physiology, caffeine can increase blood circulation in the skin, which can improve under-eye swelling (see claim: "…caffeine contained in cosmetics increases the microcirculation of blood in the skin…")
To use tea bags on your eyes, steep two tea bags and let them cool. Squeeze some of the excess fluid out of the tea bags and apply to your eyes for five minutes.
Want to go straight to the powerful stuff? Pick up an eye cream formulated with caffeine and let it work its magic.
3. Sleep on Your Back
Are your puffy eyes at their absolute worst in the morning? It could be your sleeping position that's causing their swollen appearance. Sleeping on your side or stomach can lead to a buildup of lymphatic fluid under the eye, which can make eyes puffy.
To fix the problem, start training yourself to sleep on your back. Invest in a good pillow designed for back sleepers and sleep in a position with your head slightly elevated. This will help drain the excess fluid from your face.
Take the skin care quiz
4. Give Yourself A 30-Second Eye Massage
If you want to get rid of eye puffiness, try gently massaging the skin around the eyes. While there isn't much scientific evidence on the topic of facial massage, studies have shown that massage therapy can improve blood circulation and drain lymphatic fluid.
According to a 2014 study published in the Journal of Alternative and Complementary Medicine, researchers studied the effect of massage on calf blood flow and concluded that an increase in temperature on the lower leg indicated an increase in blood flow to the area (see claim: "A rise in temperature theoretically indicates an increase in blood flow to the area.")
Thus, you could potentially improve your puffy eyes by running a facial roller gently around your face. If you decide to give a facial roller a try, just be sure to use it in combination with another treatment (such as an eye cream) for maximum benefits.
Final Tips to Combat Eye Puffiness
If you've tried all these tricks and still don't know how to get rid of puffy eyes, don't lose hope yet. You could also try cutting sodium from your diet (a sneaky cause of under-eye puffiness) and reducing fluids before bedtime.
Finally, you can always see your dermatologist for possible treatment options. They'll rule out underlying causes (such as allergies) and may recommend a laser treatment for your under-eye puffiness.
References
Mukherjee, Pulok K., et al. "Phytochemical and Therapeutic Potential of Cucumber." Fitoterapia, vol. 84, Jan. 2013, pp. 227–36. PubMed, doi:10.1016/j.fitote.2012.10.003.
Herman, A., and A. P. Herman. "Caffeine's Mechanisms of Action and Its Cosmetic Use." Skin Pharmacology and Physiology, vol. 26, no. 1, 2013, pp. 8–14. PubMed, doi:10.1159/000343174.
Comparison of Blood Flow Changes with Soft Tissue Mobilization and Massage Therapy | The Journal of Alternative and Complementary Medicine. Accessed 17 Dec. 2019.
---
// © Copyright 2023 Tiege Hanley