Subscription
Shipping Address
Order Date

This subscription's skin care system will get replaced.

${ address.name }




${ address.products }

${ displaySubscriptionName(address) }




${ displayProducts(address) }

${ displayAddress(address) }
${ formatDate(address.scheduleDate) }
${ address.name ? address.name : displaySubscriptionName(address)}
${ address.products }
${ displayProducts(address) }
Shipping Address
${ displayAddress(address) }
Delivery Date
${ formatDate(address.scheduleDate) }
This subscription's skin care system will get replaced.
Hair Removal Spray for Men—How It Works and How to Use It
Hair removal sprays for men can help you achieve a clean-shaven look without the nasty razor bumps. Find out how hair removal sprays work and the best way to use them.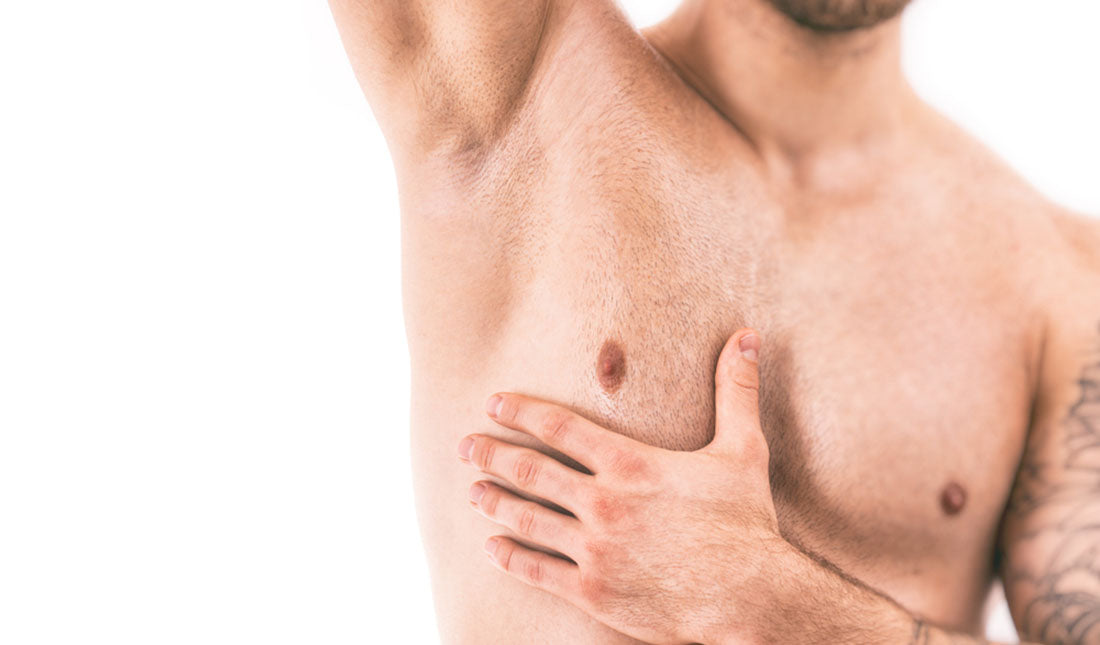 Guys are naturally hairy, sometimes to the point of excess. While a hairy back or chest might come in handy for winter, it's not a good look when you're going shirtless on the beach.
If you're self-conscious about your body hair, you may have considered hair removal sprays before. Though they aren't without their risks, hair removal sprays may be worth considering when traditional methods of hair removal aren't an option.
What do these products do, exactly, and how can you use them to remove unwanted hair?
Before we dive in, here are three things you need to know about hair removal spray for men:
Hair removal sprays for men contain strong chemicals which can trigger a reaction in sensitive skin types.
Also known as depilatories, hair removal sprays work by attacking the proteins in hair, resulting in hair loss.
To use hair removal sprays safely, spray the product on in the shower and avoid leaving it on your skin for too long.
TRY MEN'S SKIN CARE
What Is Hair Removal Spray and How Does It Work?
Hair removal spray is a type of depilatory, a term commonly used to describe products containing a chemical agent that removes unwanted body hair. On a basic level, here is how they work: You apply the spray onto your hair and skin, wait a few minutes and then wipe off the spray, removing unwanted hair along with it.
To give you a more scientific explanation, depilatories contain active chemicals which break down the hair's fibrous proteins, known as keratin. According to a 2019 study published in Experimental Dermatology, the active ingredients in hair removal sprays (i.e., thioglycolic acid and potassium hydroxide) work by causing breakage along the cuticle, allowing the ingredients to penetrate the hair strand and cause it to swell (see claim: "…thioglycolate damages hair cuticle cells by generating breakages along the endocuticle and leading to swelling of cortex cells.")
When the hair strand swells, keratin fibers are opened enough for the active ingredients to break the disulfide bonds that hold the keratin together. The result is damaged hair strands that fall away easily with one swipe of a wash cloth.
Depilatories are generally considered safe for use. In fact, depilatories have long been used in hospitals to prep patients for surgery. 
According to a 2011 study published in the Journal of Infection in Developing Countries, researchers concluded that using depilatories in lieu of razors for preoperative hair removal resulted in fewer wound infections (see claim: "Skin injuries were noted in 24 (27.9%) of the razor group and 3 (3.8%) of patients who had depilatory cream, (p = 0.001).")
Of course, this doesn't mean that depilatories are without risk. It's important to note that the chemicals in hair removal sprays have been known to cause skin irritation and burning in some individuals.
Also, they aren't a permanent solution. You'll need to repeat the process every week or so, depending on how quickly your hair grows.
Take the skin care quiz
How to Use Hair Removal Spray for Men
So, you're tired of dealing with stubborn razor bumps and want to use a different method for removing unwanted body hair. If you're considering a hair removal spray for men, it's important that you read the instructions first and perform a small patch test on your skin before moving on to a larger area of your body.
With that in mind, you're ready to begin. To get a clean-shaven look without the side effects, here is the proper way to use a hair removal spray for men.
Step 1: Apply to Dry Skin
Take off your clothes and shake the hair removal spray well. Step into your bathtub or shower—but don't turn on the water just yet.
Hold the spray four inches away from your skin and spray an even layer of the product on dry skin and hair. Make sure you distribute the product evenly without rubbing it in or touching the spray directly.
Even if you didn't touch the spray, wash your hands in the sink afterwards as a precaution.
Step 2: Allow the Spray to Sit
Once you've sprayed the product on your hair and skin, allow it to sit for exactly the amount of time that your instructions give you. It's important that you do not allow it to sit on longer than the allotted time; otherwise, you may end up with unpleasant burning and skin irritation.
Step 3: Remove the Hair Removal Spray
After the time is up, remove the spray with a damp washcloth. Then, rinse off the area with lukewarm water.
Step out of the shower and pat the skin dry to ensure that all of the product is removed. Any remaining spray that's left on the skin will likely cause burning and irritation, so make sure that you do an efficient job.
Step 4: Follow Up with a Moisturizer
Once your skin is patted dry and removed of all hair removal spray, you may want to follow the process with a nourishing body lotion. To reduce your chances of skin irritation and burning, apply a lotion containing soothing ingredients such as cucumber extract.
Final Words
Though hair removal sprays for men aren't difficult to understand, they can be tricky to execute just right. If the hair removal spray didn't net you the desired results, wait at least a few days before trying again.
While you're waiting for the next round, give your skin the care it deserves with Tiege Hanley's skin care system for men. Once your unwanted body hair is all gone, everyone will be dying to know how you got such amazing skin.
---