Subscription
Shipping Address
Order Date

This subscription's skin care system will get replaced.

${ address.name }




${ address.products }

${ displaySubscriptionName(address) }




${ displayProducts(address) }

${ displayAddress(address) }
${ formatDate(address.scheduleDate) }
${ address.name ? address.name : displaySubscriptionName(address)}
${ address.products }
${ displayProducts(address) }
Shipping Address
${ displayAddress(address) }
Delivery Date
${ formatDate(address.scheduleDate) }
This subscription's skin care system will get replaced.
Do You Know Your Hair Type? 4 Men's Hair Types
Learn about the different hair types for men and get one step closer to amazing hair! From straight to kinky, here's how to care for your specific hair type.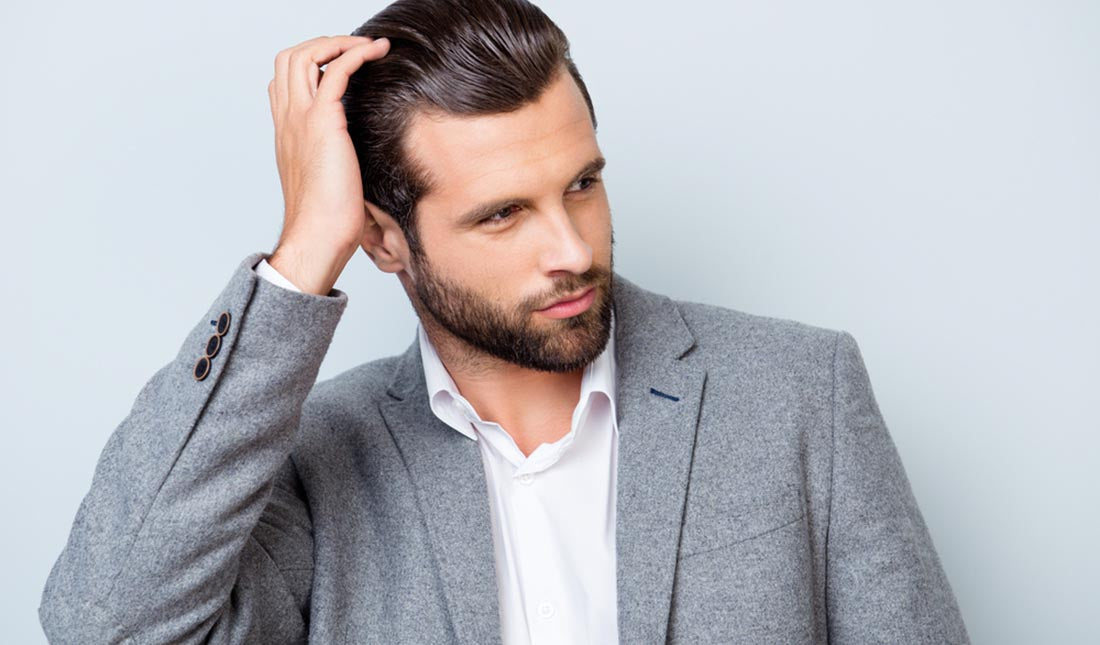 On a quest to achieve amazing-looking hair?
You won't get far unless you know your hair type.
If you don't know your hair type, you're essentially just fumbling around in the dark and guessing at which products might work best for your hair.
And since you're here, reading this blog, it's probably safe to assume that this blind approach to hair care isn't working out for you.
Let's fix that, shall we?
Before we dive in, here are three things you should know about hair types for men:
There are four main hair types for men.
Each hair type has its own advantages and disadvantages.
Choosing the right products for your hair type is key to achieving healthy, happy hair.
Hair Types for Men Explained
So, what are the different hair types for men?
Although there are several different hair classifications, the most well-known model is the Andre Walker Hair Typing System.
According to this system, there are four main types of hair:
Type 1: Straight Hair
Type 2: Wavy Hair
Type 3: Curly Hair
Type 4: Kinky Hair
These four types can be broken down further into subtypes, labeled A, B and C.
However, most guys won't need to know whether they're 1B or 3A hair type.
To begin with, all you need to know is whether you're working with straight, wavy, curly or kinky hair—and how to care for it.
1. Straight Hair
Does your hair and scalp get super oily by the end of the day?
Does it fall straight without much fuss?
If so, you probably have a straight hair type.
Straight hair is usually soft and silky due to a high amount of oil secretion.
As you'll see below, this can be a blessing and a curse.
TRY MEN'S SKIN CARE
How to Care for Straight Hair
Straight hair in men is a total breeze to maintain.
Just wash it once daily, spritz it with sea salt spray to give it texture/volume, and boom—you're out the door.
But it's not all good news for guys with straight locks.
This hair type has a tendency to look limp and flat (hence, the need for sea salt spray).
It's also not great at hiding your thinning hair as you get older.
And, given that 85 percent of men will experience some degree of thinning by the time they hit 50, that's not good news for those with thin, silky locks.
If your hair gets oily, be on the lookout for signs of dandruff.
White flakes on the scalp are fairly common in straight hair types because the yeast that causes dandruff thrives in an oily environment.
2. Wavy Hair
Wavy hair is often considered the sweet spot of men's hair types.
It's got the perfect amount of volume without the high maintenance of curly hair.
But wavy hair isn't all fun and games.
If you have this hair type, you've probably struggled to get your natural waves to cooperate.
How to Care for Wavy Hair
Wavy hair is amazing for guys because there are endless ways to style it.
First, get yourself a textured quiff (otherwise known as David Beckham's signature look) or a similar haircut that lets you take full advantage of all that volume and/or thickness.
Once you have the right cut, use pomade to style your hair and keep it locked into place for all-day sexiness.
Wavy hair types can be prone to frizz, so be sure to pick up a moisturizing shampoo (look for one with Argan or Jojoba Oil) and a light conditioner that won't weigh your strands down too much.
3. Curly Hair
Guys who have a curly hair type are no doubt aware of their curls.
If you have this hair type, you were probably ruthlessly teased in grade school for its out-of-control poufiness.
It wasn't your fault. At the time, you didn't know how to take care of curly hair.
But look who's laughing now?
You have all that thick, enviable hair that other guys would kill for.
TAKE THE SKIN CARE QUIZ
How to Care for Curly Hair
You've been blessed with thick, curly hair.
Unfortunately, you also have the monumental task of caring for it.
First things first: Get yourself an amazing leave-in conditioner for men.
Your thirsty strands will thank you for it.
Style your curls by applying a nourishing hair cream to wet strands.
And for the love of curly hair, don't allow your hair to air dry naturally.
According to a 2011 study published in the Annals of Dermatology, allowing hair to dry naturally results in more hair damage compared to blowing drying at a safe distance on a low-heat setting (see claim: "…using a hair dryer at a distance of 15 cm with continuous motion causes less damage than drying hair naturally.")
Blow dry your hair on a low heat setting and hold it at least six inches away from your hair.
It may take forever to dry, but your hair will look like a million bucks.
4. Kinky (aka, Coily) Hair
Kinky hair is curly hair to the extreme.
It's often used to describe hair that grows in a helix shape—aka, a corkscrew or a spiral.
Kinky hair types are most common in black guys.
However, other ethnicities can have tightly-coiled locks as well.
Regardless of your ethnicity, a few things remain the same when caring for kinky hair—namely, the need for moisture, moisture and more moisture.
How to Care for Kinky Hair
Kinky hair requires extra care and attention because it's more prone to breakage and frizz.
To keep strands moisturized and hydrated, use deep-conditioning hair products and stay far away from sulfates, which can exacerbate dryness.
Always use a diffuser attachment for your blow dryer to reduce frizz and never comb your curls.
If you comb your perfectly tight coils, they'll become a frizzy mess.
Good Hair Days Ahead
You did it—you've cracked the code on your hair.
With a little trial and error, you can expect more good hair days to come.
Want to keep your self-improvement game strong?
Focus on getting clear skin with Tiege Hanley's Skin Care Systems for Men.
Just follow a simple skin care routine, give it a couple of weeks and boom—you'll be a double threat with your good hair and amazing skin.

Reference
Lee, Yoonhee et al. "Hair shaft damage from heat and drying time of hair dryer." Annals of dermatology vol. 23,4 (2011): 455-62.
---