Subscription
Shipping Address
Order Date

This subscription's skin care system will get replaced.

${ address.name }




${ address.products }

${ displaySubscriptionName(address) }




${ displayProducts(address) }

${ displayAddress(address) }
${ formatDate(address.scheduleDate) }

${ address.name ? address.name : displaySubscriptionName(address)}
${ address.products }
${ displayProducts(address) }
Shipping Address
${ displayAddress(address) }
Delivery Date
${ formatDate(address.scheduleDate) }
This subscription's skin care system will get replaced.
Leave-in Conditioner for Men—How and When to Use
Want to know how to tame frizz and hydrate your strands? Find out how and when to use leave-in conditioner for men to achieve healthy, hydrated hair.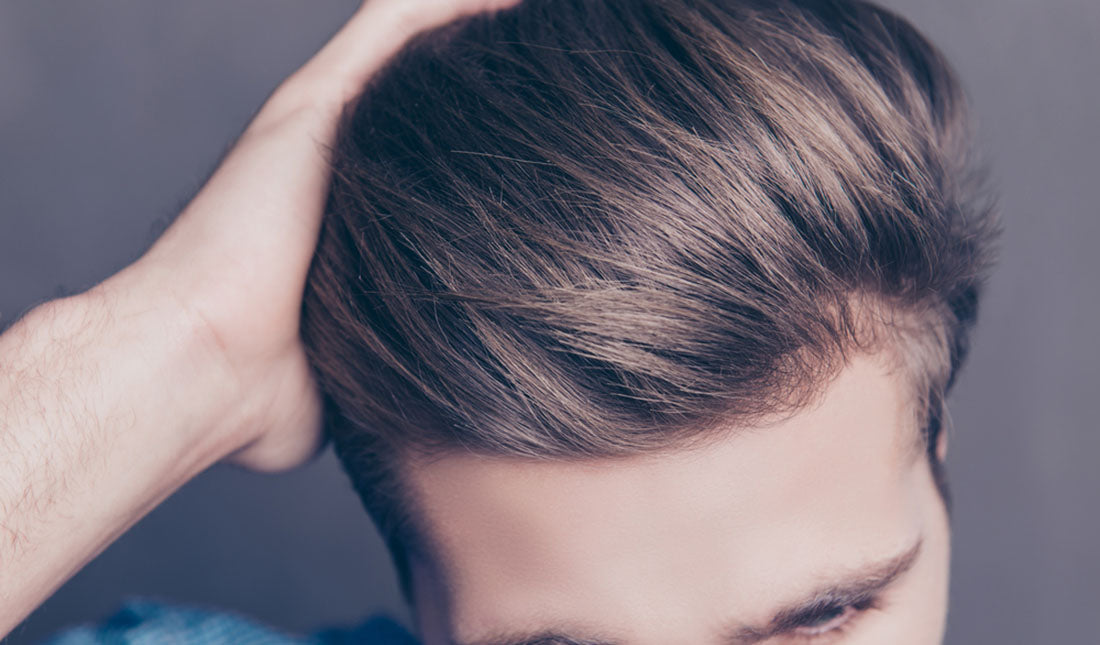 The common "lather, rinse and repeat" routine works well enough for guys with fine or oily hair. For those of us with coarse, curly or dry hair—well, let's just say that we require next-level conditioning to keep our strands hydrated and healthy.
Leave-in conditioner for men is a total game-changer for guys with dehydrated locks. It's also perfect for busy guys who don't have the time for deep conditioning hair treatments.
What can a leave-in conditioner do for your hair, exactly? How and when are you supposed to use it?
Before we answer these questions, here are several things you need to know about leave-in conditioners for men:
Leave-in conditioners for men can save time in the morning, revitalize dull hair, repair damaged strands and provide some additional protection from the environment.
The best leave-in conditioners for men are those that are formulated specifically for their hair type.
Apply leave-in conditioner to the ends of hair while avoiding the roots.
TRY MEN'S SKIN CARE
The Benefits of a Leave-in Conditioner for Men
A leave-in conditioner is like your regular hair conditioner, only on steroids. It stays in your hair all day, adding shine and moisture to your hair while working to repair damaged and dehydrated strands. What can a leave-in conditioner do specifically for guys? Let's take a look:
1. Save Time
Let's face it: Most guys would like to keep their daily routines uncomplicated. The beauty of a leave-in conditioner is that it will make your morning routine faster.
Unlike traditional conditioners, leave-in conditioners don't need to be rinsed out. You just spray it on your hair and walk out the door. It doesn't get much simpler than that. With all that free time you now have in the morning, you can give your face a good scrubbing, finally get around to clipping your toenails or whatever it is you've been neglecting.
2. Help Repair and Protect Dry, Damaged Hair
Even if you don't have hair that's prone to breakage and dehydration, there are plenty of external factors that can do a number on your strands. For instance, you probably know that the sun can damage your skin, but did you know that UV rays can also damage your hair?
According to a 2008 study published in Collegium Antropologicum, excessive sun exposure can damage the proteins in your hair and may even change its color (see claim: "Photochemical impairment of the hair includes degradation and loss of hair proteins as well as degradation of hair pigment.") While you shouldn't rely on a leave-in conditioner to block UV rays, it may provide some additional protection from damage caused by the heat and the sun.
In any case, just don't forget to throw on a hat before you go outside. Both your hair and scalp will thank you for it. (And we'd be remiss if we didn't take this opportunity to remind you to always wear your SPF facial moisturizer when headed outside as well!)
3. Give Hair a Fuller Appearance
Though your leave-in conditioner may not be able to fully restore a receding hairline, it can reduce breakage and make hair look fuller. For guys who feel self-conscious about their thinning hair, even a slight boost in their hair's appearance is worth it.
Just to remind you just how important a full head of hair is, a 2016 study published in JAMA Facial Plastic Surgery found that men who underwent a hair transplant were perceived as being more successful, youthful, attractive and approachable (see claim: "Men were perceived as being younger and more attractive by casual observers after undergoing hair transplant.")
Besides, leave-in conditioners take two seconds to spritz on your hair. Again, though it may not restore your hair to its former glory, it could be worth trying.
Take the skin care quiz
How and When to Use Leave-in Conditioner
So, you're sold on the idea of adding a leave-in conditioner to your hair care routine. What's the best way to use it? How often should you use a leave-in conditioner, and when is the best time?
How to Use: To achieve the best results, buy a leave-in conditioner that is formulated for your hair type. Spritz a few sprays to the hair at mid-length (if hair is long enough) and at the ends, taking care to avoid the roots.
When to Use: Most leave-in conditioners are formulated specifically to be used right after you get out of the shower, when strands are wet. Only use it once or twice a week—anymore than this and you might experience a buildup of product.
Wrapping Up
Just like your simple skin care regimen, hair care for guys doesn't need to be complicated. Think about it: You only use shampoo, traditional conditioner and perhaps pomade or styling wax. What's one more hair care product in the scheme of things?
Besides, a leave-in conditioner saves you time in the long run and makes your hair look like a million bucks. After a couple of weeks of using this miraculous hair care product, you'll no doubt be grateful that you made room for it in your bathroom cabinet.
---