Subscription
Shipping Address
Order Date

This subscription's skin care system will get replaced.

${ address.name }




${ address.products }

${ displaySubscriptionName(address) }




${ displayProducts(address) }

${ displayAddress(address) }
${ formatDate(address.scheduleDate) }

${ address.name ? address.name : displaySubscriptionName(address)}
${ address.products }
${ displayProducts(address) }
Shipping Address
${ displayAddress(address) }
Delivery Date
${ formatDate(address.scheduleDate) }
This subscription's skin care system will get replaced.
5 Exercises to Live by When Working from Home
Stuck working at home? No excuses! Check out these at-home exercises that will burn calories and keep your fitness routine on track while you work from home.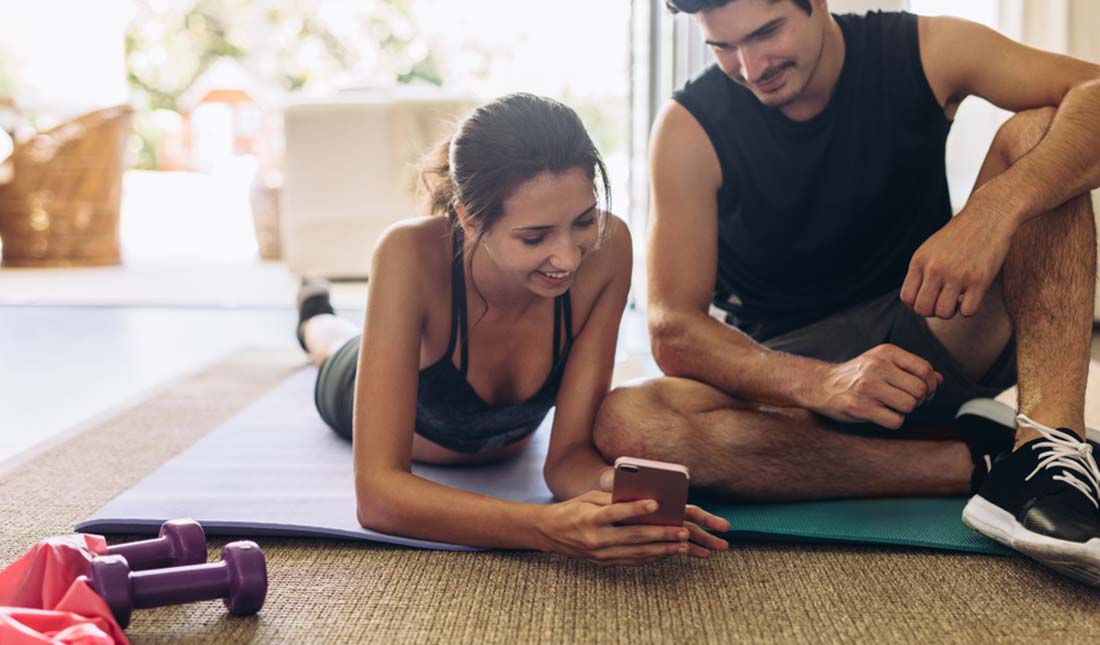 Working out is difficult at the best of times, but it can be especially challenging when you're working from home.
At the office, you can at least take the stairs or suggest walking meetings with your co-workers.
But when you're stuck at home?
No dice.
Fortunately, there are a few workouts you can do from home that require little (if any) gym equipment.
Before we dive in, here are three things you should know about at-home workouts:
The best at-home exercises require little to no gym equipment
Jump rope is a fast and effective way to blast calories and fat
Yoga offers brain-boosting benefits that can help you stay relaxed and on-task while working at home
Just because you work at home now doesn't mean you can let exercise fall by the wayside.
To stay in shape, try one of these amazing workouts you can do at home.
1. Jump Rope
Need a fast and effective workout that you can sneak in between video conference calls?
Look no further than the humble jump rope.
There's a reason why MMA fighters and ripped athletes swear by the jump rope.
It's one of the best cardio exercises out there.
Don't take their word for it, though.
TRY MEN'S SKIN CARE
A 2013 study published in Research Quarterly found that jumping rope for 10 minutes was just as effective as a 30-minute jog for improving cardiovascular efficiency (see claim: "…0-min. daily program of rope skipping is as efficient as a particular 30-min. daily program of jogging for improving cardiovascular efficiency…")
The best part is that it's super easy to do.
Simply grab a jump rope, set a timer for 10 minutes and leave your excuses at the door.
2. Yoga
Yoga is a fantastic stress-reliever.
Not only can yoga make us feel more relaxed, research published in Frontiers in Immunology shows that it can "reverse" the molecular changes in our DNA that can lead to poor health and depression.
And with so many free yoga classes online, finding a yoga workout you can do at-home is easier than ever.
Check out "Yoga with Adriene" on YouTube for yoga classes that range from beginner to advanced.
If you feel like you're not "getting" it, don't give up on yoga completely.
Just keep trying different yoga styles to find what works best for you and your body.
3. CrossFit
If you've always wanted to try CrossFit but were too intimidated by their "boxes," (aka, CrossFit gyms), then you're in luck.
There are plenty of CrossFit workouts you can do at home using nothing more than your own bodyweight.
Start with the Cindy:
5 Pull-ups
10 Push-ups
15 Air Squats
Set a timer for 20 minutes and see how many reps you can do before your time is up.
If you want to get your workday off to a great start (read: a brutal start), try The Longest Mile:
10 Burpees
100 Meter Run
10 Air Squats
100 Meter Run
10 Push-ups
100 Meter Run
10 Sit-ups
100 Meter Run
Complete four rounds as fast as you can.
It's a brutal workout, but we guarantee that you'll be feeling on top of your game once you officially start your workday.
TAKE THE SKIN CARE QUIZ
4. Fat-Blasting Core Workout
We probably don't need to stress the importance of having strong core muscles.
A strong core is vital for good balance and posture.
According to a 2015 study published in the Journal of Physical Therapy Science, strong abdominal muscles can also help alleviate lower back pain (see claim: "…core strength training is more effective than typical resistance training for alleviating chronic low back pain.")
Unfortunately, doing crunches and sit-ups aren't enough to build a strong core.
Instead, focus your time and energy on ab exercises that will work the entirety of your core muscles, like planks.
Planks work your glutes and hamstrings while improving your balance and posture.
Other "sneaky" core exercises to incorporate into your at-home workout?
Squats and deadlifts.
Both squats and deadlifts target your core muscles while working other muscle groups, making them one of the best workouts you can do at home.
5. Burpees
Love them or hate them, no one can deny that burpees are an effective total-body workout.
Like jumping rope, burpees torch calories and fat in a short amount of time, making them a great calisthenic exercise to do when you're having a particularly busy day at your home office.
To perform a burpee, begin in a standing position with feet shoulder-width apart.
Do a squat and transition into the push-up position by kicking both feet out behind you.
Then, do a push-up.
Bring your legs forward and get into a squatting position.
Jump straight up into the air with your hands raised above your head.
Congrats, you've completed one burpee.
Do five sets of five burpees, increasing over time as your muscles adapt.
Get Fit at Home
It doesn't matter whether you have a state-of-the-art home gym or no gym equipment whatsoever.
There are no excuses to skipping a workout just because you're stuck at home all day.
With these at-home exercises, you can do your mind and body a ton of good.
Don't forget to stretch, take good care of your skin and refuel with a healthy snack after your workout!
References
Baker, John A. "Comparison of Rope Skipping and Jogging as Methods of Improving Cardiovascular Efficiency of College Men." Research Quarterly. American Association for Health, Physical Education and Recreation, vol. 39, no. 2, Routledge, May 1968, pp. 240–43.
Ivana Buric, Miguel Farias, Jonathan Jong, Christopher Mee, Inti A. Brazil. What Is the Molecular Signature of Mind–Body Interventions? A Systematic Review of Gene Expression Changes Induced by Meditation and Related Practices. Frontiers in Immunology, 2017; 8.
Chang, Wen-Dien et al. "Core strength training for patients with chronic low back pain." Journal of physical therapy science vol. 27,3 (2015): 619-22.
---
// © Copyright 2023 Tiege Hanley