Subscription
Shipping Address
Order Date

This subscription's skin care system will get replaced.

${ address.name }




${ address.products }

${ displaySubscriptionName(address) }




${ displayProducts(address) }

${ displayAddress(address) }
${ formatDate(address.scheduleDate) }

${ address.name ? address.name : displaySubscriptionName(address)}
${ address.products }
${ displayProducts(address) }
Shipping Address
${ displayAddress(address) }
Delivery Date
${ formatDate(address.scheduleDate) }
This subscription's skin care system will get replaced.
How to Get Rid of Visceral Fat
Visceral fat, also called belly fat, is one of the more dangerous types of fat for guys to be carrying around their middle. Find out how you can get rid of visceral fat and keep it off for good.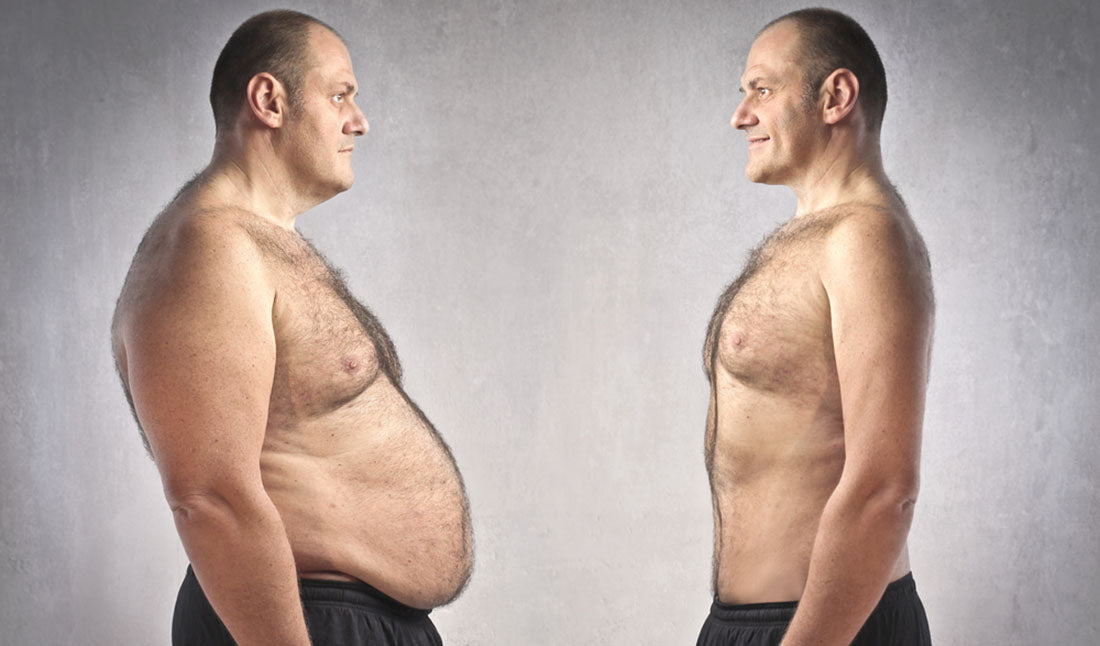 Body fat isn't always a bad thing. In fact, some types of body fat play an important role in the human body by helping us absorb vitamins, keeping us warm and fending off chronic illness.
The real problem is visceral fat—aka, belly fat. This type of abdominal fat is packed tightly around the internal organs and has been linked to a variety of serious health conditions, including cardiovascular disease, decreased insulin sensitivity and type 2 diabetes.
To maintain good health and well-being, it's in your best interest to banish belly fat and keep it off for good. By following the tips below, you can lose visceral fat and lower your risk for chronic disease in the process.
Here are three things you need to know about getting rid of visceral fat:
Visceral fat is packed tightly around internal organs and poses several health risks.
HIIT exercises are an effective and time-efficient strategy for losing visceral fat.
Eating a balanced diet of low-glycemic foods can help you lose visceral fat.
CONTROL EYE BAGS
Visceral Fat Explained
The human body has different types of adipose tissue, or body fat. The visible fat located just beneath the skin is known as subcutaneous fat, while fat that is located around our internal organs is called visceral fat.
Visceral fat gives some guys that tell-tale rounded belly that looks out of place when the rest of their body is relatively thin. You can joke about having a beer belly all you want, but visceral fat is no laughing matter.
According to a 2010 study published in Obesity Reviews, visceral fat contains more inflammatory and immune cells than subcutaneous fat and also has an increased prediction of mortality (see claim: "VAT compared with SCAT…contains a larger number of inflammatory and immune cells...carries a greater prediction of mortality…")
Research has also shown that guys with abdominal fat have a higher risk of developing cardiovascular disease. According to a 2008 study published in the Journal of Clinical Endocrinology and Metabolism, researchers found that increased amounts of abdominal fat in men were the strongest predictor for cardiovascular risk factors (see claim: "…a sd unit increase in abdominal fat mass was the strongest predictor of most cardiovascular variables in men [odds ratio (OR)=2.63-3.37; P<0.05]…")
To sum things up, making a conscious effort to lose belly fat is key to staving off chronic health conditions and remaining healthy.
Take the skin care quiz
Getting Rid of Visceral Fat
Fortunately, losing belly fat and keeping the weight off for good isn't as difficult as it may sound. You just need to give yourself time to make new habits that will benefit you in the long-term.
Here are a few strategies for losing visceral fat and living a healthier lifestyle:
Eat a Balanced Diet—What you put on your plate can have a bigger impact on your waistline than you might think. According to a 2010 study published in PLoS One, high-glycemic index foods have been linked to higher amounts of visceral fat in individuals (see claim: "Men and women with higher ED and GI diets showed significant increases in their WC(BMI).")
To lose belly fat, keep a food diary and load your plate with low-glycemic index foods (i.e., foods that won't spike insulin levels). Apart from losing belly fat, you may reap other benefits such as healthy, blemish-free skin and increased energy levels.
Get the Right Amount of Sleep—Although this is easier said than done, getting the proper amount of sleep each night can do wonders for your waistline. Keep in mind that more sleep isn't always better. In a 2010 study published in Sleep, subjects who slept more than eight hours had a higher BMI and increased visceral fat compared to those who slept between six and seven hours (see claim: "Eight hours or more of sleep was also significantly related to a greater accumulation of BMI (0.8 kg/m2, P < 0.001), SAT (20 cm2, P < 0.01) and VAT (6 cm2, P < 0.05) compared to sleep duration between 6 and 7 h.")
Do HIIT-Based Exercises—High-intensity interval training (HIIT) is one of the best forms of exercise for getting rid of visceral fat. In a 2018 study published in Sports Medicine, HIIT exercises such as running and cycling significantly reduced the amount of visceral fat in subjects (see claim: "HIIT significantly reduced total (p = 0.003), abdominal (p = 0.007), and visceral (p = 0.018) fat mass, with no differences between the sexes.")
Quit Smoking—You probably know that smoking isn't good for your health. If you need another reason to ditch this bad habit, here is one more: It may make you more susceptible to abdominal obesity. In a 2005 study published in Obesity Research, researchers found that cigarette smoking was associated with a higher fat distribution in the waist (see claim: "Adjusting for age, BMI, and other covariates, current smokers had higher waist circumference but lower hip circumference compared with former or never smokers.")
Wrapping Up
While getting rid of visceral fat may seem challenging at first, it's far from impossible. If you need help losing inches from your waistline, consider consulting a nutritionist and hiring a HIIT trainer to help you blast belly fat fast. Once you start seeing results, you'll be more likely to adopt healthy habits for life.
External sources: Subcutaneous and visceral adipose tissue: structural and functional differences; Abdominal and gynoid fat mass are associated with cardiovascular risk factors in men and women; Dietary determinants of changes in waist circumference adjusted for body mass index; Sleep Duration and Five-Year Abdominal Fat Accumulation in a Minority Cohort:The IRAS Family Study; Effect of High-Intensity Interval Training on Total, Abdominal and Visceral Fat Mass: A Meta-Analysis; Cigarette smoking and fat distribution in 21,828 British men and women: a population-based study.
---
// © Copyright 2023 Tiege Hanley