Subscription
Shipping Address
Order Date

This subscription's skin care system will get replaced.

${ address.name }




${ address.products }

${ displaySubscriptionName(address) }




${ displayProducts(address) }

${ displayAddress(address) }
${ formatDate(address.scheduleDate) }

${ address.name ? address.name : displaySubscriptionName(address)}
${ address.products }
${ displayProducts(address) }
Shipping Address
${ displayAddress(address) }
Delivery Date
${ formatDate(address.scheduleDate) }
This subscription's skin care system will get replaced.
How Does Paul Rudd Seem Not to Age?
Did Paul Rudd discover the Fountain of Youth? Find out how the actor has managed to stop time on his face without resorting to plastic surgery.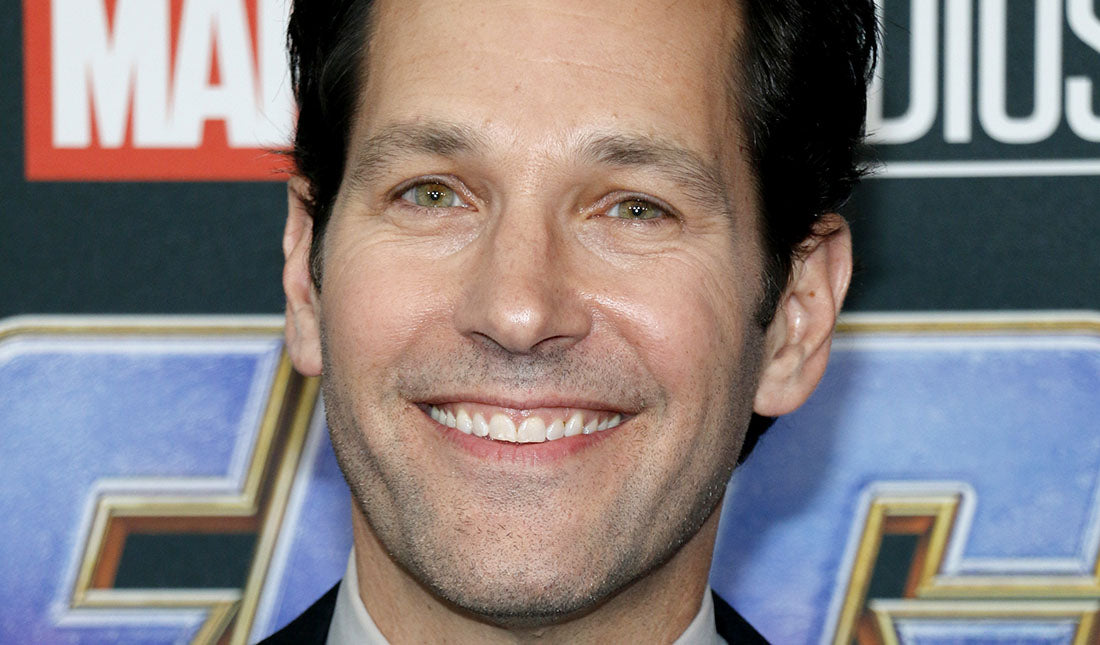 Out of all of life's greatest mysteries, Paul Rudd's age-defying looks seem to baffle the internet the most. Long-time fans of the Avengers: Endgame actor have been quick to point out that Rudd hasn't aged at all from the time of his breakout role in Clueless in 1995.
This isn't just fans being generous to Rudd. The actor, who turned 50 on April 6, 2019, has managed to avoid the deep forehead wrinkles, dull skin and tired appearance that typically reveal a guy's true age. Rudd could easily pass for a guy in his early 30s. How did he manage such a feat? While Rudd has been somewhat tight-lipped on the matter, he's given us a couple of hints.
If you want to achieve age-defying looks like Paul Rudd, here are three things that can potentially help you turn back the clock:
A moisturizer with SPF can hydrate and protect skin from the aging effects of UV rays.
Although there is nothing wrong with the silver fox look, Paul Rudd likely dyes his locks to appear younger than his true age.
Living a healthy lifestyle like Rudd's has been shown to turn back time on a cellular level.
GOT WRINKLES?
1. He Doesn't Skip the Moisturizer
While Paul Rudd has been rather mum on his beauty routine, he has let some things slip in recent years. When everyone wants to know your secrets, you've got to spill the beans at some point.
In March of this year, Rudd met up with his former Clueless costars for a reunion and gave fans the opportunity to ask questions. Of course, they naturally asked Rudd about his ageless looks. The comedic actor responded in his typical fashion by joking that he was "80 years old on the inside," before adding, "…and a little moisturizer."
Based on this, we know that Paul Rudd moisturizes. The specific brand of moisturizer he uses is still anyone's guess. That being said, it's likely that he uses a high-quality moisturizer with SPF as opposed to some generic lotion with questionable ingredients.
It would be difficult to look as good as Rudd without protecting your skin from the sun. In fact, a 2013 study published in Clinical, Cosmetic and Investigational Dermatology suggests that UV exposure is responsible for 80 percent of premature wrinkles, sagging skin and other visible signs of aging (see claim: "UV exposure seems to be responsible for 80% of visible facial aging signs.")
2. He Keeps His Hair Youthful
Paul Rudd's hair has been key to his being able to age gracefully over the last two decades. Apart from being full and healthy-looking, his hair is still brown with no hint of gray in it.
Of course, this can easily be explained by Rudd dyeing his hair to hide the grays. It's hard to believe that he wouldn't have even a hint of gray at the age of 50.
According to a 2018 review published in the International Journal of Trichology, guys typically begin to go gray along their temples and sideburns first, increasing rapidly in their forties (see claim: "In men, graying first occurs in the temples and sideburns…rapid progression of graying in the fifth decade.")
Given that Rudd's sideburns don't have any gray hairs in them whatsoever, it's likely that he dyes his hair and beard brown to keep up his youthful appearance. Let's be honest, most of us would do similarly if we had the opportunity to play a superhero.
Take the skin care quiz
3. He Lives a Healthy Lifestyle
Along with taking good care of your skin, there is no better way to defy the aging process than by living well. Although Paul Rudd's physique has fluctuated anywhere from 15-30 pounds over the years for various acting roles, he's never been overweight.
In fact, Rudd hit the gym hard for an entire year to prepare for his role in Ant-Man, doing difficult circuits and weight-bearing exercises for a total-body HIIT (high-intensity training) workout. Research shows that workouts such as Rudd's can reverse the effects of time at a cellular level.
In a 2018 study published in Cell Metabolism, subjects that performed HIIT workouts for 12 weeks experienced a significant increase in mitochondrial function, which is crucial to our body's aging process (see claim: "HIIT and RT increased mtDNA content in older adults…")
It also doesn't hurt that Rudd completely ditched alcohol and ate a high-protein/low-carb diet for an entire year. Eating a healthy, balanced diet full of skin-healthy foods can do your body a lot of good—it clearly did to Paul Rudd's.
The Bottom Line
Although Paul Rudd may kid about his ageless looks, don't be fooled into thinking that he doesn't take care of himself. Even those who are genetically blessed with good skin and hair still need to eat healthy and stick to a regular skin care routine.
---
// © Copyright 2023 Tiege Hanley