Subscription
Shipping Address
Order Date

This subscription's skin care system will get replaced.

${ address.name }




${ address.products }

${ displaySubscriptionName(address) }




${ displayProducts(address) }

${ displayAddress(address) }
${ formatDate(address.scheduleDate) }

${ address.name ? address.name : displaySubscriptionName(address)}
${ address.products }
${ displayProducts(address) }
Shipping Address
${ displayAddress(address) }
Delivery Date
${ formatDate(address.scheduleDate) }
This subscription's skin care system will get replaced.
How Long Does It Take for Acne Scars to Fade?
How soon your acne scar will fade depends on the type of scar. We break down the different types of acne scars and how to effectively treat them.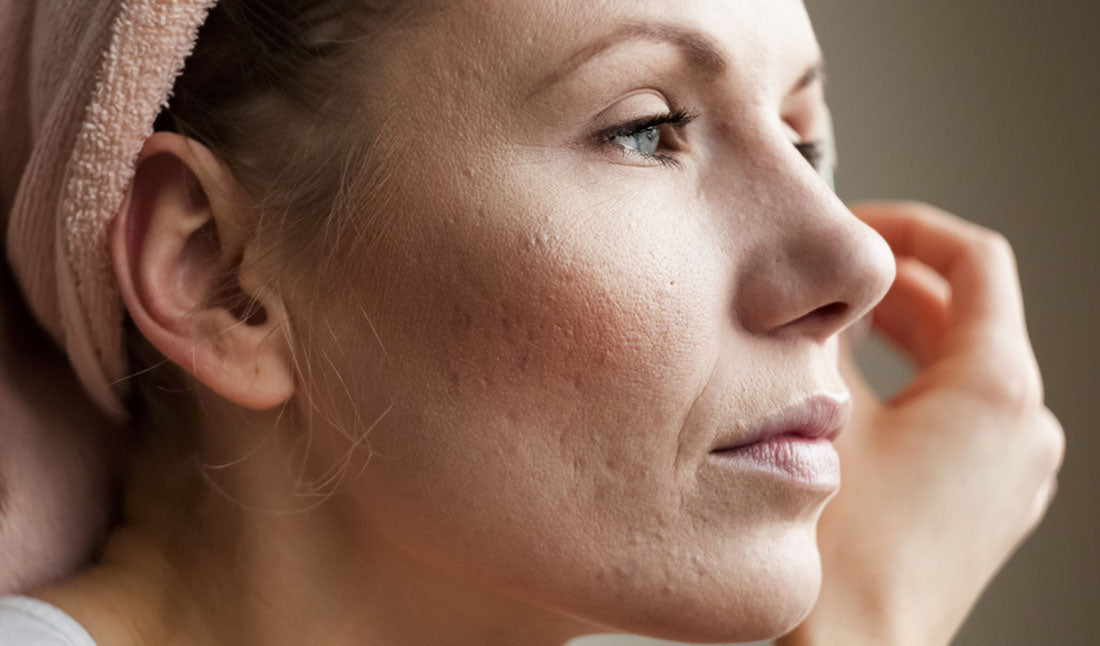 Some men pick at their pimples and cause acne scarring, while others leave them alone and still wind up with a scar. If you're in the second group, it probably doesn't seem fair, does it?
Regardless of how you got the acne scar, you no doubt want it gone. Unfortunately, scars don't disappear quickly, if at all.
Will your acne scar fade on its own? Can you speed up the healing process? Here are three things you need to know about how long acne scarring can last:
While some scars will fade on their own eventually, others are more stubborn.
Some acne scars are simply dark marks that will fade on their own, while deeper tissue scars may require laser treatments.
Getting your acne under control is key to preventing future acne scars.
Acne Scar or Post-Inflammatory Hyperpigmentation?
Before we can answer whether or not your acne scar will go away, it's important to identify if the mark on your face is truly a scar. Dark brown or red blemishes that won't disappear may look like a scar, but they may be something called post-inflammatory hyperpigmentation.
Post-inflammatory Hyperpigmentation
Post-inflammatory hyperpigmentation (PIH) is a common pigmentation disorder which is often preceded by other diseases or injuries that affect the skin, such as acne or eczema. It's a temporary discoloration that occurs when an irregular amount of pigmentation is produced in response to skin inflammation, causing discoloration.
According to a 2010 review published in The Journal of Clinical and Aesthetic Dermatology, the intensity of PIH may depend on the amount of melanin in the skin, although scientists are still exploring this theory (see claim: "The intensity of PIH may also correlate with higher skin phototypes…") PIH seems to affect darker skin more intensely compared to lighter skin.
GOT ACNE?
Treatment Options for PIH
PIH can take up to two years to fade on its without treatment. However, it's generally more likely to fade than true acne scars because the tissue underneath isn't damaged.
Still, it's not a guarantee that your PIH will disappear. To increase the likelihood that your PIH fades, be sure to stay out of the sun whenever possible and wear a daily moisturizer with SPF. PIH can worsen with UV ray exposure.
You can also treat PIH through regular exfoliation (2 times per week, max). Using a gentle exfoliating scrub on your skin can inhibit the production of melanin by increasing cell turnover.
Types of Acne Scars and Treatments
Unlike post-inflammatory hyperpigmentation, acne scars are more than just discoloration of the skin. Acne scars are often raised or form a depression in the skin, making them less likely (although not impossible) to fade.
However, knowing which type of acne scar you have can help you choose the right treatment option:
Atrophic Scars
Atrophic scars are caused by a loss of skin tissue, resulting in a depression in the skin. Types of scars in this category include boxcar scars (shallow scars with sharp edges), rolling scars (very shallow scars with soft, smooth edges) and ice pick scars (narrow and very deep).
Boxcar Scars
The best treatment for atrophic scars depends on the type of scar you have. For example, fillers can help temporarily treat small yet deep ice pick scars by filling in the depression, while boxcar scars are usually treated with subcision.
Subcision can also be used for rolling scars. According to a 2010 study published in the Journal of Cutaneous and Aesthetic Surgery, subcision is safe and effective in the long-term treatment of rolling scars (see claim: "Subcision is a safe, simple technique that provides significant long-term improvement in the 'rolling scars' of selected patients.")
Hypertrophic Scars
Hypertrophic scars occur when your body produces excess collagen, resulting in a raised scar. They can be pink when the scar is fresh and fade to match your skin color.
If the scar is recent, cortisone can help slow down production of collagen to reduce the appearance of a raised scar. If it doesn't fade enough for your liking, erbium laser resurfacing can be used to reshape the scar and decrease its size. Take the skin care quiz
Keloids
Keloids are another type of raised scar that occurs when the body goes overboard trying to repair itself after inflammation caused by an acne cyst. Keloids are much larger than hypertrophic scars and are often darker than your natural skin color.
Although this type of acne scar isn't as common, it can be difficult to treat. One treatment option you can try is a retinoid-containing skin care product.
According to a 2010 review published in The Journal of Clinical and Aesthetic Dermatology, researchers noted that vitamin A derivatives such as retinoic acid can inhibit collagen production of human fibroblasts, which play a role in the formation of keloids (see claim: "Retinoids also exhibit an inhibitory effect on TGF-β1-induced type I collagen gene expression in human fibroblasts.")
Bottom Line
The good news is that what most people think are acne scars are really just discoloration. PIH can take anywhere from two months to two years to fade, so try to be patient.
The bad news is that acne scars (and some PIH) can be notoriously difficult to ever get rid of completely. The first thing you should do to prevent acne scaring is to get on an acne treatment system to reduce acne breakouts.
If your acne scars won't fade and are taking a toll on your self-esteem, it may be time to see a dermatologist. Although the solution may not be cheap, it could well be worth it to get your confidence back.
References
Davis E.C., Callender V.D. Postinflammatory hyperpigmentation: A review of the epidemiology, clinical features, and treatment options in skin of color. J. Clin. Aesthet. Derm. 2010;3:20–31
Chandrashekar B, Nandini A. Acne scar subcision. J Cutan Aesthet Surg. 2010;3:125–6.
Viera MH, et al. Innovative therapies in the treatment of keloids and hypertrophic scars. J. Clin. Aesthet. Dermatol. 2010;3:20–6.
---