Subscription
Shipping Address
Order Date

This subscription's skin care system will get replaced.

${ address.name }




${ address.products }

${ displaySubscriptionName(address) }




${ displayProducts(address) }

${ displayAddress(address) }
${ formatDate(address.scheduleDate) }

${ address.name ? address.name : displaySubscriptionName(address)}
${ address.products }
${ displayProducts(address) }
Shipping Address
${ displayAddress(address) }
Delivery Date
${ formatDate(address.scheduleDate) }
This subscription's skin care system will get replaced.
How Much Sunscreen to Use on Your Face
Not sure how much sunscreen to use on your face? Find out how much sunscreen you need to apply on your face to achieve maximum sun protection.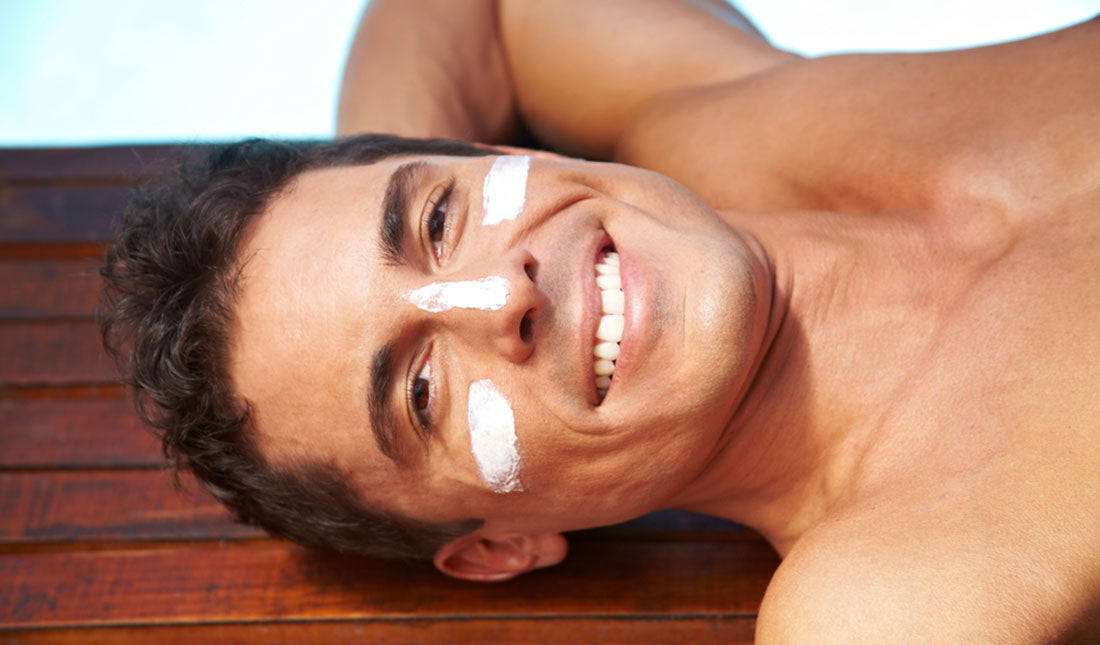 When it comes to sun protection, your face should always get the lion's share of your attention.
Why?
Because your face is one of the few areas of your body that is continuously exposed to the sun's harmful UV rays.
Beyond reducing your risk of skin cancer, a daily SPF for your face is essential to keeping your face wrinkle-free as you age.
You probably know that sun protection for your face is important—that's why you're here.
What you may be a little fuzzier on is how much sunscreen to use on your face.
And that's why we're here.
With summer in full swing, we think it's time to set the record straight.
So, how much sunscreen should you really be slapping on your mug?
Before we dive in, here are three things you should know about how much sunscreen to use on your face:
The vast majority of sunscreen users don't apply enough sunscreen to receive the SPF protection indicated on the label.
You should apply a nickel-sized dollop of sunscreen to your face alone and reapply it every two hours.
Choosing the right SPF for your face is essential to getting daily sun protection.
GOT WRINKLES?
According to Experts, More Than You Think
After going through all the trouble of finding a tried-and-true SPF for your face, the single-best thing you can do is learn how to apply it correctly.
But as it turns out, the majority of sunscreen users don't know how to use it properly.
In a 2018 study published in Acta Dermato Venereologica, researchers found that sunscreen users get less than half the sun protection they think they do because they apply sunscreen too thinly (see claim: "…Results showed that sunscreen with a sun protection factor (SPF) of 50, applied in a typical way, would at best provide 40% of the expected protection.")
This boils down to how SPF works.
A product's SPF is measured based on how well the product protects against UVB rays when it's applied at a thickness of 2.0 mg/cm2.
To achieve the SPF protection indicated on your sunscreen label, you need to apply the same thickness or else your face, and wherever else you're applying, will get burned.
Here's How Much Sunscreen to Use on Your Face
OK, we've now established that you need to apply sunscreen with a thickness of 2.0 mg/cm2. But what does that mean, exactly?
Obviously, it's a little bit difficult to measure how much skin you have on your face. Luckily, experts have found an easier way to communicate how much sunscreen we need.
According to the American Academy of Dermatology, adults need about one shot glass full of sunscreen to cover their face and body.
So, what if you only need to protect your face?
In that case, experts from the Skin Cancer Foundation recommend applying a nickel-sized dollop and reapplying it regularly, about every two hours.
A Nickle-Sized Amount? That Seems Like a Lot…
When you first squeeze a nickel-sized dollop onto your palm, it will probably seem like a huge amount for just your face alone.
But like we said, you need more than you think!
However, we also know that it may be tempting to skimp on the sunscreen, especially if you're prone to breakouts.
Sunscreen can be greasy, sticky and generally unpleasant.
That's one of the reasons why finding the best facial sunscreen for your skin is so critical.
With the right SPF product, applying a copious amount of sunscreen each day will seem far less daunting.
TAKE THE SKIN CARE QUIZ
What If I'm Using a Stick or Spray Sunscreen?
Speaking of SPF products, what if you're using a spray or stick sunscreen? How much of either do you need to use on your face?
First, let's get this out of the way: Never apply a spray sunscreen directly to your face. Always spray it on your hands first before spreading it onto your skin.
When it comes to sunscreen sprays, the American Academy of Dermatology recommends applying the product until your skin glistens.
For stick sunscreens, they recommend making four passes back and forth on your face to ensure you're getting enough protection.
The Takeaway
Keep in mind that no sunscreen blocks 100 percent of UV rays.
If you're going to be outside for an extended period of time, be sure to seek shade and wear UPF clothing.
Don't forget to wear a hat to protect your scalp and sunglasses for eye protection, too!
Reference
Young, A., et al. "Sub-Optimal Application of a High SPF Sunscreen Prevents Epidermal DNA Damage in Vivo." Acta Dermato Venereologica, vol. 98, no. 9, 2018, pp. 880–87.
---