Subscription
Shipping Address
Order Date

This subscription's skin care system will get replaced.

${ address.name }




${ address.products }

${ displaySubscriptionName(address) }




${ displayProducts(address) }

${ displayAddress(address) }
${ formatDate(address.scheduleDate) }

${ address.name ? address.name : displaySubscriptionName(address)}
${ address.products }
${ displayProducts(address) }
Shipping Address
${ displayAddress(address) }
Delivery Date
${ formatDate(address.scheduleDate) }
This subscription's skin care system will get replaced.
How Does Sunscreen Work?
Learn how sunscreen works to stay safe from the sun's ultraviolet rays! Check out the Tiege Hanley blog for sun protection tips and expert advice on all things skin care.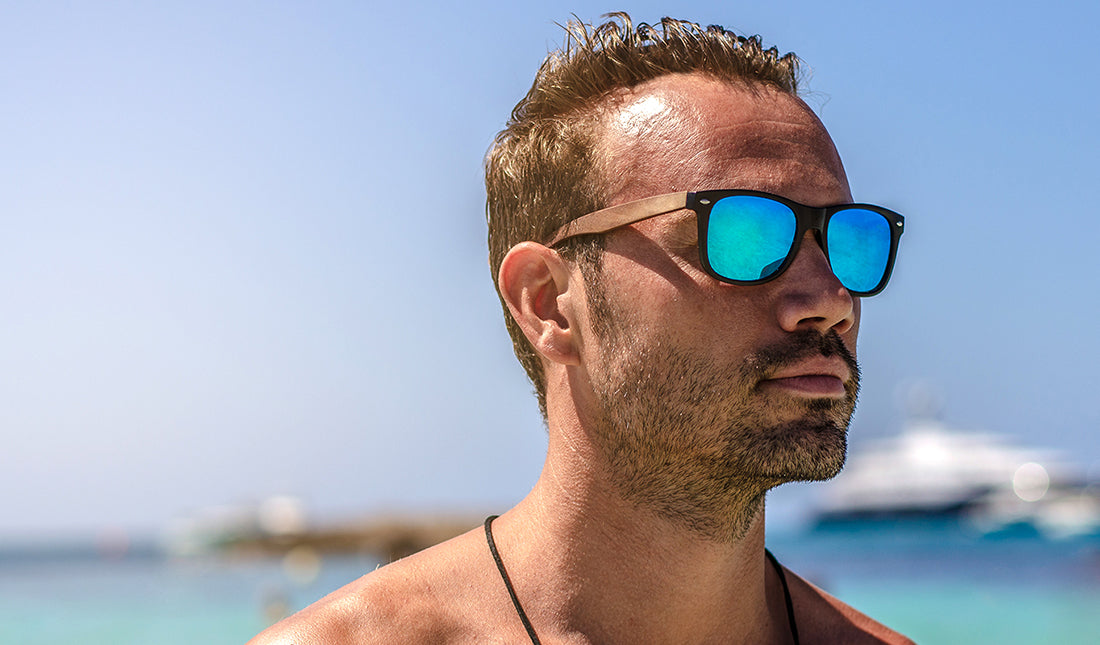 As a kid, you probably learned to hold still while your parents slathered sunscreen all over your skin before allowing you to play outdoors. Even from a young age, most of us knew that sunscreen was key to protecting our skin from the harmful effects of the sun.
What many adults still don't know is exactly how sunscreen works. This is a huge problem because ultraviolet radiation from the sun is no joke. Getting burned to the point of blistering, even just once, can increase your risk of melanoma, the most deadly type of skin cancer.
In many cases, skin cancer is considered to be preventable. To reduce your risk and keep skin healthy well into your old age, understanding the ins and outs of sunscreen is critical.
So, without further ado, here are three things you need to know about how sunscreen works to better protect your skin:
Sunscreen works by either blocking/reflecting UV rays (physical sunscreen) or by absorbing them (chemical sunscreen).

Understanding the SPF (sun protection factor) of your sunscreen is crucial to gain the right amount of protection.

The best sunscreens will fit your lifestyle while providing adequate protection from the sun.
GOT WRINKLES?
A Deep Dive into Sunscreen
You know that sunscreen is designed to protect the skin from ultraviolet rays—but how exactly? Take a deep breath because we're about to dive right into it.
Sunscreen can work in two ways. They can either 1) reflect UV rays off the skin or 2) absorb the sun's UV rays before they reach the skin. Sunscreens which block UV rays are known as physical blockers, while sunscreens which absorb UV rays are called chemical blockers.
Physical Blockers—Also called sunblock, physical blockers work by creating a barrier on the skin which reflects or scatters UV rays. This type of sunscreen is often recommended for those who suffer from heat-activated skin conditions such as rosacea and eczema because it reflects both UV rays and heat from the skin. Ingredients typically include zinc oxide and titanium dioxide which block both UVA and UVB rays.
Chemical Blockers—Chemical sunscreens contain carbon-based compounds such as avobenzone, oxybenzone, octinoxate and octocrylene which work together to absorb and scatter UV rays. Chemical blockers work by creating a chemical reaction which converts UV rays into heat, reducing the number of free radicals that damage the skin.
Now, on to the inevitable question—which type of sunscreen is better? That's difficult to answer because both types have their advantages and disadvantages.
Basically, the best sunscreen is the one that you're more likely to use. If you have oily skin, you probably won't be as enthusiastic about wearing physical block that may clog your pores. In this case, you may want to choose a light moisturizer with SPF for your face and opt for a physical sunblock for the rest of your body.
It should also be noted that sunscreen can come in many forms, including sun sticks, sprays, lotions and gels. Just like the chemical vs. physical sunscreen debate, each of them has their own unique pros and cons. The most important thing is that you use it correctly and understand how SPF works with your sunscreen.
UVA vs. UVB Rays: Which Kind Is Worse for Your Skin?
Before we get into how SPF and sunscreen work, you should first understand how the two primary types of ultraviolet rays affect the skin. Well, there are three if you count UVC rays.
While UVC rays are the strongest of the three, this type of ultraviolet radiation isn't considered a concern to most people because it never extends past the earth's atmosphere. This is why researchers and skin care experts focus specifically on UVA and UVB rays.
UVB Rays—According to a 2013 study published in International Journal of Molecular Sciences, UVB rays are more adept at causing inflammation and damaging the surface layer of the skin, while UVA rays cause oxidative stress that damages skin cell DNA (see claim: "UVB…potent stimulator of inflammation and the formation of DNA photolesions...") While both are bad for the skin, UVB rays are often given more attention because they are the type that are responsible for sunburns.
UVA Rays—That being said, UVA rays aren't off the hook. Although it might take longer for UVA damage to make itself known on your skin, studies have shown that prolonged UVA exposure can lead to fine lines and wrinkles later in life. According to a 2013 study published in The Journal of Clinical and Aesthetic Dermatology, UVA rays decrease elastin and collagen, the two proteins responsible for keeping skin firm and strong (see claim: "UVA up regulates the formation of matrix metalloproteinase (MMPs), enzymes that degrade the matrix protein's elastin and collagen…")
Even worse, UVA rays can contribute to skin cancer by causing DNA damage to the skin cells. A 2001 study published in the Journal of the American Academy of Dermatology found that UVA rays can result in both melanoma and precursors to melanoma (see claim: "Collectively, these data suggest a potential role for UVA in the pathogenesis of melanoma.")
SPF Explained
So, where does SPF fit into all this? Unfortunately, this is where misunderstandings surrounding SPF in sunscreen can result in sunburns and an increased risk of skin cancer.
SPF, which stands for Sun Protection Factor, tells us how well our sunscreen will protect us from UVB radiation. In theory, the higher the SPF, the more protection you have against the harmful effects of sunlight.
It sounds straightforward enough. Here is where things get tricky, though—let's say that you're using a sunscreen with SPF 30. This means that your skin will absorb 30 times less UVB rays than it would without sunscreen.
SPF 30 blocks roughly 96.7 percent of UVB rays, while SPF 50 blocks 98 percent and SPF 100 blocks even more with 99 percent. As you can see, even the highest level of SPF won't block 100 percent of UVB rays.
Because there isn't a huge difference between SPF 30 and SPF 100, it's not really worth it to buy the highest SPF. In fact, doing so could lure you into a false sense of security, potentially leading you to stay in the sun longer and causing sunburn.
The Major Caveat to SPF Sunscreen
You now know that wearing SPF 50 probably won't result in a huge benefit over wearing, say, SPF 20 or 30. However, this is only true if you're using the right amount of sunscreen.
Wearing SPF 20 is effective, but only if you're applying it correctly. And as it turns out, most of us aren't wearing enough sunscreen.
In a 2018 study published in Acta Dermato Venereologica, scientists split 16 fair-skinned people into two groups: one group was exposed to UV rays once, and another was exposed to 30 times more UV rays on five consecutive days to mimic behavior on vacation.
Although both groups applied a high SPF, the vacation group applied a much thicker layer of sunscreen. After DNA damage was assessed in both groups, scientists found that the vacation group received much less photodamage than the non-vacation group, despite being exposed to UV rays for longer (see claim: "In comparison with unprotected control sites, sunscreen significantly (p ≤ 0.001–0.05) reduced DNA damage at 1.3 and 2.0 mg/cm2 in all cases.")
How to Correctly Apply Sunscreen
Most sunscreen manufacturers recommend applying 2 mg of sunscreen per square centimeter of skin. To make things simpler and to ensure proper coverage, the American Academy of Dermatology recommends applying enough sunscreen to fill a shot glass.
Be sure to apply your sunscreen at least 30 minutes before you plan to go outside. This allows the active ingredients to fully bind to your skin for proper protection. It's also important that you re-apply your sunscreen according to the SPF.
For example, SPF 30 provides 30 times more protection than no sunscreen. If you typically burn in five minutes with no sunscreen, this means that SPF 30 will allow you to remain protected for 150 minutes (30 x 5 = 150). Most people go by a simple rule of thumb: apply after two hours or sooner if you're sweating or swimming.
Additional Factors That Can Affect Sunscreen
You don't need to be a scientist to know that fair-skinned people burn more easily compared to those with darker skin. To ensure that you take appropriate sun safety measures, it's important to be aware of additional factors which can influence how effective your sunscreen is at protecting your skin.
Sun-Sensitive Skin—If you're fair-skinned, it's just a fact of life that your skin burns more easily. In fact, a 2012 study published in Nature found that people with a red hair/fair skin phenotype were at the highest risk of developing melanoma, even without excessive UV exposure (see claim: "We observed a high incidence of invasive melanomas without providing additional gene aberrations or ultraviolet radiation exposure.)
UV Index—Before planning to spend long hours in the sun, check the UV Index first. This measures how strong the UV rays are on any given day to help you avoid harmful UV radiation. When the UV rays are moderate to high, the Environmental Protection Agency recommends additional sun protection for your eyes as well.
Expired Ingredients—Yes, your sunscreen ingredients can expire! All sunscreen products are required by the FDA to be marked with an expiration date. The good news is that if you're applying the recommended amount (2 mg), you shouldn't need to worry too much about this problem as your sunscreen will likely run out fast.
Take the skin care quiz
Things to Consider When Choosing a Sunscreen
The best sunscreen is one that you're guaranteed to use daily. Regular use of sunscreen has proven time after time to reduce risk of skin cancer and prevent premature aging.
Whether you decide to use a sun stick or a sunscreen spray, it doesn't matter nearly as much as the importance of how and when you apply it. However, you may want to consider the following when buying your next sunscreen:
Water-Resistant—Playing in the water or sweat caused by working out in the heat can reduce the effectiveness of regular sunscreens. Water-resistant sunscreens can retain their SPF while you swim or sweat, making them a logical choice for many guys. Just remember that "water-resistant" isn't the same thing as "waterproof," and that you still need to reapply often.
Broad Spectrum—Choosing a sunscreen with broad spectrum protection ensures that you're protected from both UVA and UVB rays. This will help keep your skin safe from both dangerous sunburns and deadly DNA damage that can lead to skin cancer.
SPF—As we said, a sunblock with SPF 30 to SPF 50 is enough to protect your skin. SPF 100 is usually overkill and the difference between it and SPF 50 is negligible.
Protection for Your Lips—Don't forget to protect your lips from the sun. The skin on your lips is super thin, which makes it vulnerable to sunburns. Also, you can get skin cancer on the lips, so play it safe and carry SPF lip balm in your pocket.
A Comprehensive Sun Protection Strategy for Your Skin
Wearing daily sunscreen is a crucial part of taking good care of your skin. Still, it is important to remember that it doesn't matter how high your SPF is—no sunscreen will be 100 percent effective at blocking UV rays.
This is why it's essential that you take additional steps to protect your skin from the sun. Along with your daily sunscreen, it's a good idea to wear sun-protective clothing such as hats and SPF-rated shirts and pants. Preventing a single sunburn can go a long way in keeping skin healthy, youthful and cancer-free.
---