Subscription
Shipping Address
Order Date

This subscription's skin care system will get replaced.

${ address.name }




${ address.products }

${ displaySubscriptionName(address) }




${ displayProducts(address) }

${ displayAddress(address) }
${ formatDate(address.scheduleDate) }

${ address.name ? address.name : displaySubscriptionName(address)}
${ address.products }
${ displayProducts(address) }
Shipping Address
${ displayAddress(address) }
Delivery Date
${ formatDate(address.scheduleDate) }
This subscription's skin care system will get replaced.
How Often to Reapply Sunscreen
When do you need to reapply? We investigate the research to find out how often you should apply sun block.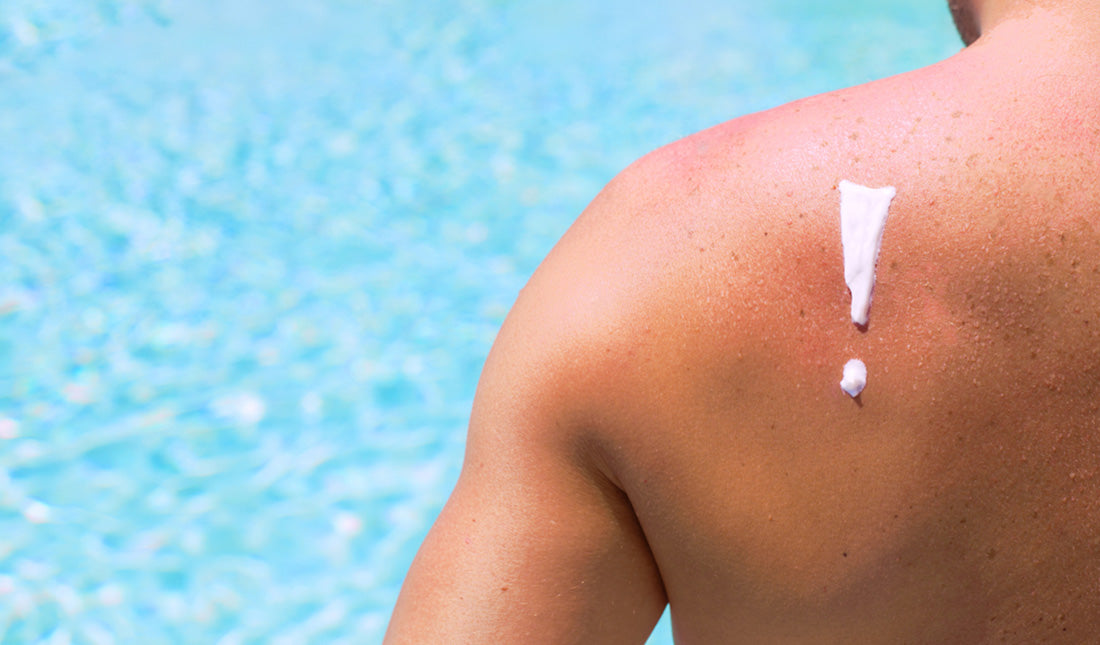 We rely on sunscreen to protect our skin from the sun and reduce the likelihood of sunburn. And yet, sunscreen remains woefully misunderstood.
One of the most common misconceptions people have regarding sunscreen is how long it actually lasts. The simple truth is that no matter how high your SPF is, you'll need to reapply it multiple times a day depending on a few variables.
So, how often do you need to reapply? We'll answer that below and provide a few important tips on how to maximize your sun protection.
First, here are three things you should know about sunscreen:
Sunscreen only lasts a minimum of two hours and should be reapplied regularly
Studies show that most people don't apply enough sunscreen
If you're swimming or sweating, you should reapply sunscreen sooner than the recommended two hours
TRY MEN'S SKIN CARE
How Long Does Sunscreen Last? The Quick and Dirty Answer
In a perfect world, we could apply sunscreen once in the morning and not worry about it for the rest of the day. Unfortunately, this isn't how sunscreen works.
Sunscreen ingredients protect your skin from the sun by either reflecting, scattering or absorbing UV rays. Regardless of whether you use a chemical or a physical blocker, you need to reapply sunscreen at least every two hours—preferably, much sooner.
Sunscreen must be reapplied for several reasons. The first reason being that you're probably not applying enough in the first place.
According to a 2014 study published in Photodermatology, Photoimmunology & Photomedicine, sunscreen users apply a thickness of only 0.39 to 1.mg/cm(2), an amount that is well below the 2 mg/cm(2) that sunscreen SPF is tested (see claim: "…sunscreen under natural conditions is applied insufficiently with amounts about 0.39 to 1.0 mg/cm(2), which decreases the protection factor considerably.")
The second reason you may need to reapply sunscreen sooner is if you've been playing in the water, sweating or you rubbed the sunscreen off with a towel. Note that this still applies if you're using a water-resistant sunscreen.
How Often Do I Need to Reapply Sunscreen?
Reapplying sunscreen every two hours has long been the rule of thumb. However, it's been suggested by multiple studies and organizations that you should apply sunscreen within the hour mark instead.
For example, in a 2001 study published in the Journal of the American Academy of Dermatology, researchers found that reapplying sunscreen after just 20 minutes of being out in the sun can result in anywhere from 60 percent to 85 percent less UV exposure compared to reapplying after two hours (see claim: "Typically reapplication of sunscreen at 20 minutes results in 60% to 85% of the ultraviolet exposure that would be received if sunscreen were reapplied at 2 hours.")
The Skin Cancer Foundation also recommends reapplying sunscreen sooner if you've been swimming or sweating. Once you get out of the water or finish your workout, pat yourself completely dry (this makes it easier for the sunscreen to absorb/stick to the skin) and apply a liberal amount of sunscreen immediately.
How to Achieve Maximum Sun Protection
It doesn't matter whether you're using a men's daily moisturizer with SPF or a sun stick with SPF 50—you need to reapply both regularly to ensure maximum protection if you are in the sun for an extended period of time. Here are a few tips to help you achieve safe and effective sun protection:
1. Follow the Directions
As simple as it may sound, following the application directions on your sunscreen product is key to reducing your risk of skin cancer. The sunscreen's SPF was tested under the assumption that the user would be following the directions on the label, so take care to apply the product as intended.
2. Apply 15-20 Minutes Before Going Outside
If you're using a chemical sunscreen, make sure that you apply your sunscreen at least 15 to 20 minutes before going outside. This will give the ingredients enough time to sink into the skin and offer maximum protection from UV rays.
With physical sunscreens, you don't need to worry about this rule. Physical sunscreens sit on top of the skin and are therefore effective immediately.
3. Apply More Than You Think You Need
As we stated above, most people don't apply nearly enough sunscreen to achieve the full SPF stated on their sunscreen product. The American Academy of Dermatology recommends applying one ounce of sunscreen (about a shot glass full) to cover your entire body.
Take the skin care quiz
4. Don't Forget Commonly Overlooked Spots
When applying sunscreen, make sure that you get overlooked spots, such as the tops of your feet and hands, the back of your neck and your ears. It's also a good idea to use a lip balm with SPF to protect your lips from the sun.
5. Store Your Sunscreen Properly
The FDA recommends storing your sunscreen out of direct sunlight. If you're at the beach, wrap your sunscreen in a towel when it's not being used.
Additionally, keep in mind that sunscreen can expire. Most sunscreens that aren't labeled with an expiration date will last for at least three years. If you're not sure when you purchased your sunscreen, play it safe and purchase a new bottle.
The Takeaway
Even if you apply the proper amount of sunscreen, your sunscreen's SPF could lose its effectiveness in as little as 20 minutes. To stay safe in the sun, reapply your sunscreen liberally a minimum of every two hours—sooner if you have been swimming or sweating.

References
Petersen, Bibi, and Hans Christian Wulf. "Application of Sunscreen--Theory and Reality." Photodermatology, Photoimmunology & Photomedicine, vol. 30, no. 2–3, June 2014, pp. 96–101. PubMed, doi:10.1111/phpp.12099.
Diffey, B. L. "When Should Sunscreen Be Reapplied?" Journal of the American Academy of Dermatology, vol. 45, no. 6, Dec. 2001, pp. 882–85. PubMed, doi:10.1067/mjd.2001.117385.
---