Subscription
Shipping Address
Order Date

This subscription's skin care system will get replaced.

${ address.name }




${ address.products }

${ displaySubscriptionName(address) }




${ displayProducts(address) }

${ displayAddress(address) }
${ formatDate(address.scheduleDate) }

${ address.name ? address.name : displaySubscriptionName(address)}
${ address.products }
${ displayProducts(address) }
Shipping Address
${ displayAddress(address) }
Delivery Date
${ formatDate(address.scheduleDate) }
This subscription's skin care system will get replaced.
How to Get Rid of Bumps on Arms
Bumps on the arms are likely keratosis pilaris, a harmless condition that is thought to be genetic. Find out how to get rid of these keratin-filled bumps for smooth, radiant skin.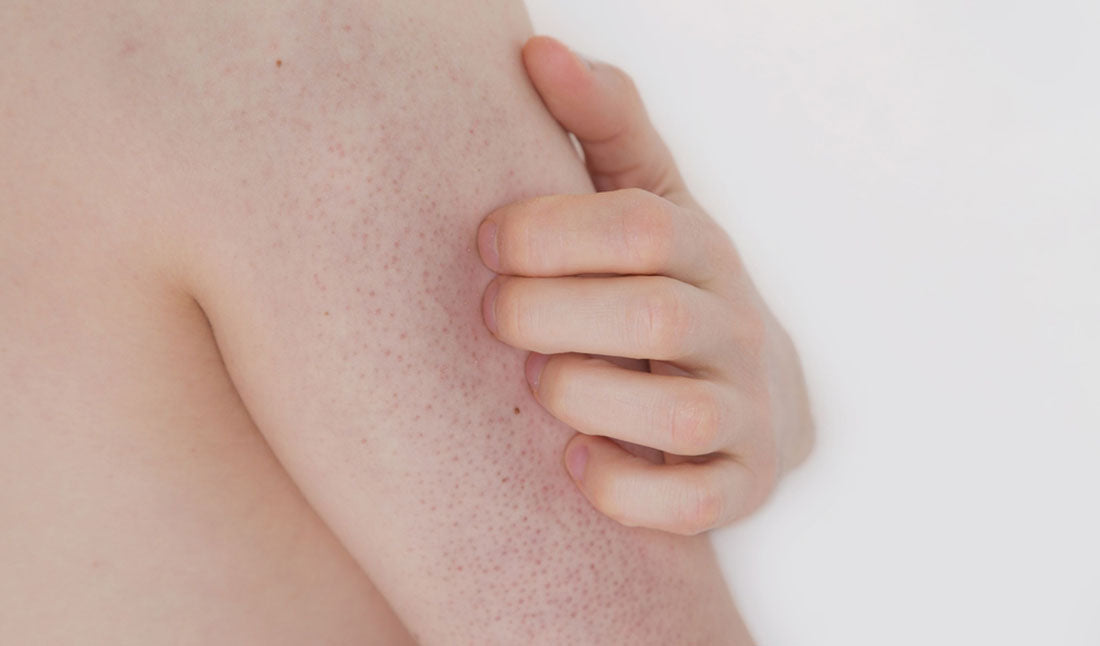 Curious about those small, rough bumps on your arms? If you've had them almost all your life, these tiny bumps are likely keratosis pilaris, a benign skin condition that often affects the arms, legs and cheeks.
Keratosis pilaris occurs when keratin (a protein found in the skin) plugs the hair follicle, resulting in tiny, pimple-like bumps on the skin. Although these bumps are harmless and extremely common, their appearance can be bothersome.
Unfortunately, getting rid of the bumps on your arms can be difficult. However, there are several methods you can try which have shown promise for the treatment of keratosis pilaris.
Here are three things you should know about keratosis pilaris:
Keratosis pilaris (KP) is a harmless condition that is thought to be genetic.
Treating KP requires a long-term approach. Thus, a regular skin care routine is essential to reducing the appearance of KP.
Some laser treatments, emollients and moisturizers may prove beneficial in the treatment of KP.
TRY MEN'S SKIN CARE
What Is Keratosis Pilaris?
Keratosis pilaris (KP) are hard, keratin-filled bumps on the skin that are often mistaken for certain types of acne or goosebumps. Although scientists still aren't entirely certain why some individuals get them, it's strongly believed to be genetic.
In a 2018 study published in Molecular Medicine Reports, researchers took blood samples from a family with KP, two families with nevus comedonicus (another keratin-related condition) and 100 healthy controls. They discovered a mutation of the ABCA12 gene was present in KP and nevus comedonicus families that was notably absent in healthy families (see claim: "ABCA12-associated mutations or alterations in expression may exhibit causative or contributive effects to the development of keratinized dermatoses, including KP and NC.")
Given the difficulty in treating keratosis pilaris, studies such as these are incredibly promising. By identifying the specific genetic mutation that underlies KP, scientists can hopefully begin developing more effective treatment options for keratosis pilaris.
Take the skin care quiz
Treatment Options for Keratosis Pilaris
Getting rid of the bumps on your arms is easier said than done. While the following treatments may not clear up your KP completely, they have been shown to reduce their appearance.
Regular Skin Care Routine—Simply treating your skin right by establishing a regular skin care routine can help reduce the appearance of KP. Specifically, regular exfoliation and daily moisturization can potentially improve your keratosis pilaris. Gentle exfoliation can remove the buildup of keratin, while moisturization helps smooth the skin and will make KP less noticeable. Generally, treatment must be continuous to get rid of KP, so be sure to find a skin care system that you feel good about using day-in and day-out.
BHAs/AHAs—Certain beta-hydroxy acids (BHAs) and alpha-hydroxy acids (AHAs) have been used with moderate success to treat keratosis pilaris. Specifically, Salicylic Acid (a BHA) or lactic acid (an AHA) have both been shown to improve KP. In a 2015 study published in Dermatology Research and Practice, researchers evaluated the efficacy of 10% lactic acid and 5% Salicylic Acid on KP patients and found both to be effective at improving keratin-filled bumps (see claim: "…10% LA and 5% SA are beneficial to treat KP with the significantly clearance and marked improvement as by instrumental evaluation.") Note: See a doctor before treating your keratosis pilaris with over-the-counter skin care products.
Retinoids—Topical retinoids such as tretinoin may also reduce keratin-filled bumps on the arms. Tretinoin, a derivative of Vitamin A, increases cell turnover to reveal smooth, healthy skin underneath.
Laser Treatments—Some studies have shown that laser treatments can minimize the severity of KP. In a 2015 study published in JAMA Dermatology, researchers used a 810-nm diode laser and found it effective at reducing KP in lighter-skinned types (see claim: "among lighter-skinned persons, serial treatment with a long-pulsed 810-nm diode laser at subpurpuric levels provided medium-term improvement in KP.")
Topical Corticosteroids—Topical corticosteroids are often a first-line treatment for common skin disorders such as keratosis pilaris. Corticosteroids work by softening the skin on the arms and reducing inflammation to improve the appearance of KP. Speak to your dermatologist before using a topical corticosteroid for KP. According to a 2018 study published in Dermatitis, the long-term use of corticosteroids may result in unpleasant side effects after you stop using them (see claim: "Patients with a history of long-term TCS overuse may experience symptoms and signs described in TSW on stopping TCSs.")
Final Thoughts
Medicated creams and laser treatments aren't guaranteed to get rid of the bumps on your arms. The best way to treat your stubborn KP is by talking with a dermatologist and getting on a regular skin care system. While your bumps may not disappear completely, you can significantly reduce their appearance by taking better care of your skin.
External sources: Mutation and expression of ABCA12 in keratosis pilaris and nevus comedonicus; Epidermal Permeability Barrier in the Treatment of Keratosis Pilaris; Treatment of Keratosis Pilaris WIth 810-nm Diode Laser; Steroid Withdrawal Effects Following Long-term Topical Corticosteroid Use
---
// © Copyright 2023 Tiege Hanley