Subscription
Shipping Address
Order Date

This subscription's skin care system will get replaced.

${ address.name }




${ address.products }

${ displaySubscriptionName(address) }




${ displayProducts(address) }

${ displayAddress(address) }
${ formatDate(address.scheduleDate) }

${ address.name ? address.name : displaySubscriptionName(address)}
${ address.products }
${ displayProducts(address) }
Shipping Address
${ displayAddress(address) }
Delivery Date
${ formatDate(address.scheduleDate) }
This subscription's skin care system will get replaced.
How to Get Rid of Dark Spots from Acne
Dark spots from acne can be notoriously difficult to treat. Find out how to get rid of your dark marks and achieve clear, blemish-free skin once again.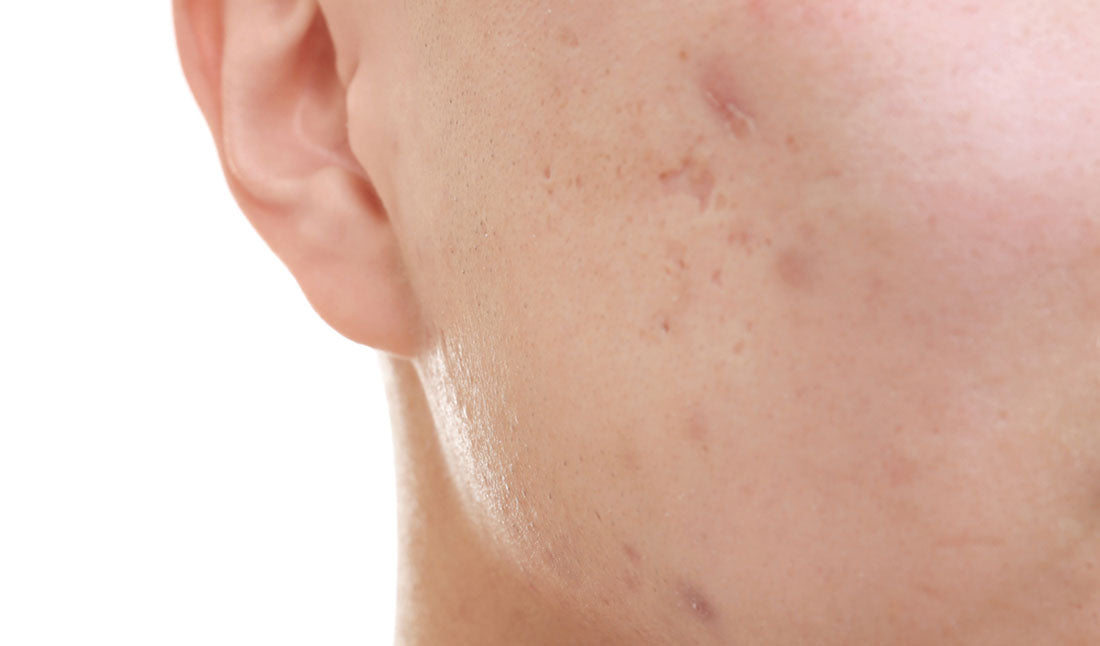 Although acne breakouts are never fun to deal with, you can usually count on your pimples to fade within a week. For some unfortunate guys, acne can leave behind dark spots on the skin that last for days, weeks or even months.
Dark spots from acne aren't uncommon, especially if you have a difficult time resisting the urge to pick at your pimples. The good news is that these dark spots aren't always permanent.
Here are three things guys need to know about getting rid of acne-related dark spots:
Dark spots are a smooth blemish caused by lingering inflammation.
At-home treatments such as Vitamin C and Salicylic Acid have shown promise in reducing the appearance of dark spots.
Although it may be expensive, seeing a dermatologist to get rid of stubborn dark spots may be worth it.
GOT ACNE?
Dark Spots vs. Acne Scars: What's the Difference?
Unlike an acne scar, dark spots from acne aren't raised, bumpy or indented because your skin's collagen isn't damaged. Instead, the smooth, dark mark on your skin is the result of inflammation.
This inflammation can cause abnormal pigmentation, known as post-inflammatory hyperpigmentation (PIH). Although most acne-related PIH will fade on its own over the course of a few months, research shows the emotional impact of these marks can take its toll.
In a 2017 study published in the journal Brazilian Annals of Dermatology, researchers surveyed 40 people with acne-related PIH and asked them how their PIH affected their quality of life. Their findings showed that 22 percent of patients were "severely affected" by PIH and 10 percent would like to seek out psychological help to deal with their PIH (see claim: "…or 22% of them, the quality of life was severely affected.")
At-Home Treatments to Get Rid of Dark Spots
Most dark spots from acne will fade within a few months. If this isn't quick enough for you, there are ways to speed up the healing process with at-home solutions:
Vitamin C: It's no secret that antioxidant-packed topicals can do wonders for your skin. Vitamin C is an especially powerful antioxidant that can help improve the appearance of dark spots from acne by evening out uneven skin tone.
As an added benefit, it may even help protect your skin from sun damage. In a 2013 scientific review published in Indian Dermatology Online Journal, the authors noted that Vitamin C can neutralize free radicals, providing a UV-protective effect (see claim: "Vit. C does not absorb UV light but exerts a UV-protective effect by neutralizing free radicals.")
Exfoliation: Regular exfoliation (once or twice a week) can help even out your skin tone and reduce the appearance of acne dark spots. Be sure to use a gentle scrub formulated for the skin on your face and avoid scrubbing your skin too hard or too often. Exfoliating too much can make your dark spots worse.
Sunscreen: Excessive sun exposure can worsen dark spots. Although you probably don't think that you get much sun throughout the day, intermittent sun exposure can add up. Make a habit of wearing a daily moisturizer with SPF to keep your face protected from UV rays every day, rain or shine.
Salicylic Acid: From stubborn sunspots on the face to dark spots from acne, Salicylic Acid's exfoliating ability has made it a powerhouse ingredient in the skin care world. Research shows that Salicylic Acid is especially beneficial for those with darker complexions. A 1999 study published in Dermatologic Surgery found Salicylic Acid was effective at treating post-inflammatory hyperpigmentation and acne in darker racial-ethnic groups (see claim: "…superficial salicylic acid peels are both safe and efficacious…")
Take the skin care quiz
In-Office Treatments for Dark Spots
If your dark spots are truly bothering you, seeing a dermatologist may be the best course of action. The following treatments are some of the more common solutions for acne-related dark spots:
Dermabrasion/Microdermabrasion: Both dermabrasion and microdermabrasion use exfoliating techniques to remove layers of the skin, resulting in a smoother and more even complexion. Ask your dermatologist about which one is best for you. While dermabrasion is considered the most effective of the two, it may not be a good option for guys with dark complexions.
Laser Treatments: Laser treatments are an effective way to treat all different types of blemishes and dark spots, especially PIH. Basically, they work by using high-energy light beams to remove the top layers of the skin, creating a controlled wound that eventually reveals healthy skin cells.
Triple/Dual Combination Therapy: Acne-related PIH is notoriously difficult to treat with over-the-counter topical solutions. If you see a dermatologist for your dark spots, they may prescribe you a triple or dual combination therapy containing hydroquinone, tretinoin and fluocinolone acetonide.
Prevention Is Key
The best way to treat dark spots stemming from acne is to prevent acne breakouts in the first place. With a simple, yet effective acne treatment system, you can get your acne under control and reduce the likelihood of developing dark spots.
If you decide to try these at-home solutions, be patient and give them at least a couple of weeks to see a noticeable difference in your dark spots. For a faster solution, schedule an appointment with your dermatologist to go over your options.
---