Subscription
Shipping Address
Order Date

This subscription's skin care system will get replaced.

${ address.name }




${ address.products }

${ displaySubscriptionName(address) }




${ displayProducts(address) }

${ displayAddress(address) }
${ formatDate(address.scheduleDate) }

${ address.name ? address.name : displaySubscriptionName(address)}
${ address.products }
${ displayProducts(address) }
Shipping Address
${ displayAddress(address) }
Delivery Date
${ formatDate(address.scheduleDate) }
This subscription's skin care system will get replaced.
How to Get Rid of Pimples—Step by Step Guide
Don't let a stubborn pimple ruin your day. Find out how to get rid of pimples overnight with this step by step guide.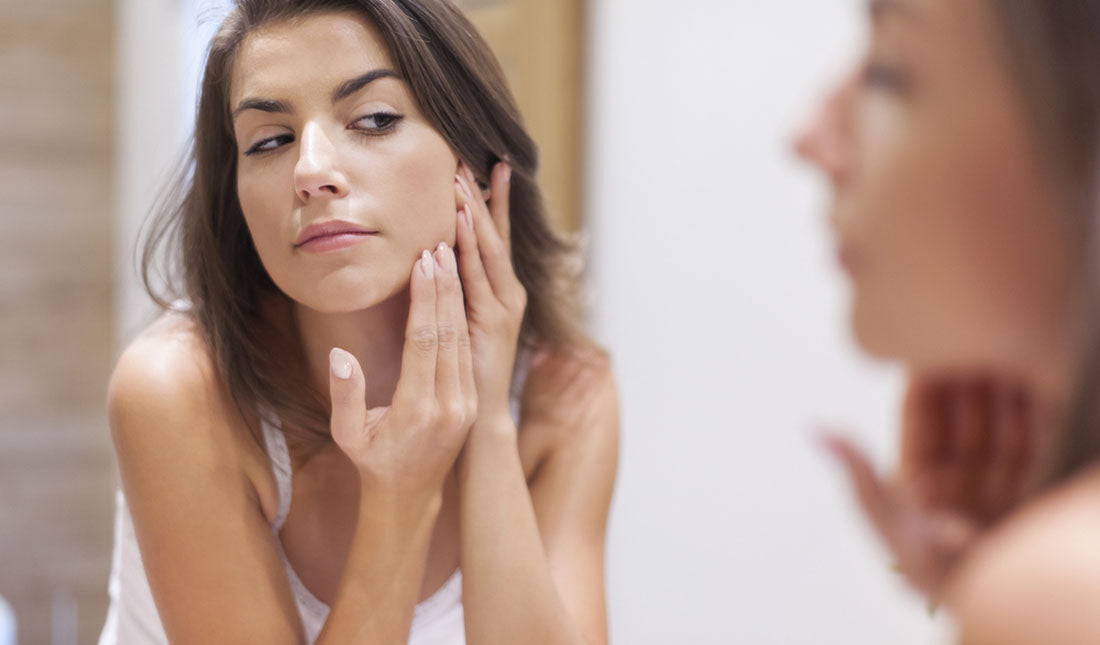 There's nothing like waking up to a huge pimple that can get your day off to a lousy start. You can usually feel the painful bump growing underneath your skin, biding its time.
And of course, they seem to strike at the worst possible time. It's always right before a first date or a huge party, causing you to feverishly google, "how to get rid of pimples," to fix the problem fast.
We'll be honest with you. The huge zit on your face isn't going to magically disappear within the hour. That doesn't mean you can't speed up the healing process and make it look a million times better.
Here are a few things you need to know to get rid of pimples.
Pimples are caused by excess oil and dead skin cells building up in the pores of your skin
Washing your skin with a mild cleanser will provide a clean slate for your acne treatment products
Salicylic Acid and Benzoyl Peroxide are generally the first line of treatment for stubborn pimples
Getting rid of stubborn pimples doesn't need to feel impossible. Follow this simple guide on how to get rid of pimples and you'll back to having clear skin in no time.
Step 1: Resist the Urge to Pick
We know how tempting it may be to squeeze the daylights out of your zit, but try to resist the urge. At best, you'll make the zit red and angry-looking.
GOT ACNE?
At worst, picking or squeezing at your pimples can lead to long-lasting acne scars. The American Academy of Dermatology also warns that picking at pimples can lead to a serious infection.
The bottom line is to leave the extractions to a professional. Picking at your pimples will disrupt the healing process and only make your blemishes look a million times worse.
Step 2: Figure Out What You're Dealing With
Figuring out what type of acne you have is key to treating it successfully. In general, pimples refer to pustules or papules, which appear as red and swollen bumps that may or may not have a yellowish, pus-filled center.
Pimples can also refer to the painful zits located deep within the skin. These are commonly known as blind pimples and may require a more aggressive acne treatment.
Step 3: Reduce the Pain and Swelling
If you're dealing with a monster-sized pimple that is downright painful, your next plan of attack should be to reduce the pain and swelling. You can do this by using home remedies to treat your pimple.
First, apply a frozen ice cube wrapped in a paper towel to the area. Hold it there for five minutes to reduce the swelling and repeat two more times, waiting 10 minutes in-between icing sessions.
You can also crush an aspirin tablet and add a drop of water to mix it into a paste. Apply this paste to the spot to reduce both pain and swelling.
Step 4: Apply a Powerful Acne Treatment
Now, it's time to go in for the kill. When choosing an acne treatment, consider both your skin type and the type of pimple you have.
If your pimple is a pustule or papule, apply a Salicylic-based acne cream on the zit. Salicylic Acid is tough on acne and works well for sensitive skin types.
For deep pimples, you may need to pull out the big guns. Apply a 2 percent Benzoyl Peroxide to your pimple. If you have sensitive skin, leave it on for no more than five minutes.
Take the skin care quiz
Topical retinoids are another option for treating stubborn pimples. According to a 2017 study published in Dermatology and Therapy, topical retinoids like adapalene can reduce the appearance of pimples and may help prevent new pimples from developing (see claim: "Topical retinoids…have been shown both to reduce visible lesions and also inhibit the development of microcomedones and new lesions.")
If these acne treatments don't work, you may need to see a dermatologist for a prescription medication.
Final Words
When using any acne treatment or medication, be sure to read the instructions carefully. We know that may sound boring, but reading the instructions is key to using your acne treatment correctly and getting rid of your pimples.
More importantly, some acne medications can make your skin more sensitive to UV rays, which increases your risk of skin cancer. Be safe by applying sunscreen whenever you go outside and avoid tanning beds at all costs.

Reference
Leyden, James et al. "Why Topical Retinoids Are Mainstay of Therapy for Acne." Dermatology and therapy vol. 7,3 (2017): 293-304.
---
// © Copyright 2023 Tiege Hanley