Subscription
Shipping Address
Order Date

This subscription's skin care system will get replaced.

${ address.name }




${ address.products }

${ displaySubscriptionName(address) }




${ displayProducts(address) }

${ displayAddress(address) }
${ formatDate(address.scheduleDate) }

${ address.name ? address.name : displaySubscriptionName(address)}
${ address.products }
${ displayProducts(address) }
Shipping Address
${ displayAddress(address) }
Delivery Date
${ formatDate(address.scheduleDate) }
This subscription's skin care system will get replaced.
How to Grow Facial Hair: Are There Solutions That Work?
Most beard growth products prey on the insecurities of men who can't grow facial hair. Tiege Hanley explains which products you should avoid and which ones are backed by science.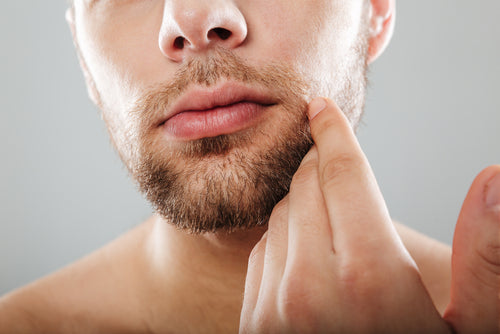 Over the last few years, facial hair has skyrocketed in popularity. From slightly scruffy to full-blown beards, men everywhere are celebrating one of their most masculine traits.
Unfortunately, some men can't partake in this trend due to their inability to grow a beard. The reason for this usually comes down to hormones and genetics.
If you're frustrated with your patchy beard and sparse scruff, you've probably wondered on more than one occasion if there is an effective solution for your lack of facial hair. Is there any way to grow a thick, luscious beard?
Here is what you need to know:
Dihydrotestosterone (DHT), a metabolite of testosterone, plays a significant role in your ability to grow a beard.
Some vitamins and minerals may boost DHT and potentially increase the speed and density of your facial hair.
Minoxidil (aka Rogaine) and related products may help some men but not others.
TRY MEN'S SKIN CARE
A Closer Look at Rogaine
One of the most popular facial hair solutions today is Rogaine, an over-the-counter topical medication of which the active ingredient is Minoxidil. Although there is evidence to suggest that Minoxidil is effective at growing hair on the scalp, there are few studies which focus on its effectiveness for facial hair.
However, it is worth mentioning that a 2014 study published in the Journal of Dermatology found that Minoxidil 2% lotion was effective at enhancing eyebrows (see claim: "Our study suggests that minoxidil 2% lotion is a safe and effective treatment for eyebrow hypotrichosis.") This demonstrates that Minoxidil can grow hair on parts of the body other than the scalp.
What About Finasteride?
Another popular hair growth product is Finasteride, or Propecia. This product is taken orally to stimulate scalp growth by inhibiting the enzyme 5-alpha reductase, which is responsible for converting testosterone into DHT.
This is good for the scalp on your head because DHT is the influential androgen that is responsible for reducing hair growth on your scalp. However, DHT is also responsible for stimulating facial hair, pubic hair and hair on your chest.
Thus, Finasteride is not the best choice for men who want to grow luscious beards.
Analyzing Beard Supplements
First, let's point out that many of the vitamins listed in beard supplements are also included in any decent multivitamin. Beard Boost, which will run you $50 a bottle, contains much the same vitamins you would find in a generic men's multivitamin.
While Beard Boost has higher percentages of their vitamins, consider that these are mostly water-soluble vitamins. Meaning, your body will excrete whatever it doesn't use in your urine.
But on to the important question—can vitamins boost your facial hair? Let's take a closer look at some of the key vitamins for facial hair growth:
Take the skin care quiz
Bottom Line
Many of the products for beard growth are preying on insecurities in men who can't grow a full beard. To achieve denser facial hair, your best bet is to naturally boost your testosterone and DHT with a healthy diet and regular exercise.
If you want to improve the look of your facial hair, start by taking better care of your skin. After just a couple weeks of using Tiege Hanley skin care, your skin will look so amazing that you won't want to cover it up with a beard anyway.
---